Scroll down for French and Spanish
COVID recovery needs environmental strings attached
Dear members, colleagues and friends,
Recent months have been testing times for so many, as the global pandemic continues to pull on the very fabric of our societies.  While many countries around the world continue to battle the health crisis, others are already looking at how their economies can start to recover from the impact.
What should a COVID recovery look like, and is it time to ensure that climate and environmental strings are attached? At WT!, we think so.  In this quarterly edition you'll find out some interesting insights into the transport sector and how its reacting in the midst of the crisis.  We also hear from members in India on the controversial new mining law that could see a resurgence in coal.
This edition includes:
EU Airline bailout tracker
What's next for the aviation sector?
Dirty Cruise: Time to demand environmental action from shipping
Member's insights: A case of coal phase-in for India
Stay safe & best wishes,
Andrew
---
The EU Aviation Bailout Tracker 
This is a sample – for a full listing please click here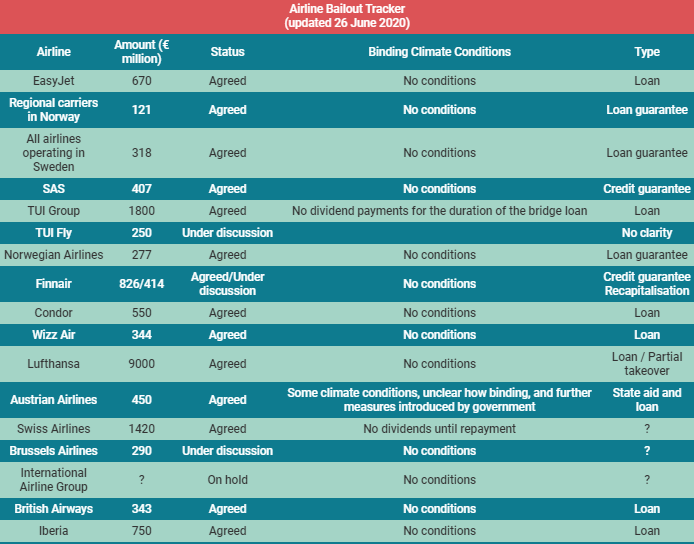 European airlines – some of the EU's biggest polluters – are seeking billions in government bailouts amidst the Covid-19 outbreak, without binding environmental conditions.
This European airline bailout tracker by Greenpeace, Transport & Environment, and Carbon Market Watch uses publicly available data and is regularly updated.
Click here to find out more with the interactive version.
---
What's next for the aviation sector?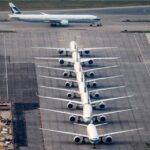 COVID19 hit the airline industry like a sledgehammer and the consequences from the rapid drop in demand sent the airlines into a tailspin. I caught up with Andrew Murphy from the NGO Transport and Environment to get some of his thoughts on current developments.
(Andrew Coiley)
---
Dirty Cruise: Time to demand environmental action from shipping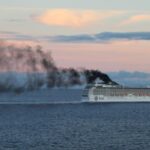 The international shipping sector is also being impacted by the COVID-19 pandemic, and any government response to support this industry should accelerate the pathway to climate neutrality.
(Wijnand Stoefs)
---
Member's insight: A case of Coal Phase-In for India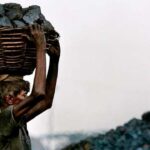 In India, recent policy changes suggest that coal mining for the time-being might be making a comeback. CMW's supporting member SNSMT has been following these developments and provided some insights
(Chandrachur Ghosh/Shri. Suparno Satpathy)
---
Webinar Workshop Series  
This summer, Carbon Market Watch will be undertaking a capacity building webinar series across 3 continents. The interactive online discussions will be held regionally in Latin America (Spanish), Africa (French) and India (English). We will be getting to grips with a range of carbon market related issues – from the old Kyoto mechanisms to the new Paris Agreement article 6 mitigation projects under development. We will be drawing on experience and knowledge from our partners and members around the world, brought together in an exciting virtual learning experience.
Save the date!
Together with our partners: AIDA, Barranquilla+20 in Chile & Colombia, Enda-Energie in Senegal and ParyavaranMitra in India we will be hosting the webinars on the following date:
Latin America – 03 August (tbc)
India – 05 August (tbc)
Africa – 07 August (tbc)
Want to join in?
If you would like to join us for one of the tri language virtual sessions please contact me
[email protected]
.  As these sessions will be held remotely, you can tune in from anywhere!!  Hope to see you there..
---
WT! Xtra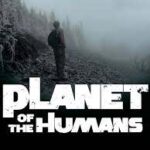 Be part of the debate:
Planet of the Humans
– Michael Moore –
https://www.youtube.com/watch?v=Zk11vI-7czE
– In recent months Michael's latest film has created quite the hullabaloo in the civil society world because of its direct attack on the leading climate NGOs in the United States. WT! is not afraid to confront this discussion and we would love to hear what you think. If you have seen the video or watch it (follow the link above), please email me:  
[email protected]
 with your comments and we can hopefully post the discussion in our next edition
WT! Solidarity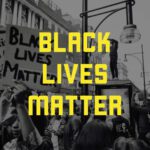 Watch This would like to express our support for the Black Lives Matter campaign in the United States and across the globe.
The world needs more (not less) progressive thinking in social justice as well as climate justice.
We join the call – equality for all!
Outil de suivi des aides publiques accordées par l'UE aux compagnies aériennes Extrait ci-dessous – l'outil complet est disponible ici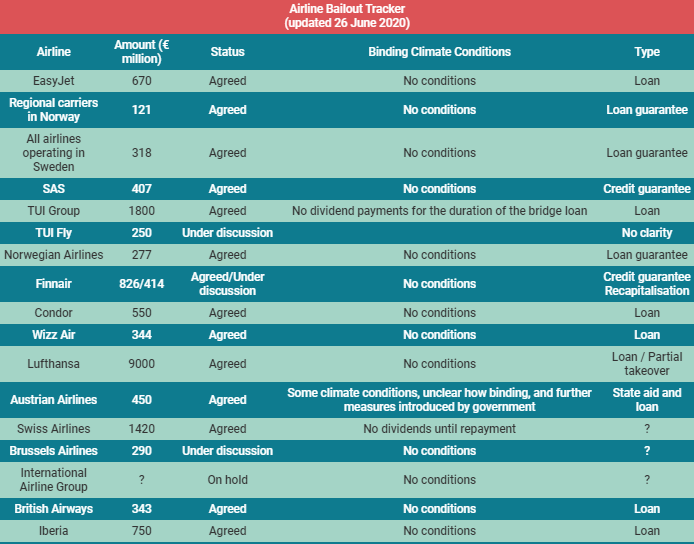 Les compagnies aériennes européennes – parmi les plus grands pollueurs de l'Union européenne – réclament des renflouements gouvernementaux depuis le début de la crise du COVID-19, et ce, sans aucune condition environnementale contraignante. Greenpeace, Transport & Environnement et Carbon Market Watch publient un nouvel outil en ligne, régulièrement mis à jour, qui reprend la liste des compagnies aériennes qui réclament ces aides financières. Plus d'informations via cette version interactive.
---
Quelle est la prochaine étape pour le secteur de l'aviation ?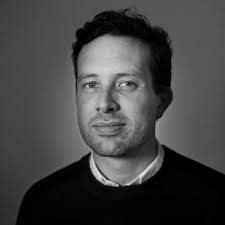 Entretien avec Andrew Murphy, T&E
Depuis des décennies, l'industrie aéronautique profite de conditions favorables pour étendre ses opérations en Europe, sans vraiment se soucier de l'environnement. Au début de l'année 2020, personne n'aurait évidemment pu prévoir une telle baisse des émissions de carbone du secteur, en raison de la pandémie mondiale. En mars (quand la dernière WT! a été publiée), les effets du COVID-19 sur le trafic aérien international se faisaient déjà sentir. Le virus a frappé l'industrie de plein fouet ; suite à la chute soudaine de la demande, les compagnies aériennes sont parties en vrille.
---
Croisières en eaux troubles : il est temps d'exiger des mesures environnementales de la part du secteur maritime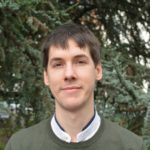 (par Wijnand Stoefs)
Le secteur maritime international souffre aussi de la pandémie de COVID-19. Toutes les interventions gouvernementales visant à soutenir cette industrie devraient l'orienter vers une neutralité climatique.
---

Le point de vue d'un membre : le retour progressif du charbon en Inde
Conformément à l'Accord de Paris, une sortie progressive du charbon est nécessaire pour atteindre l'objectif de rester sous la barre de 1,5°C de réchauffement. Ces dernières années, le monde a assisté à un désinvestissement croissant dans le charbon ; plusieurs pays de l'OCDE se sont d'ailleurs engagés sur des échéances de sortie totale du charbon pour leur production électrique. Pour d'autres pays, le défi est loin d'être anodin car les ressources domestiques de charbon sont des valeurs sûres en cas de difficultés économiques. L'arrivée du COVID-19 a-t-elle engendré une augmentation de l'utilisation de carburants sales et bon marché dans les économies émergentes et en développement ?
---
Série d'ateliers webinaires
Cet été, Carbon Market Watch organisera une série de webinaires sur le renforcement des capacités dans 3 continents. Les discussions interactives en ligne se tiendront en Amérique latine (en espagnol), en Afrique (en français) et en Inde (en anglais). Nous nous attaquerons à toute une série de questions liées au marché du carbone – des anciens mécanismes de Kyoto jusqu'aux mécanismes d'atténuation de l'article 6 du nouvel accord de Paris. Nous nous appuierons sur l'expérience et les connaissances de nos partenaires et membres du monde entier, réunis autour d'une expérience passionnante d'apprentissage virtuel.
Notez la date
Ensemble avec nos partenaires – AIDA, Barranquilla+20 au Chili et en Colombie,  Enda-Energie au Sénégal et ParyavaranMitra en Inde – nous organiserons des webinaires aux dates suivantes :
Amérique latine – 3 août (à confirmer)
Inde – 5 août (à confirmer)
Afrique – 7 août (à confirmer)
Vous souhaitez nous rejoindre?
Si vous souhaitez participer à une de nos séances virtuelles trilingues, n'hésitez pas à me contacter, via l'adresse email suivante [email protected].  Comme ces séances se tiendront à distance, vous pouvez vous connecter de n'importe où ! Au plaisir de vous y retrouver… 
---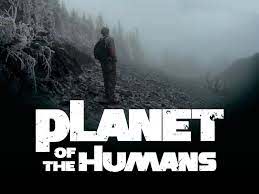 WT! Xtra
---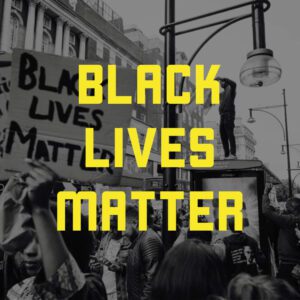 WT! est solidaire
Watch This aimerait exprimer son soutien à la campagne Black Lives Matter aux Etats-Unis et à travers le monde. Le monde a besoin de plus (pas de moins) d'initiatives progressistes dans les domaines de la justice sociale et de la justice climatique. Nous nous joignons à l'appel : égalité pour tous !
la recuperación económica necesita condiciones ambientales
Monitor de rescates a la aviación en la UE 
Abajo se encuentra un ejemplo, el listado completo se puede consultar aquí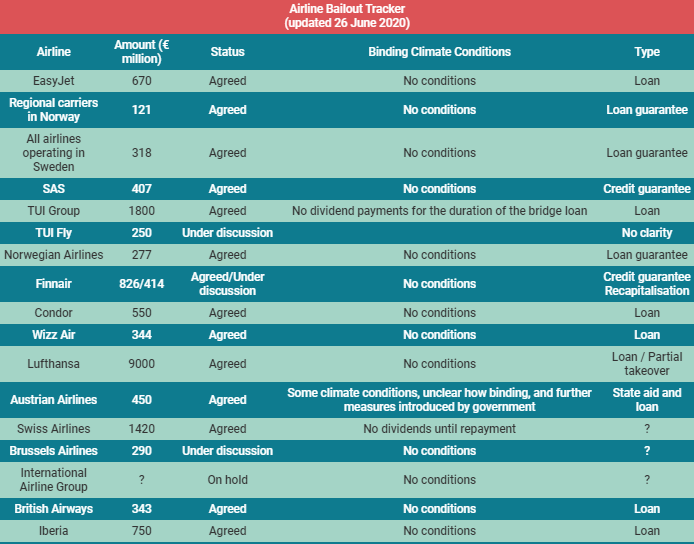 Las aerolíneas europeas, que son unos de los mayores contaminantes de la UE, están solicitando a los gobiernos ayudas de miles de millones para su rescate en medio de la pandemia de la COVID-19 sin comprometerse con condiciones en materia medioambiental.  El monitor de rescates a las aerolíneas europeas, de Greenpeace, Transport & Environment y Carbon Market Watch, emplea datos públicos y se actualiza con regularidad.  Aquí se puede obtener más información con la versión interactiva.
---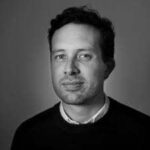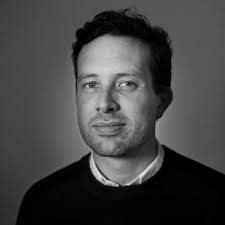 ¿Qué depara el futuro al sector de la aviación? 
Entrevista con (Andrew Murphy, T&E)
El sector de la aviación lleva décadas disfrutando de condiciones favorables para la ampliación de sus operaciones en toda Europa sin tener muy en cuenta las repercusiones sobre el medio ambiente. A principios de 2020, pocos habrían imaginado que las emisiones de carbono del sector caerían de forma tan drástica como lo han hecho a causa de una pandemia. En marzo, cuando se publicó el anterior número de WT!, ya se sentían los efectos en los desplazamientos aéreos internacionales. La COVID-19 ha golpeado duramente a las aerolíneas y las consecuencias de la rápida disminución de la demanda están provocando su caída en picado, con perdón por el juego de palabras.
---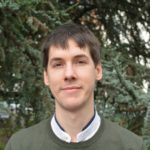 Cruceros contaminantes: es hora de exigir medidas medioambientales al sector de la navegación
El sector internacional de la navegación también se está viendo afectado por la pandemia de COVID-19 y toda respuesta gubernamental de ayuda debería acelerar el proceso hacia la neutralidad climática.
---

Contribuciones de los afiliados: el regreso del carbón en la India 
En virtud del Acuerdo de París, los compromisos para el abandono del carbón son indispensables para alcanzar el objetivo de permanecer por debajo del límite de calentamiento de 1,5 °C. Durante los últimos años, el mundo se ha ido alejando más del carbón y varios países de la OCDE ya se han comprometido con fechas a partir de las cuales ya no utilizarán este mineral para la generación de electricidad. Otros países lo tienen más difícil, pues los recursos nacionales de carbón se consideran activos seguros en épocas de dificultad económica. ¿Ha supuesto la llegada de la COVID-19 un mayor uso de combustibles baratos y contaminantes en economías emergentes y en desarrollo? 
En la India ha habido ciertos cambios políticos recientes que parecen indicar el regreso de la minería del carbón. Smt. Nandini Satpathy Memorial Trust (SNSMT), organización afiliada a CMW, ha estado observando estos cambios y ofrece sus opiniones en el artículo que sigue.
---
Serie de seminarios web  
Este verano, Carbon Market Watch celebrará una serie de seminarios web para el desarrollo de capacidades en tres continentes. Los debates interactivos en línea se organizarán por regiones: América Latina (español), África (francés) e India (inglés). Vamos a tratar diversos asuntos relacionados con el mercado del carbono, desde los antiguos mecanismos del Protocolo de Kioto hasta las actividades de mitigación contempladas en el Artículo 6 del nuevo Acuerdo de París. Aprovecharemos la experiencia y los conocimientos de nuestros socios y afiliados en todo el mundo, reunidos en una interesante experiencia virtual de aprendizaje.  
Anota la fecha
Junto a nuestros socios (AIDA, Barranquilla+20 en Chile y Colombia, Enda-Energuie en Senegal y ParyavaranMitra en la India) celebraremos los seminarios web en estas fechas:
América Latina: 3 de agosto (pendiente de confirmación)
India: 5 de agosto (pendiente de conformación)
África: 7 de agosto (pendiente de conformación)
¿Quieres participar?
Si deseas participar en una de estas sesiones virtuales en tres idiomas, envíame un mensaje a [email protected].  Dado que estas sesiones se celebran de forma telemática, puedes participar desde cualquier lugar.  Esperamos verte.
---
WT! Xtra
---
Solidaridad WT!
Watch This desea expresar su apoyo al movimiento Black Lives Matter en Estados Unidos y el resto del mundo. El mundo necesita más (no menos) ideas progresistas tanto para la justicia social como para la climática. Nos sumamos a la causa: ¡igualdad para todos!