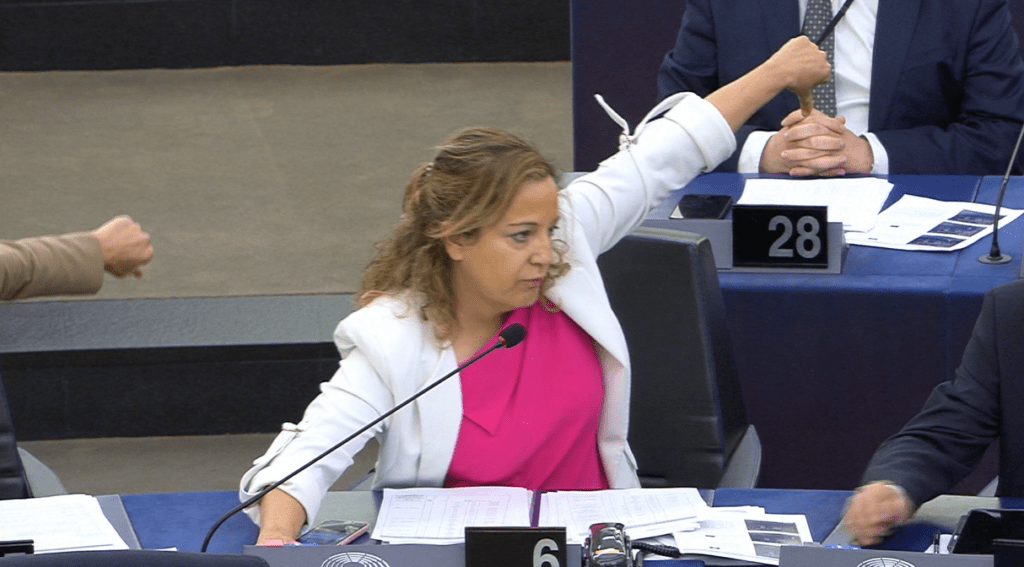 Events followed by more than one member of the CMW team at a time are rare. On the occasion of the European Parliament's vote on the reform of the EU Emissions Trading System on 8 June, several of us were glued to our screens following the parliamentary proceedings and sharing reactions in an online chat. The environment committee had sent a hard-won compromise deal to the plenary, but it got sabotaged there with the reintroduction of amendments from other committees which undercut the already compromised ambition. The political conflict over how fast and how deeply the energy sector and heavy industry would have to cut their emissions, as well as the divisive questions of whether polluters need to keep being protected from paying the cost of their pollution and for how long, was centre stage again.
Months if not years of our advocacy efforts for a climate effective EU carbon market, including concerted last-minute efforts in Strasbourg, were at stake here. After pausing to consider the situation, the Social Democrats and Greens decided that they would not allow the overall vote to go ahead. Unfortunately, it was with the support of more conservative MEPs, who want to see the deal scuppered for its ambition rather than the lack of it, that the ETS proposal went back to committee. The vote on the Carbon Border Adjustment Mechanism and the Social Climate Fund were postponed as a logical consequence of this delay.
Read our full take on the drama in this press release.
Yellow card for greenwashing World Cup
On World Environment Day (5 June), FIFA President Gianni Infantino raised a "green card for the planet".
"FIFA is playing its part, with our aim to make the FIFA World Cup Qatar 2022 carbon neutral," he said. He also called on "everyone who loves football and who cares about the environment" to record a short social media message about what they will do to preserve the environment and save our world. We, however, call on the same people to demand that FIFA doesn't dupe the public with its carbon-neutrality claim.
FIFA conveniently leaves the carbon footprint of the purpose-built stadiums, which are unlikely to find further satisfactory uses after the tournament, out of the emissions accounting on which it bases its claim, our research revealed. The footprint of the World Cup will not blow away in the wind or wash away in the sea. It will leave a big black smudge on the climate, as cleary demonstrated in our report 'Poor tackling: Yellow card for 2022 FIFA World Cup's carbon neutrality claim'. Since we published the analysis at the end of May, the curve in the statistics on our uptake in online media is on a high.
Bonn appétit?
Commodity markets, from oil and gas to grain or anything that needs transport infrastructure, are currently having a disruptive effect on politics. Yet there is also carbon as a commodity – invisible and traded on digital ledgers, but also in need of good infrastructure and subject to political forces. COP26 in Glasgow last year delivered a breakthrough deal on international carbon markets amid some progress on national climate targets and several sectoral deals by coalitions of the willing. The need for massive emission cuts deserves to remain in the spotlight, while the Russian war in Ukraine and its fallout gives many reasons to complete the renewable enery transition sooner, rather than later.
The two-week UNFCCC intersession in Bonn this month is looking to be a low-key affair where progress is going to be piecemeal and cumbersome. Many Article 6 implementation rules wait to be thrashed out. We are in Bonn with three key demands: the setting up of a mechanism for grievances about carbon market projects and decisions which affect them, ensuring environmental integrity using only real carbon removals in Article 6, and transparent reporting and disclosure of all Article 6-related information. No doubt we will be repeating our messages many times, but we come equipped with patience and determination.
2021 hindsight and highlights
'Live life forward and make sense of it backward' is a useful tip for embracing plans without too much hesitation. The production of our 2021 annual report was a moment of retroactive sense-making which we would like to share.
We are proud to have played the bad cop for a good COP in Glasgow, with at least some of our five demands partially met, such as an end to zero-sum offsetting. We added more data to our EU advocacy ammunition with updated research on windfall profits under the EU ETS. We demonstrated how the public is being deceived about 'carbon-neutral' fossil fuels and gathered the scientific substance for our efforts to combat false carbon removal solutions – to name but a few highlights. We adhere to the principle of evidence-based advocacy but also go about our communications work in the knowledge that the effect of the tale lies in the telling and in the reaching of hearts. Finally, we have to be the change we want to see in the world, which is why it was also good to report how we have thrived as a team.
A New Scientist reader from Barcelona touched me when she wrote, "We should abandon our materialism and trust in institutions, and recentre instead on activism, solidarity, resilience and interdependence … The safest investments are in human connection." At CMW we can't give up on our political institutions and we trust in the influence we bring to bear with our allies on the slow mills of progress while finding reasons to be optimistic in the quality of our cooperation.
Hold on tight to your positive beliefs and enjoy the reads we have in store for you in this edition of the newsletter.
Read and subscribe to the CMW newsletter here.