Emissions from international aviation
Recommendations for CORSIA
Prepared for the Bonn Climate Change Conference 30 April – 10 May 2018 Carbon Market Watch welcomes the opportunity to provide input to the APA discussions as they relate to the Carbon Offsetting and Reduction Scheme for International Aviation (CORSIA)  agreed in October 2016 at the International Civil Aviation Organization (ICAO) 39th Assembly, and corresponding…
Ticket tax: Both minimally effective AND incredibly impactful?
The Swedish government is tackling the soaring emissions from aviation through an extra fee on airline tickets. There has been significant industry pushback about the extra costs, stating concerns both about economic impacts and low environmental benefits. We agree that in order to drive real transformation of the most polluting of all transport modes, overall…
Climate Action Network and International Coalition for Sustainable Aviation joint input to the Talanoa Dialogue
CONTRIBUTION OF THE GLOBAL AVIATION SECTOR TO ACHIEVING PARIS AGREEMENT CLIMATE OBJECTIVES EXECUTIVE SUMMARY The aviation sector is a top-ten global emitter whose emissions are expected to rise dramatically by mid-century. Under current scenarios, the aviation sector could emit 56 GtCO2 over the period 2016-2050, or one-quarter of the remaining carbon budget. It is critical…
Visibility Unlimited: Transparency of the new aviation carbon market
Executive summary A new offsetting scheme called the Carbon Offsetting and Reduction Scheme for International Aviation (CORSIA) was established by the International Civil Aviation Organisation (ICAO) in 2016 to compensate for the industry's emissions growth above 2020 levels. Although this measure will address less than a third of the sectors' total expected emissions in 2030,…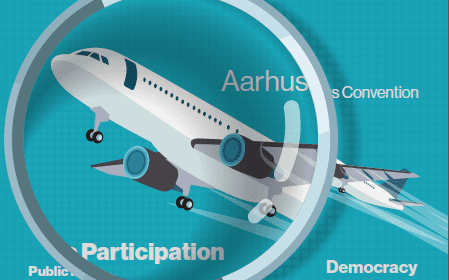 Too big to fail? Environmental responsibilities of the UNFCCC and ICAO processes for aviation's new carbon market
Last year, states created an offsetting scheme to compensate for aviation's pollution growth above 2020 levels. The Carbon Offsetting and Reduction Scheme for International Aviation (CORSIA) is supposed to contribute to the temperature goals of the Paris Agreement. However, compensating for growing emissions does not reduce emissions overall, nor put the sector on a pathway to do so. ICAO will finalize details for the CORSIA by the end of 2017. Crucial elements include the type of credits allowed, registry design, and Monitoring, Reporting and Verification (MRV) rules.
UNFCCC Side Event: Aviation and Paris: making climate agreements work
Time and venue Wed, 10 May 16:45 – 18:15 Bonn Climate Change Conference, Kaminzimmer 113 The International Civil Aviation Organisation (ICAO) has created an offsetting measure for the aviation sector which aims to compensate for emissions growth above 2020 levels. Though international aviation emissions fall under the Paris Agreement, to date they are not included in any…