Major corporations are making disingenuous 'net zero' and 'carbon neutral' claims based on dubious emissions offsetting practices rather than actual cuts. This cannot continue.
We cannot afford any more missteps if we are to achieve the goal set out in the Paris Agreement of limiting global heating to a maximum of 1.5C above pre-industrial times, so as to maintain a habitable planet. Society must collectively treat the climate crisis with the urgency it deserves, shifting to a green economy first and foremost by decarbonising production and consumption.
Such a seismic shift requires the full involvement of every segment of society, including governments, citizens and—given their huge economic impact and carbon footprint—corporations. Companies have been under increasing pressure to be part of the climate solution, instead of continuing to be part of the problem.
Greenwashing explosion
Many businesses have responded to these calls by unveiling ambiguous 'net zero' climate pledges and vague climate strategies. Rather than the greening of business practices, however, these have largely comprised an explosion of corporate greenwashing.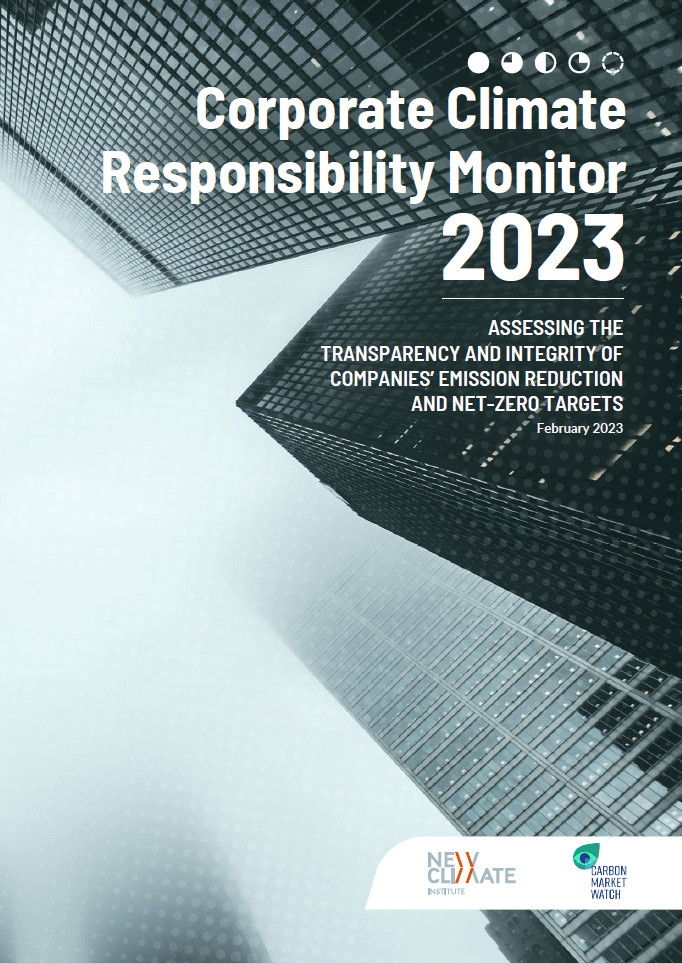 This was the overarching conclusion (again) of this year's Corporate Climate Responsibility Monitor. Produced by the NewClimate Institute, in collaboration with Carbon Market Watch, the report analyses the transparency and quality of the climate strategies of 24 global corporations which sell themselves as 'climate leaders'.
All these companies – which include such household names as Amazon, Google, H&M, Zara, Mercedes-Benz and Samsung – have set some form of 'net zero' target and many also make carbon-neutrality claims. Yet the report reveals that nearly all the current climate claims or future net-zero targets are misleading, exaggerated or false.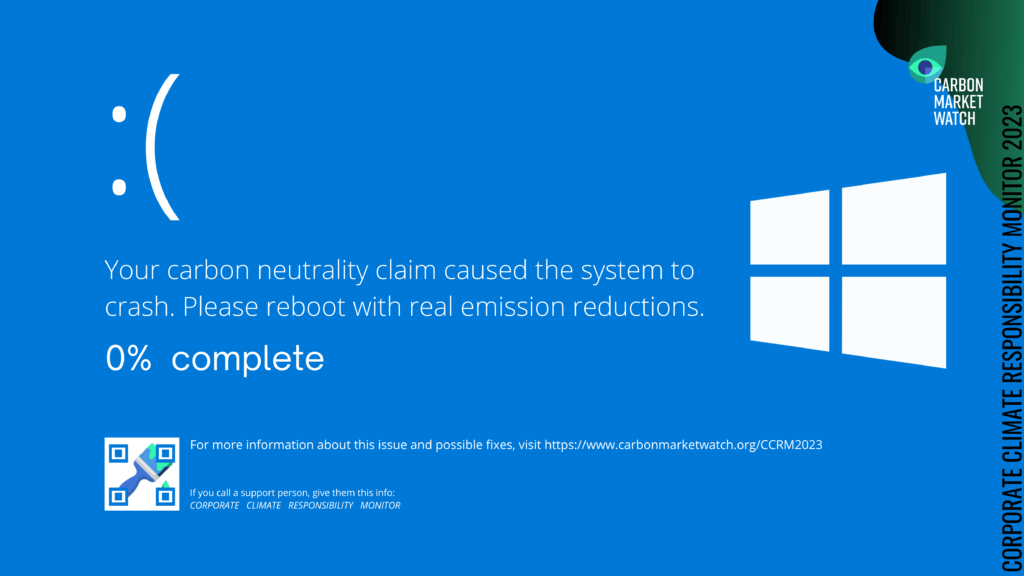 Dubious practices
Instead of committing to deep decarbonisation by setting credible pathways to reduce their own emissions, many companies are choosing to 'neutralise' them, through the purchase of carbon credits on the voluntary carbon market (offsetting) or, even more questionably, within their own value chain (so-called 'insetting'). These dubious practices do nothing to cut current corporate emissions and the over-reliance on offsetting, or 'insetting', means that, together, the 24 companies analysed are committed to reducing their carbon footprint by only 36 per cent by the time they claim they will have attained 'net zero'. To contribute their fair share to global climate goals, they would need to slash their actual emissions by at least 90% by mid-century.
Claiming to compensate for emissions and 'cancel out' all associated climate harm is a highly problematic corporate practice, often based on poor-quality carbon credits and flawed science. For example, credits for avoided deforestation are some of the most widely used on the market but they lack one of the most important foundations of a carbon credit – permanence.
Trees and other biological carbon sinks are susceptible to natural disasters, such as wildfires, which can quickly destroy a forest and release all the stored carbon dioxide into the atmosphere. Any carbon-neutrality claim a company made based on purchase of such carbon credits would no longer be applicable.
Yet, in spite of carbon credits literally going up in smoke, these companies can continue to make carbon-neutrality claims in perpetuity. This is because they use a questionable form of insurance, called a 'buffer pool', in which some credits created by forestry projects are set aside to compensate for such reversals.
Imprecise accounting
Furthermore, carbon credits and measurements of carbon footprint are prone to huge uncertainties, which can result in imprecise climate accounting. One carbon credit, for example, is supposed to equal one tonne of CO2 emitted, but this cannot be quantified to the certainty necessary to claim something as absolute as 'carbon neutrality'.
Not only that, but the threat to forests has been found to be grossly overstated, leading to significant overestimation of the climate impact of forest projects. This can be seen in the Guardian's recent investigation of Verra, a leading carbon standard.
Despite all the problems associated with offsetting, about half of the analysed companies made some form of carbon-neutrality claim related to their current activities, even though these only covered on average 3% of their total emissions. In particular, Microsoft, Apple and Deutsche Post DHL made carbon-neutrality claims which in fact covered less than 2% of emissions. This is disingenuous and highly misleading.
Confused consumers
Corporate net-zero and carbon neutrality claims tend to be misleading because they can be vague or distorted and their foundation obscured from full public view. This makes it difficult for non-experts to understand what they mean – and even for experts to get to the bottom of them.
Climate-related marketing often targets consumers, who, studies show, often do not understand what such claims really entail. If they are confused and misled about the real climate impact of their purchases, they may see no reason to change their behaviour and may even reward companies making outlandish claims. Why buy local when shipping companies offer 'carbon neutral' overseas options?
Consumers need to be given the opportunity to embrace their role as a driving force behind a societal shift to a green economy and decarbonise their consumption. For this to occur, however, we need to strengthen legislation and regulations to protect consumers and ensure that they are provided with clear, reliable information so they can make more informed choices.
Unique position
The European Union is in a unique position to address this pervasive greenwashing, as policymakers are in the midst of updating consumer-protection legislation. All tendentious and misleading climate-related neutrality or compensation claims or marketing – 'carbon neutral', 'CO2 neutral', 'CO2 compensated', 'climate positive' and so on – should be banned.
The EU also needs to restrict more tightly claims relating to future environmental performance, such as 'net zero by 2050'. Specifically, climate-related future performance claims should be prohibited when they involve offsetting, 'insetting', or any other method purporting to 'neutralise' or counter-balance emissions, rather than cutting them.
Instead of peddling false or gimmicky carbon-neutrality claims, companies must be persuaded to communicate accurately about their climate-financing activities. They should be encouraged to advertise that they have made a donation to particular climate-related projects. This would not stop the flow of corporate revenue into mitigation projects, with real-world environmental benefits. It would simply facilitate truthful disclosure.
Judicial rulings
Not only would this protect consumers from misleading marketing and better prepare them for a green transition; it would force companies to take real and verifiable climate action if they wish to retain public confidence. It would also help them avoid the growing reputational and legal risks associated with questionable claims.
Indeed, there has been an uptick in enforcement actions and corresponding judicial or regulatory rulings, including a recent one in Sweden. In that case, the court prohibited the dairy company Arla Foods from making misleading climate-related claims which implied that no harmful climate impacts were associated with its activities or that these impacts had been neutralised or compensated.
The climate crisis is rapidly accelerating and we cannot wait any longer to take action. As some of the world's greatest emitters, corporations must take their responsibility to tackle the crisis seriously. And governments and the EU must make sure they cannot greenwash their way out of that obligation.
______
This article was first published by Social Europe on 9 March 2023.