Scroll down for French and Spanish

Ahead of the highly anticipated agreement on aviation scheduled to be adopted next October, Carbon Market Watch has taken the initiative to call countries and airlines to push for an ambitious, binding, environmentally robust deal to address aviation emissions. A new infographic was recently published to maintain pressure.
In October 2016, member countries of the UN's International Civil Aviation Organization (ICAO) are expected to take a first decision in history about the sector's role in tackling climate change. Instead of actually reducing their own emissions, the majority of the effort will be done through offsetting emissions via a global market-based mechanism (GMBM), with the objective to cap the growth of net aviation emissions at 2020 levels.
Warning: greenwashing risk
However, there is a risk that the October decision will be far from ambitious, riddled with loopholes, and will lack essential accountancy and governance rules for an offsetting mechanism to be anything more than a greenwashing exercise.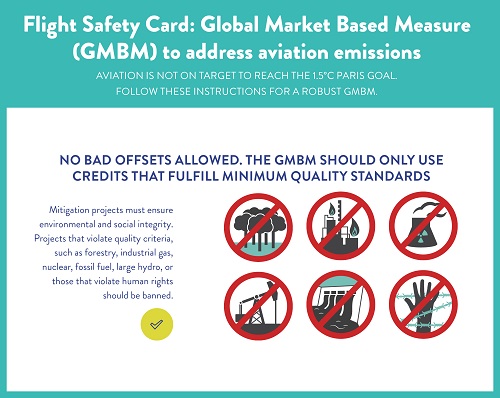 In reaction, Carbon Market Watch launched an aviation campaign, calling for ambition and environmental integrity, so that offsetting projects deliver real, additional, permanent and verified reduction and to ensure that they do not have ineffective or dangerous impacts for local populations and the climate (such as the Barro Blanco project – see here).
As part of this campaign, and ahead of an important ICAO meeting in May, Carbon Market Watch, together with partner NGO Transport & Environment, wrote to ICAO Parties, calling for the aviation sector to develop a robust tool to reduce their emissions, in line with the Paris agreement. The letter was signed by 64 environmental organisations and Members of the European Parliament from 28 countries around the world. Prior to this, Carbon Market Watch also organized a webinar – watch it again here – and published a new policy briefing to inform civil society and empower organisations to act on the issue.
Hold countries and airlines accountable!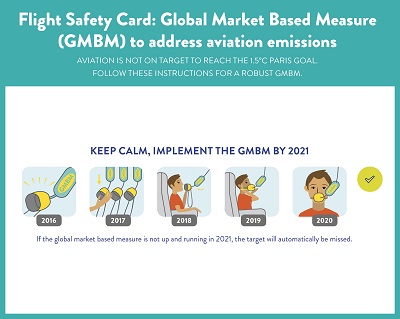 So far, ICAO negotiations have unfortunately made little progress. One of the main sticking points is the differentiation issue, or how the emission reduction targets should be divided between countries. Nevertheless, the agreement will not be considered a success if only this issue is addressed. Gaps in ambition are found throughout the text and should be resolved for the global MBM to be considered a credible measure. A binding goal, a strong review mechanism to increase ambition, and a start date of 2021 are still outstanding minimum issues.  While industry supports reaching an agreement at all costs, the lack of focus on environmental integrity risks a hollow and ineffective deal.
In reaction, Carbon Market Watch has launched a new online action, publishing an infographic – the Flight Safety Card – for all concerned civil society organisations to use.  Help us raise awareness on social networks and hold Ministers and big airlines accountable. Post the infographic on big airlines Facebook pages and tweet at your transport and environment Ministers!
The industry has been implored to act since 1997, but has achieved very little to date. We need countries and airlines to take action so that aviation pollution will not continue to go unaddressed!
Want to know more, subscribe to our aviation mailing list by writing to [email protected]
By Pierre-Jean Brasier – Network coordinator – and Kelsey Perlman, Policy Officer – Land Use & Aviation 

---
Click here if you want to read the other articles of our Watch This! Newsletter

Anticipant l'accord très attendu sur l'aviation qui devrait être adopté en octobre prochain, Carbon Market Watch a pris l'initiative d'exhorter les pays et les compagnies aériennes à promouvoir un accord ambitieux, contraignant et robuste au niveau environnemental afin de s'attaquer aux émissions du trafic aérien. Pour maintenir la pression, une nouvelle infographie vient d'être publiée.
En octobre 2016, les pays membres de l'Organisation de l'aviation civile internationale de l'ONU (OACI) sont censés prendre la première décision de l'histoire concernant le rôle du secteur dans la lutte contre les changements climatiques. Au lieu de réellement réduire leurs propres émissions, la majorité de l'effort consistera en des compensations des émissions via une mesure mondiale fondée sur le marché (MMFM), avec l'objectif de plafonner la croissance des émissions nettes de l'aviation aux niveaux de 2020.
Attention : risque de greenwashing
Toutefois, la décision d'octobre risque d'être peu ambitieuse, d'être criblée de lacunes et de manquer de règles de comptabilité et de gouver
nance auquel cas la mesure de compensation ne serait rien de plus q'un exercice de greenwashing.
En réaction à cela, Carbon Market Watch a lancé une campagne sur aviation, appelant à de l'ambition et à une intégrité environnementale, afin que les projets de compensation produisent une réduction  réelle, supplémentaire, permanente et vérifiée et afin de s'assurer qu'il n'y ait pas de répercussions inefficaces voire dangereuses pour les populations locales et l'environnement (comme c'est le cas avec le projet de Barro Blanco – voir ici).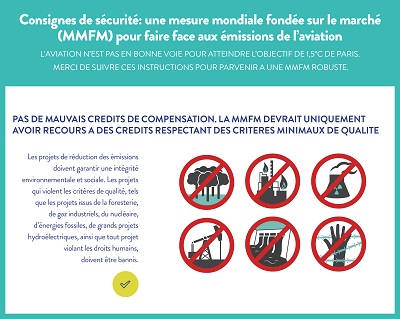 Dans le cadre de cette campagne, et en anticipant une réunion importante de l'OACI en mai, Carbon Market Watch, allié à l'ONG partenaire Transport & Environnement, a écrit aux parties de l'OACI, plaidant pour que le secteur aéronautique développe un outil robuste de réduction des émissions, en ligne avec l'Accord de Paris. La lettre a été signée par 64 organisations environnementales et des Membres du Parlement européen issus de 28 pays à travers le monde. Avant cela, Carbon Market Watch avait également organisé un webinaire – regardez-le à nouveau ici – et publié un nouveau briefing qui avait pour but d'informer la société civile et d'habiliter les organisations à agir sur cette problématique.
Rendez les pays et les compagnies aériennes responsables!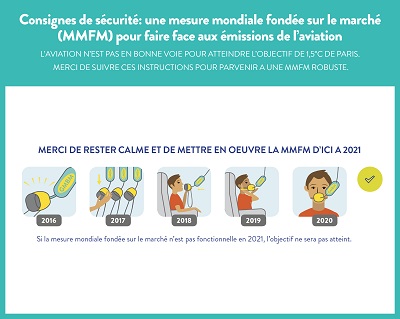 Jusqu'à présent, les négociations de l'OACI n'ont malheureusement pas beaucoup avancé. Un des principaux points de friction est la problématique de la différenciation, ou comment les objectifs de réduction des émissions devraient être réparties entre les pays. Néanmoins, la résolution de ce problème uniquement ne fera pas de l'accord un succès. Des manques flagrants d'ambition se retrouvent à plusieurs endroits du texte et devraient être résolus pour que la MMFM soit considérée comme une mesure crédible. Un objectif contraignant, un mécanisme de révision fort permettant de revoir l'ambition à la hausse, et une date de départ en 2021 sont toujours des questions fondamentales qui restent à trancher. Tandis que l'industrie insiste pour parvenir à un accord à n'importe quel prix, le manque d'intérêt pour l'intégrité environnementale risque de nous mener à un accord creux et inefficace.
En réaction à cela, Carbon Market Watch a lancé une nouvelle action en ligne, via la publication d'une infographie – sous la forme d'une carte de consignes de sécurité – pour toutes les organisations de la société civile intéressées par le problème. Aidez-nous à mobiliser l'attention sur les réseaux sociaux et à rendre les Ministres et les grandes compagnies aériennes responsables. Publiez l'infographie sur les pages Facebook des grandes compagnies aériennes et tweetez-la à vos Ministres des Transports et de l'Environnement !
Depuis 1997, il est demandé avec insistance à l'industrie d'agir mais très peu de choses ont été réalisées jusqu'à présent. Nous avons besoin que les pays et les compagnies aériennes agissent afin que la problématique de la pollution issue du trafic aérien ne continue pas à rester sans réponse !
Vous désirez en savoir plus, inscrivez-vous à notre mailing list « aviation » en écrivant à [email protected]
Ecrit par Pierre-Jean Brasier – Coordinateur du réseau – et Kelsey Perlman, Chargée de mission 

---
Cliquez ici pour lire les autres articles de cette édition.

Antes de que se adopte el esperado acuerdo aeronáutico el próximo octubre, Carbon Market Watch ha tomado la iniciativa y reclama a países y compañías aéreas que trabajen para conseguir un pacto ambicioso, vinculante y medioambientalmente sólido para hacer frente a las emisiones del sector de la aviación. Para mantener la presión, hemos publicado recientemente una nueva infografía sobre esta cuestión.
En octubre de 2016, se espera que los países miembros de la Organización de Aviación Civil Internacional (OACI) de la ONU tomen una decisión histórica sobre el papel del sector aeronáutico en la lucha contra el cambio climático. En lugar de trabajar para reducir las emisiones, la mayor parte del empeño se centrará en compensarlas mediante un mecanismo basado en el mercado global (MBMG), con el objetivo de limitar el crecimiento de las emisiones netas del sector de la aviación a los niveles de 2020.
Advertencia: Riesgo de "pinta de verde"
No obstante, existe el riesgo de que la decisión que se tome en octubre sea poco ambiciosa, esté repleta de vacíos legales y carezca de las normas de contabilidad y gobierno esenciales para que este mecanismo compensatorio sea algo más que algo pintado de verde.
Anticipándose a ello, Carbon Market Watch ha lanzado una campaña específica para el sector de la aviación, con la que reclama ambición e integridad medioambiental, así como que los proyectos de compensación supongan una reducción real, adicional, permanente y verificada y no sean ineficaces o incluso peligrosos para la población local y para el clima (como el proyecto Barro Blanco – más información aquí).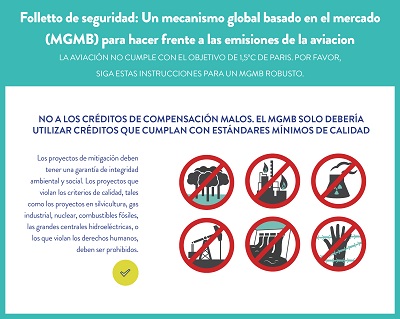 Como parte de esta campaña, y antes de que se celebre en mayo una importante reunión de la OACI, Carbon Market Watch, en colaboración con la ONG Transport & Environment (Transporte y medioambiente), ha escrito a los miembros de la OACI para solicitarles que desarrollen una herramienta sólida para reducir sus emisiones que esté en línea con el Acuerdo de París. La carta está firmada por 64 organizaciones medioambientales y por miembros del Parlamento Europeo de 28 países de todo el mundo. Anteriormente, Carbon Market Watch también organizó un webinario (puede volver a verlo aquí, en inglés) y publicó un nuevo briefing que informa a la sociedad civil y faculta a las organizaciones para actuar ante este problema
Responsabilidad de los estados y las compañías aéreas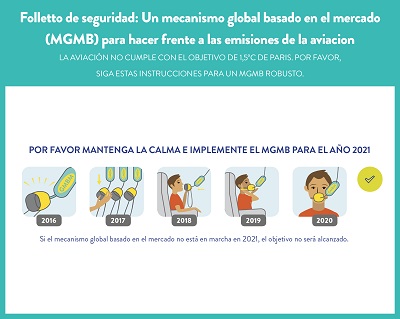 Por desgracia, las negociaciones de la OACI han avanzado muy poco. Uno de los principales escollos es el problema de la diferenciación, o cómo dividir entre estados los objetivos de reducción de emisiones. No obstante, si solo se resuelve esta cuestión, el acuerdo no se podrá considerar un éxito. El texto presenta unas brechas de ambición que deben resolverse para que el MBM global pueda convertirse en una medida creíble. Los aspectos mínimos más importantes siguen siendo un objetivo vinculante, un mecanismo de revisión fuerte que aumente la ambición y 2021 como año de inicio.  Aunque el sector está a favor de conseguir un acuerdo a cualquier precio, no concentrarse en la integridad medioambiental puede transformar el acuerdo en un pacto hueco e ineficaz.
Para evitarlo, Carbon Market Watch ha lanzado una nueva acción virtual y ha publicado una infografía – Tarjeta de seguridad de vuelo – que pueden usar todas las organizaciones de la sociedad civil afectadas.  Ayúdenos a aumentar la concienciación en redes sociales y a responsabilizar a ministerios y grandes líneas aéreas. Publique la infografía en las páginas de Facebook de las principales compañías aéreas y tuitéela a su Ministro de Fomento y Medio ambiente.
Desde 1997 se ha implorado al sector aeronáutico que actúe al respecto, pero hasta la fecha se ha conseguido muy poco. Necesitamos que tanto estados como líneas aéreas se impliquen para que deje de ignorarse la contaminación del sector aéreo.
Si quiere más información, suscríbase a nuestra lista de correo sobre aviación escribiendo a [email protected]

Escrito por Pierre-Jean Brasier – coordinador de la red – y Kelsey Perlman, oficial de politicas, Carbon Market Watch
---
Haz clic aquí para leer los otros artículos del nuestro Boletín Watch This!