We fight the climate wars no longer only against denialists but also against what climate scientist Michael Mann calls "inactivists", writes Sabine Frank.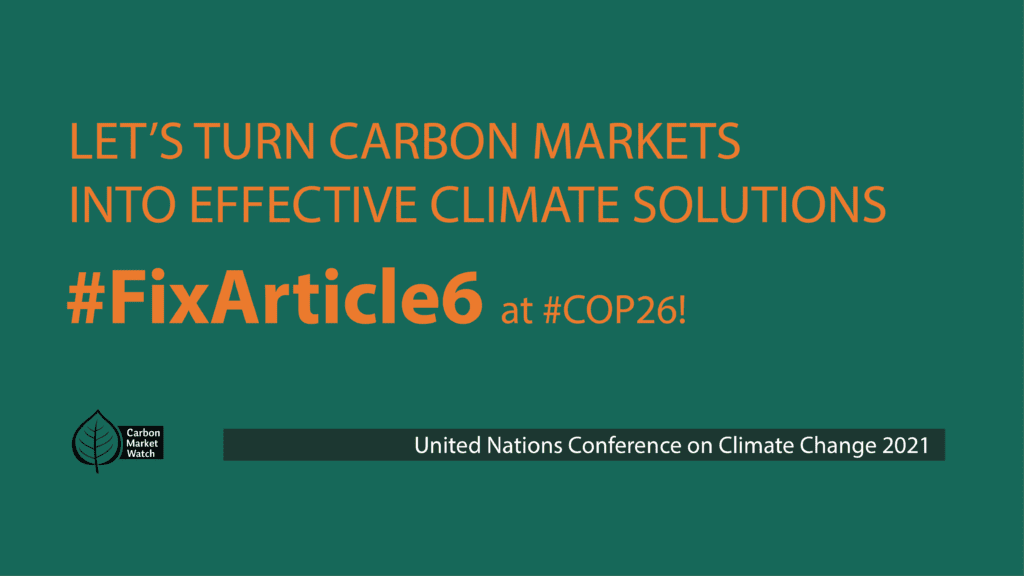 I don't know at which UN climate conference this trend began, but at COP15 in Copenhagen, the shift was certainly not yet apparent. The recent BBC 'conspiracy thriller' The Trick is a  timely reminder of the 'Climategate' scandal of 2009 which vested interests manufactured to discredit climate science. Science did prevail, but six more precious years passed before the world community agreed in Paris on a treaty to limit global warming.
Inactivists acknowledge climate change and sign up for lofty long-term emission reduction goals, but drag their heels on credible implementation. Luckily, before they could pitch their false reassurances to COP26 delegates via public billboards at the railway stations and airports of their arrival, this advertising space was secured, under a sealed bid process, to tell delegates that: "The world is looking to you, COP26!"
Quadrature Climate Foundation collaboratively and collectively developed the campaign, which is supported by a cohort of organisations including Carbon Market Watch. The microsite www.cop26.watch features organisations and tells the story behind the images featured in the campaign, many of whom are victims of weather extremes made worse and more frequent by climate change. The messages on the roadside billboards are clear and direct. A report will be presented before the end of the year outlining the wins and challenges of a campaign that secured advertising space dedicated to the climate emergency and to keep the focus on COP's purpose rather than being left solely to corporations. Look out for the billboards if you travel to Glasgow.
Privatising climate action
Since the failure of governments to reach a climate accord in Copenhagen, there has been a greater focus on the role of private actors in fighting climate change. Where governments were hampered collectively by the unanimity principle of the United Nations Framework Convention on Climate Change (UNFCCC), or their individual lack of courage and ambition, companies, especially transnational corporations, would step into the breach, pledge their voluntary emission reductions and make their money serve the climate. 
Although there is nothing wrong in principle with private sector climate action if it is sincere and effective, how does it enter the global accounting of how we reach the Paris climate goals? And how much does it distract from government responsibility instead of merely complementing it?
After all, this is a case of asking the polluter to heal thyself or of asking turkeys to vote for Christmas. Relying on private sector goodwill and voluntary action eventually hits the wall of self-interest. Take the most obvious example of fossil fuel companies. In order to keep global heating in check, their current business models need to become extinct. Will oil and gas companies choose to do that without governments forcing them to?
#FixArticle6
Carbon markets are a key domain where public and private climate commitments intersect, as we highlight here. Although the trade in emission reductions between countries will be relatively limited, it is important to regulate this trade well because it will effectively provide guidance for the voluntary use of carbon offsets by private companies. 
We are worried that the Paris Agreement provisions for international trading of emission reductions will become a giant loophole if they are not designed robustly. Carbon markets will continue to make an insignificant contribution to climate action, unless they move past the idea of compensation and offsetting. It must enter every head that carbon offsetting is not the same thing as reducing emissions and that lowering emissions is the only realistic means of combating catastrophic heating. 
For that reason, #FixArticle6 is our slogan and hashtag for COP26.
Letting go of the fossilised past
To make Article 6 future proof, we have to reckon with, and exorcise, the ghosts of the past, namely by laying to rest credits issued under the Kyoto Protocol. 
Why regulation of the voluntary carbon market is urgently needed, you will appreciate once you've read how it can be blatantly used for greenwashing. In our latest report, 'Net-zero pipe dreams: Why fossil fuels cannot be carbon neutral', we expose incorrect claims that extremely long-term emissions can be offset with temporary storage in living ecosystems. 
Of course in the case of the fossil fuel industry, the political tasks go beyond the regulation of offsetting. We are united with other climate campaigners in wanting to see governments at COP26 commit to clear and binding fossil fuel phase-out plans to keep 1.5°C alive. The business plan for energy companies must be to leave their old business models behind.
"Business as usual is extremist," says the T-shirt of Belgian Extinction Rebellion activist Sébastien Hendrickx. While the CMW team will take the train to Glasgow rather than block the rails, and while we'll speak to negotiators rather than jump on the tables shouting, we are dead serious that climate inactivists, be they countries or companies, must be exposed and opposed.
Stay tuned as we do our work at COP26 and good luck with your own.
This month's content
Articles
COP26: Five reasons why carbon markets matter
Net-zero illusions: The rise of 'carbon-neutral' fossil fuels
COP26: Kyoto-era carbon credits will not repay our debt to the climate
Publications