Brussels, 13 October 2016. The position adopted today by the European Parliament's industry committee on the EU Emissions Trading System (EU ETS) does little to reform the EU's key climate legislation or to bring it in line with the Paris climate change agreement.
The industry committee kept the level of ambition of the EU ETS unchanged from the Commission's proposal which predates the Paris Agreement that set a new level of global climate ambition.
The committee also failed to effectively address the system's huge oversupply of pollution permits, one of the main causes of the inadequate carbon price that currently hovers around 5 euros per tonne.
"Only last week the EU applauded itself for ratifying the Paris Agreement and guaranteeing its entry into force this year. Today's vote by the industry committee fails to reflect these climate commitments or fix the fundamental flaws in the EU's carbon market," said Agnes Brandt, senior EU policy officer at Carbon Market Watch.
As a small step in the right direction, the industry committee voted to permanently cancel a minor portion of surplus allowances from the Market Stability Reserve. However, this amount only represents a drop in the ocean in the huge glut of oversupply.
Too many free pollution permits
The EU ETS is meant to make the polluter pay, but has so far provided windfall profits for big polluters under the carbon leakage rules. Regrettably, the members of the industry committee proposed to give away even more free pollution permits to subsidise heavy industry.
The position adopted today increases the support for low-carbon innovation, but that would still be 10 times lower than the amount of pollution subsidies.
Agnes Brandt comments: "The over-generous handout of free allowances has made polluting a profitable business. Instead of further subsidising pollution, we should be giving much more support for low-carbon innovations."
Coal investments through EU's carbon market
In a welcomed move, the industry committee strengthened the Commission proposal to exclude future investments in coal, under an exemption which allows low income member states to give out free permits to their energy providers.
To date, this exemption has been largely misused to subsidise existing and new coal energy plants in these countries.
"It is unacceptable that in the post-Paris world, the EU's flagship climate instrument would still contain loopholes that allow coal subsidies. If the EU ETS is to retain any credibility, strict criteria for smaller projects and a clear end date to the derogation must be established," said Urška Trunk, policy officer at Carbon Market Watch.
The leading environment committee is set to vote on the proposal on 8 December 2016. Carbon Market Watch urges the members of the committee to adopt an ambitious reform of the EU ETS so that it drives Europe's low-carbon transition and delivers on its global climate commitments. The plenary vote will take place early 2017.
-ENDS-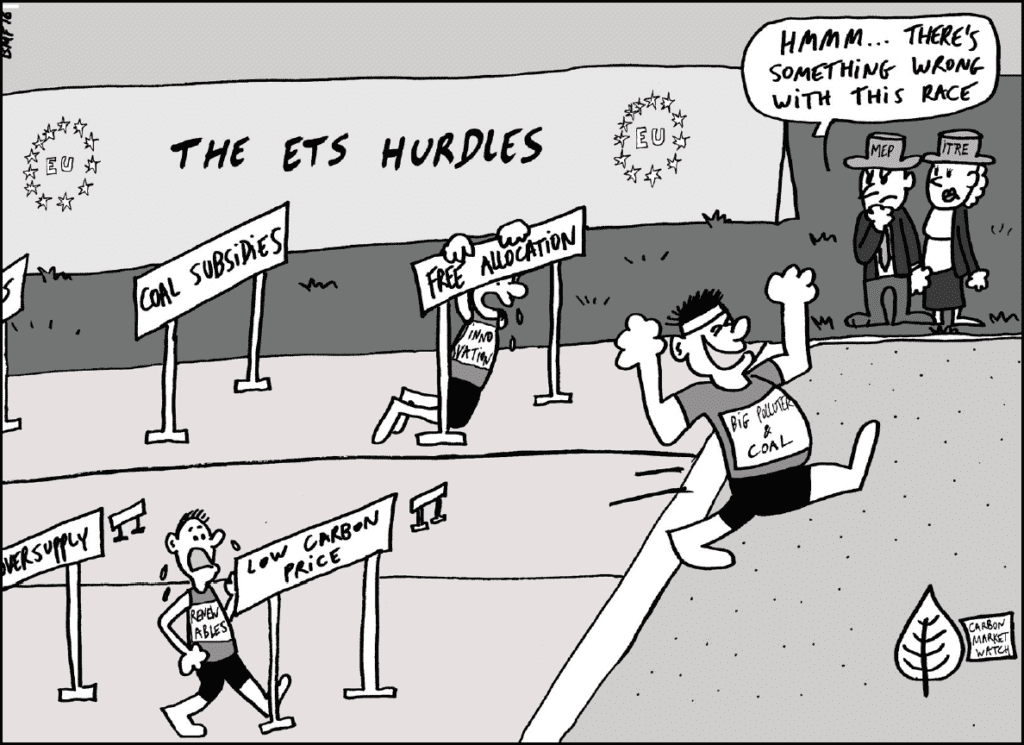 Media contacts:
Agnes Brandt, Senior EU Policy Officer
+32 483 227571
Urška Trunk, Policy Officer
+32 4 8712 96 17
Kaisa Amaral, Press Officer
+32 4 850 768 90
Notes to editor:
Policy brief: Industry windfall profits from Europe's carbon market (March 2016)
Policy brief: Fossil fuel subsidies from Europe's carbon market (April 2016)
Policy brief: The climate friendly transition of Europe's energy intensive industries