Scroll down for French and Spanish

ICAO's General Assembly is rapidly approaching but the negotiations have left us the MBM in a state of massive uncertainty. On September 27, a coalition of NGOs will organise a final online blast, through Thunderclap, calling ICAO to #Flight4Climate. Carbon Market Watch calls on its supporters and partners to join this crucial last call.
On September 27, the UN's International Civil Aviation Organization (ICAO) will hold its 39th Assembly. It is expected to adopt the first major decision in history addressing international aviation's role in tackling climate change. Instead of actually reducing its own emissions, the majority of the effort will be done through offsetting emissions via a global market-based mechanism (GMBM), with the objective to offset the growth of net aviation emissions above 2020 levels.
Looking for clarity
This next General Assembly is an opportunity that cannot be missed, as it only meets every three years. In the framework of a very opaque process, key shortcomings must be addressed before the Assembly comes to a close. Transparency and no-double counting must be clearly referenced to ensure effective accounting. The text must encourage further ambition through regional measures and quality including clear accounting with commitments under the Paris Agreement.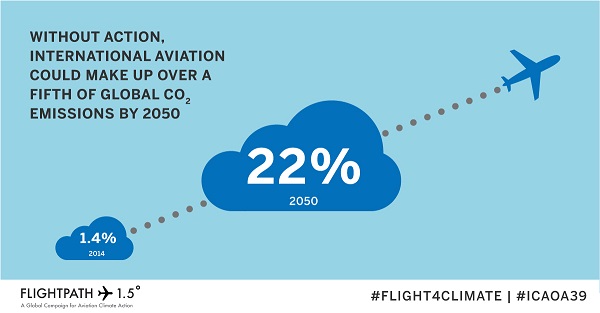 Finally, the measure must actually lead to Carbon Neutral Growth at 2020 levels (CNG2020) and move on to ratchet up ambition and in sector reductions quickly. Setting a  disappointing precedent, countries have agreed participation will be voluntary until 2027, meaning the amount of emissions covered will remain unknown until countries declare their intended participation to the ICAO Secretariat. Unless an adequate number of countries (covering the vast majority of emissions) are covered, the MBM will be unworkable.
Join our online blast to demand an ambitious outcome
From the beginning of 2016, Carbon Market Watch and allied NGOs have pressured countries and the airline industry, calling for bold leadership to reach an ambitious, binding, environmentally robust agreement to address aviation emissions. Throughout the months of July and August, we have organised a Tweetathon in which dozens of individuals and NGOs used social networks to call airlines to ensure ambition in #GMBM. We will replicate the same initiative throughout the ICAO GA, calling national Ministers to take action.
Moreover, on September 27, we will issue our last social media blast and organise a Thunderclap, in collaboration with the International Coalition for Sustainable Aviation – ICSA.  To participate, log in on this website and follow the instructions. We will post the message you have pre-approved on your behalf only once.
Climate change campaigners have called on aviation to act since 1997, but the industry has achieved very little to date. We need countries and airlines to take action so that aviation pollution will not continue to go unaddressed!
Want to know more? subscribe to our aviation mailing list by writing to [email protected]
By Pierre-Jean Brasier – Network coordinator  

---
Click here if you want to read the other articles of our Watch This! Newsletter

L'Assemblée générale de l'OACI approche à grands pas; pourtant, les négociations laissent planer une grande incertitude sur la MMFM. Le 27 septembre, une coalition d'ONG tentera de propager une ultime onde de choc, via Thunderclap, en exhortant l'OACI à #Flight4climate (littéralement, «voler pour le climat»). Carbon Market Watch appelle ses sympathisants et ses partenaires à rejoindre ce dernier appel décisif.
Le 27 septembre, l'Organisation de l'aviation civile internationale de l'ONU tiendra sa 39ème Assemblée. L'adoption historique d'une première décision est attendue, décision qui s'attaquerait au rôle de l'aviation internationale dans la lutte contre les changements climatiques. Au lieu de réellement réduire ses propres émissions, la majorité de l'effort sera réalisée via une compensation des émissions à travers une mesure mondiale fondée sur le marché (MMFM), avec l'objectif de compenser la croissance des émissions nettes de l'aviation au-delà des niveaux de 2020.
A la recherche de transparence
La prochaine Assemblée générale représente une opportunité à ne pas rater, puisqu'elle a lieu seulement tous les trois ans. Dans le cadre d'un processus très opaque, une réponse aux principaux problèmes doit absolument être trouvée avant la fin de l'Assemblée. La transparence et l'interdiction du double comptage doivent être clairement mentionnées afin de garantir une comptabilité efficace. Le texte doit promouvoir davantage d'ambition via des mesures régionales, ainsi qu'une certaine qualité incluant une comptabilité claire avec des engagements, conformément à l'Accord de Paris.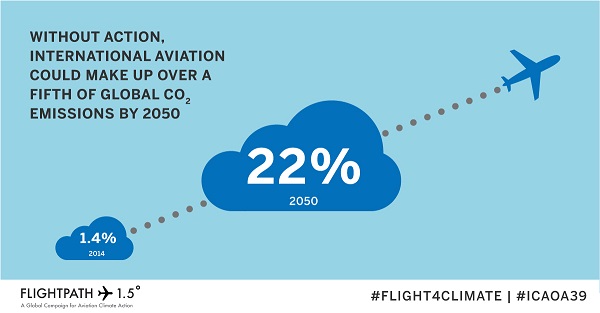 Enfin, la mesure doit réellement mener à une Croissance Neutre en Carbone dès 2020 (CNG2020) et pousser à une augmentation de l'ambition et à une accélération des réductions d'émissions du secteur. Créant par là un précédent regrettable, les pays se sont accordés sur une participation volontaire jusqu'en 2027, ce qui signifie que le montant des émissions concernées restera inconnu jusqu'à l'annonce de leur participation au Secrétariat de l'OACI. A moins qu'un nombre suffisant de pays (couvrant la plus grande part des émissions) soit concerné, la MMFM s'avérera impraticable.
Rejoignez notre action en ligne pour exiger un résultat ambitieux
Depuis le début de l'année 2016, Carbon Market Watch et les ONG alliées ont fait pression sur les pays et l'industrie aérienne, les appelant à prendre les devants pour atteindre un accord ambitieux, contraignant, et environnementalement solide afin de régler le problème des émissions de l'aviation.  En juillet et août, nous avons organisé un Tweetathon au cours duquel des dizaines de particuliers et d'ONG ont utilisé les réseaux sociaux pour exhorter les compagnies aériennes à garantir l'ambition de la MMFM (#GMBM). Nous allons répéter cette initiative durant l'AG de l'OACI en appelant les Ministres nationaux à plus d'action.
Par ailleurs, le 27 septembre, nous réaliserons notre dernière action sur les médias sociaux et organiserons un Thunderclap, en collaboration avec la Coalition internationale pour l'aviation durable – ICSA. Cet outil en ligne permet à des supporters d'une cause de tweeter et de poster simultanément sur Facebook le même message. Nous espérons propager une immense onde de choc en ligne, que l'OACI ne pourra ignorer ! Plus nous serons nombreux, plus nous ferons de bruit. Pour participer, enregistrez-vous sur le site et suivez les instructions. Nous posterons en votre nom, une seule fois, le message que vous aurez préalablement approuvé.
Depuis 1997, les activistes du climat demandent à l'aviation d'agir, mais l'industrie a jusqu'à présent concrétisé très peu de choses. Les pays et les compagnies aériennes doivent agir afin que la pollution issue du trafic aérien cesse d'être ignorée !
Vous désirez en savoir plus ? Inscrivez-vous à notre mailing list « aviation » en écrivant à [email protected]
By Pierre-Jean Brasier – coordinateur du réseau

---
Cliquez ici pour lire les autres articles de cette édition.

La Asamblea General de la OACI se aproxima pero las negociaciones nos han dejado la MGBM en un estado de máxima incertidumbre. El 27 de septiembre, una coalición de ONG organizará un estallido final online, a través de Thunderclap, llamando a la OACI a luchar por el clima (#Flight4Climate). Carbon Market Watch hace una llamada a sus seguidores y colaboradores para que se unan a esta última llamada crucial.
El 27 de septiembre, la Organización de Aviación Civil (OACI) de las NNUU celebrará su 39ª asamblea. Se espera que se adopte la primera gran medida de la historia para tratar el papel de la aviación internacional en la lucha contra el cambio climático. En lugar de reducir realmente sus propias emisiones, la mayoría de los esfuerzos se invertirán en compensar emisiones a través de un mecanismo global basado en el mercado (MGBM) con el objetivo de compensar el crecimiento de las emisiones netas procedentes de la aviación por encima de los niveles de 2020.
En busca de una mayor claridad
Esta próxima Asamblea General es una oportunidad que no se puede perder, ya que solamente se reúnen cada tres años. En el marco de un proceso muy opaco, deben alcanzarse compromisos clave antes del cierre de la Asamblea. La transparencia y la ausencia de doble recuento deben referenciarse claramente para garantizar un recuento efectivo. El texto debe favorecer aún más la ambición a través de medidas regionales y calidad, incluyendo explicaciones claras sobre los compromisos al amparo del Acuerdo de París.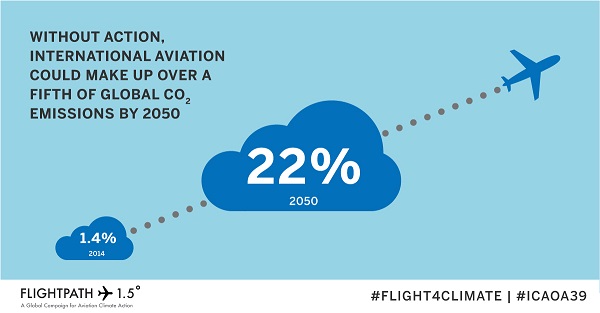 Por último, la medida debe suponer realmente un Crecimiento Neutro del Carbono a niveles de 2020 (CNG2020) y un avance rápido hacia unas expectativas crecientes y unas reducciones en el sector. Estableciendo un precedente decepcionante, los países han acordado que la participación será voluntaria hasta 2027, lo que significa que la cantidad de emisiones cubiertas seguirá siendo desconocida hasta que los países declaren su intención de participar al Secretariado de la OACI. Salvo que se cubra un número adecuado de países (abarcando la gran mayoría de las emisiones), la MGBM no podrá funcionar.
Únase a nuestro estallido online para exigir unos resultados ambiciosos
Desde comienzos de 2016, Carbon Market Watch y otras ONG aliadas han presionado a los países y al sector de la aviación, pidiendo un liderazgo rotundo para alcanzar un acuerdo medioambientalmente robusto, vinculante y ambicioso para tratar las emisiones de la aviación. A lo largo de julio y agosto, hemos organizado un Tweetathon en el que docenas de individuos y ONG han usado las redes sociales para pedir a las aerolíneas que garanticen sus expectativas en la MGBM. Durante la AG de la OACI, esta iniciativa se va a dirigir a los Ministros nacionales.
Además, el 27 de septiembre realizaremos nuestro último estallido en las redes sociales y organizaremos un Thunderclap, en colaboración con la Coalición Internacional por una Aviación Sostenible (ICSA). Esta herramienta online permite a quienes apoyan una causa twitear todos a la vez y publicar en Facebook el mismo mensaje al mismo tiempo. Esperamos crear un gran estallido online que la OACI no pueda ignorar. Cuantos más seamos, más alto gritaremos. Para participar, regístrate en este sitio web y siga las instrucciones. Publicaremos el mensaje que ha aprobado previamente en su nombre una sola vez.
Los creadores de campañas contra el cambio climático llevan desde 1997 pidiendo a la aviación que actúe, pero el sector ha logrado muy poco hasta la fecha. Necesitamos que los países y aerolíneas pasen a la acción para que la contaminación derivada de la aviación no continúe sin recibir la atención necesaria.
Si desea más información suscríbase a nuestra lista de correo sobre aviación escribiendo a [email protected]
By Pierre-Jean Brasier – coordinador de la red

---
Haz clic aquí para leer los otros artículos del nuestro Boletín Watch This!