A new report from the Öko-Institut shows that the use of forestry offsets to replace efforts in other sectors would undermine the EU's 2030 climate target by 5%. The legislative proposal for the land use sector that the European Commission is expected to present early next year should therefore uphold the environmental integrity of the EU's 2030 climate target by treating the emissions and removals from our forests and soils completely separate from the efforts of other sectors.
EU leaders last year agreed that emissions from the land use, land use change and forestry (LULUCF) sector should be incorporated into the EU's 2030 climate framework. To implement this decision, the European Commission is expected to present a legislative proposal to reduce the emissions from our soils and forests early 2016 and has recently consulted stakeholders on how this can best be done.
Given the urgent need to rapidly phase-out our fossil fuel emissions, combining the LULUCF sector with carbon intensive industries would provide perverse incentives to delay investments in sustainable, climate-friendly technologies. The EU's forests should not become a playground for industries to avoid reducing their own emissions, which is what several EU countries are advocating for. Forestry offsets do not represent real emission reductions because the carbon stored in trees and soils is reversible and hence cannot replace permanent emissions.
Even though it is crucial that the LULUCF sector also reduces its climate impact in line with the economy-wide climate target of at least 40% reductions, this should not dilute the efforts of other sectors. Carbon Market Watch, along with a coalition of other NGOs, have therefore cautioned Climate Commissioner Miguel Arias Cañete against a dangerous cocktail of mixing EU's forests with other sectors.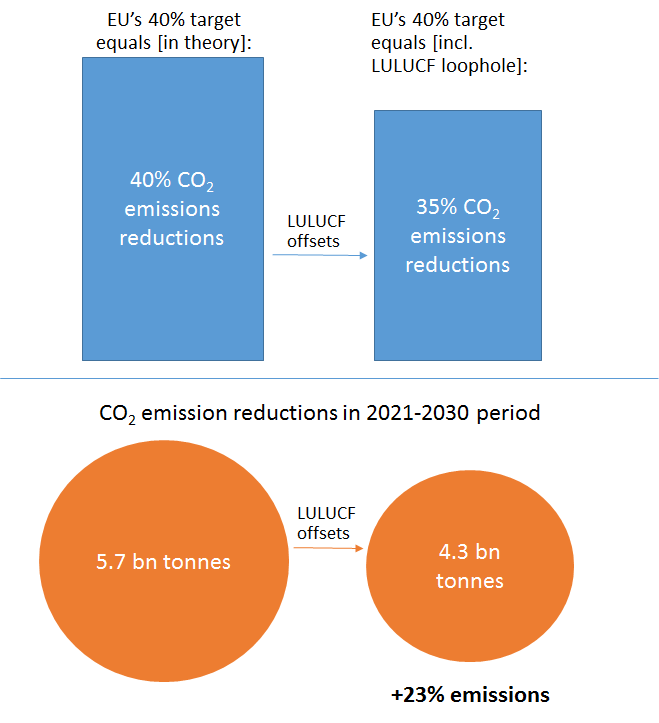 In contrast to sectors such as transport or agriculture, it is furthermore very difficult to measure the climate impact of trees and soils. The carbon emissions from the land use sector are characterized by large annual fluctuations, and it is very difficult to accurately monitor and measure the amount of carbon that is emitted and stored. Worse, current forestry accounting rules even hide emissions associated with harvesting, which means that the actual land use emissions are higher than reported on paper while emissions from bio-energy are nowhere accounted for.
With all eyes on the climate summit in Paris at the end of the year, it is crucial that the EU shows leadership by including the land sectors into the climate change fight in a way that avoids using our forests as a negotiation chip to reduce the climate ambition elsewhere.
More information: