Corporations are exaggerating their climate action, according to our recent report. But what are the next steps for those companies who truly want to reduce their impact on the climate? And how can governments stop false or misleading pledges sneaking into advertising?
The Corporate Climate Responsibility Monitor, a joint report from Carbon Market Watch and NewClimate Institute, was launched earlier this month, prompting public outcry and wide media coverage, including by the BBC, Bloomberg and Forbes, in dozens of languages and hundreds of locations across the globe.
The report revealed the extent of many top corporations' hollow climate promises. Of the 25 major companies assessed none achieved the top ranking of 'high integrity' for their action towards reaching their climate claims. Only one – Danish shipping company Maersk – achieved 'reasonable integrity'. Following this, just three companies achieved a ranking of 'moderate integrity' – Apple, Sony and Vodaphone. The remaining 21 companies either were ranked 'low' or 'very low' on integrity.
At our launch event, Policy Officer Gilles Dufrasne summarised the importance of the report's findings using an example from his life. He had been asked by his father what the CO2 neutral sticker on his bananas from the supermarket meant. And even with his expertise, Gilles couldn't answer. He would have had to conduct extensive research to find the meaning behind the claim. The CO2 neutral label didn't tell him anything about how the carbon footprint was calculated, which emissions were included, what emission reduction measures were implemented, or if carbon offsets were purchased.
"This label is completely failing at its objective," he said, "to provide consumers with the information they need to make informed choices and to differentiate one product from another. Labels like this are not only unverifiable, they are also not understandable."
While all the companies in the assessment were selected for their net-zero or carbon neutrality pledges, in reality their future emissions reductions amount to an average of just 40%. The companies get away with publicising their misleading green claims by a variety of greenwashing tricks, using loopholes, omitting data, choosing start dates when their emissions were higher and creating their own fallacious measures of climate action.
Untangling green claims from greenwashing
Some companies were found to make unclear claims, such as Nestlé, whose claims caused some confusion. It was not clear how they made their calculations, their claims were inconsistent in different publications, and due to a lack of information, it was difficult to assess how or whether they will meet their target of net zero emissions by 2050.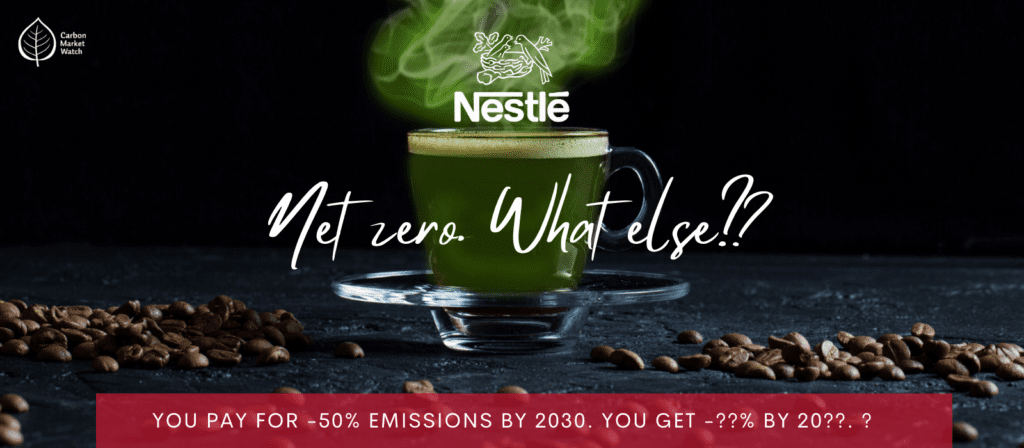 Other companies were found to have exaggerated their climate action. Google has claimed to be carbon neutral since 2007. However, this claim is derived through the procurement of renewable energy and offset credits, and omits up to 60% of their emissions. Their goal of becoming carbon free by 2030 mostly occurs alongside its plans for renewable energy and it remains unclear how they will reduce emissions.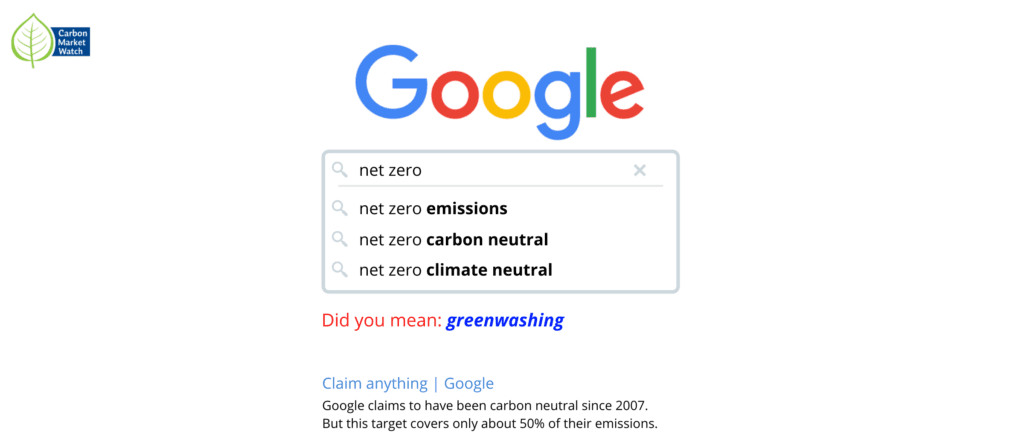 Other companies, such as IKEA, plan for some creative but ineffective climate action. For example, IKEA has plans to claim that the clean electricity generated by solar panels they sell counts towards their climate targets. They also plan to count carbon stored in some of their products as a form of offsetting, which would only be effective if the products were kept and maintained for hundreds of years.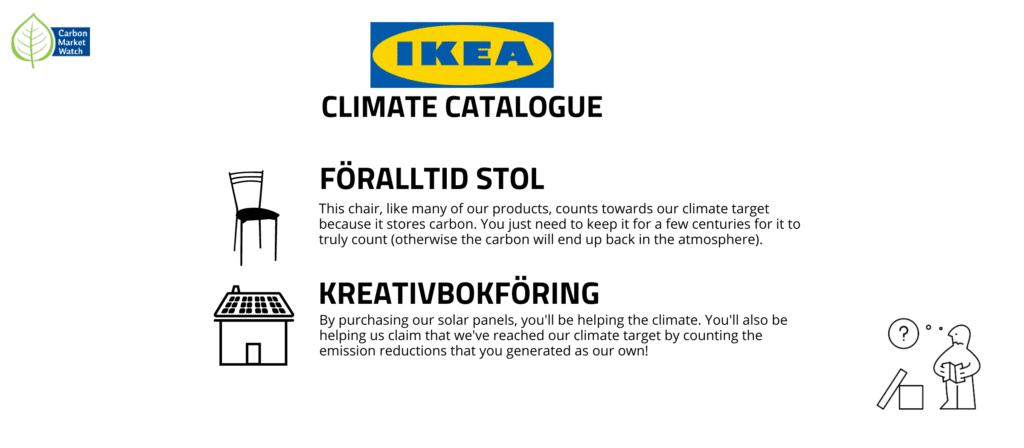 Commonly, companies make claims that only account for a small portion of total emissions, and omit major sources – particularly scope 3 (or indirect) emissions. For example, French supermarket chain Carrefour and Brazilian meat producers JBS's net-zero claims only apply to less than 10% of their total emissions.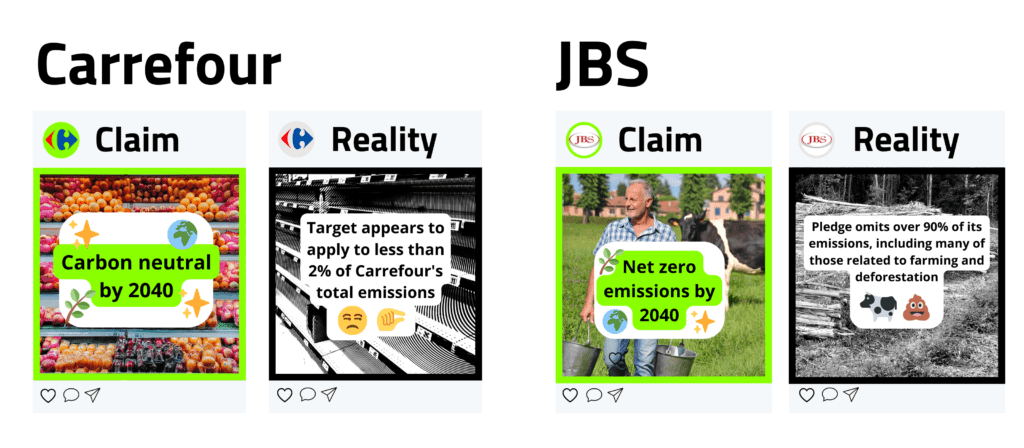 A ban on net zero?
As a result of the report, 27 NGOs came together to write an open letter to the EU Commission on green claims, demanding that action be taken to regulate green claims and combat greenwashing in ongoing legislative processes, notably the upcoming initiative on substantiating green claims and strengthening the role of consumers in the green transition.
As well as this, we put together a set of policy recommendations outlining what needs to be done to regulate green claims to prevent greenwashing. Our overarching demands are as follows:
Governments must ban corporations from making "net zero" and "carbon neutrality" claims.
Companies must report absolute emissions reductions separately from any emission reductions financed outside of their value chain, rather than one single aggregate number.
Companies must always provide consumers and investors with the full picture. They must set targets that cover all of the emissions within their value chain, i.e. scopes 1-3; express emission reductions in both absolute terms and as a share of total emissions; and provide details on the reference point used to calculate reductions, i.e. the base-year.
Companies should not balance fossil fuel emissions with carbon stored in non-permanent carbon sinks such as forests or soil.
It is clear that something must change to prevent companies from falsely appealing to increasingly eco-conscious consumers while they luxuriate in inaction. Regulation should be stepped up to untangle the greenwashing free-riders from those companies who truly act for the benefit of climate and their customers.