Scroll down for French and Spanish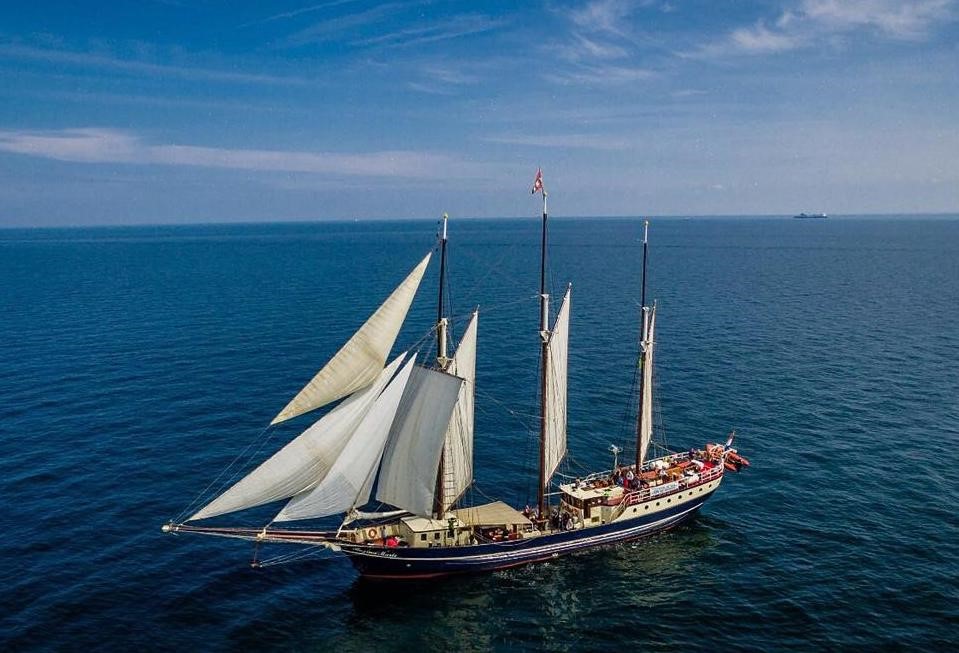 Sail to the COP – COP25 from two sides of the Atlantic Ocean
By Jeppe Bijker
The aviation industry, for example,  is a rapidly growing sector that alone is projected to emit more than the Paris Agreement carbon budget in 2050. To put travel higher on the international political agenda, four young people from the Netherlands started the project less than a year ago and mobilised 32 young scientists, entrepreneurs, artists and other young professionals from all over Europe, to set sail for South America to attend the UN Climate Conference in Chile.
For eight weeks the campaigners worked on board of the ship. They came up with a problem analysis, created a vision, and developed a portfolio of solutions. They formed various working groups to include as many different aspects as possible culture, media, education, policy, climate justice and innovation. These solutions and demands have been developed and will be shared within the COP and amongst their wider networks. You can find more here
After 4 weeks of sailing across the Atlantic the group found out that the COP had been moved to Madrid. Several Europeans responded to Sail to the COPs call and 22 of them are currently representing the organisation at COP25. Jorge Sánchez Hernández met with CMW and explained their work and expectations for the COP25. Thus, Sail to the COP attends the COP from two location across the Atlantic Ocean. One group is focusing on activities related to advocacy: 24/7 lobby hotline open for questions on travel policies, background research and fact checking, organising side events with live streams and general support of the group in Madrid. Another group is working on campaigning: sharing the think tank report online, engaging in Twitter discussions and looking for allies in our growing movement of non-fliers and people working towards the goal of achieving sustainable travel.
Sail to the COP believes in social transformation and hopes to talk to all stakeholders that are relevant in the travel industry, not only delegates from governments, but also employers from leading organisations wishing to adopt more sustainable travel policies, and people who can spread a narrative about sustainable travel.
This project was always more than a sustainable way of travelling to the COP, it is also an example of the youth climate movements. They are not only demanding change but are so suggesting avenues and solutions to explore. In their opinion every industry needs a group of critical young people that serve as watch dogs and guides in this era of huge and highly necessary transformation..
Contact details:
Jeppe Bijker – [email protected]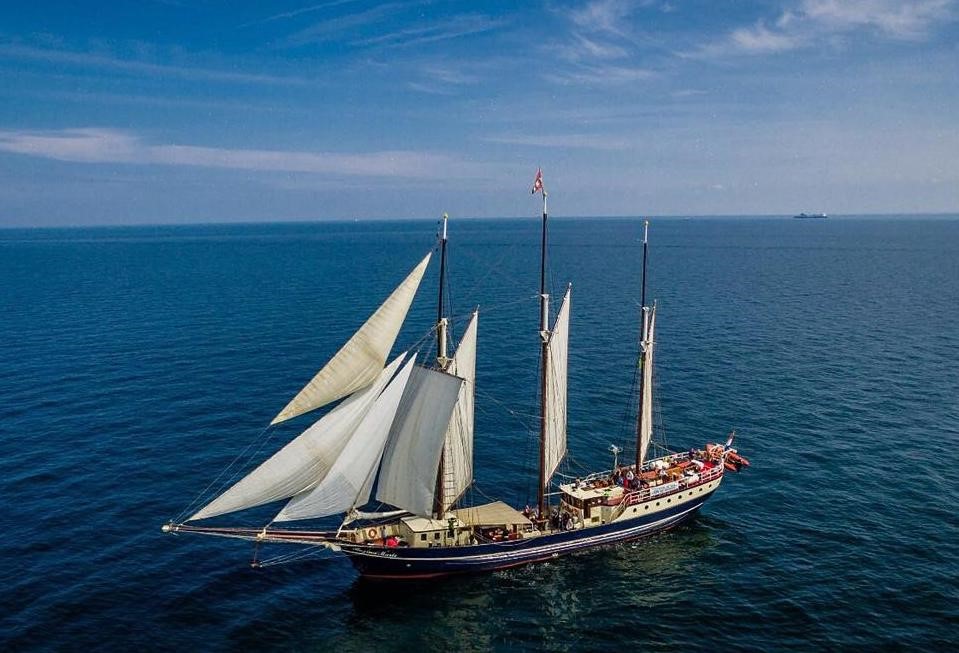 Sail to the COP – la COP25 depuis les deux côtés de l'Océan atlantique
Sail to the COP (en français « naviguer vers la COP ») est à la fois un groupe de réflexion et une campagne visant à sensibiliser à une mobilité durable. L'industrie aéronautique, par exemple, est un secteur à croissance rapide qui, à lui seul, devrait émettre plus que le budget carbone 2050 de l'Accord de Paris… Pour placer les modes de transport plus haut dans la liste des priorités politiques internationales, quatre jeunes gens originaires des Pays-Bas ont démarré ce projet il y a moins d'un an.  Depuis, ils ont mobilisé 32 jeunes scientifiques, entrepreneurs, artistes et autres jeunes professionnels issus de toute l'Europe afin de prendre le large vers l'Amérique du Sud pour assister, au Chili, à la conférence de l'ONU sur le climat.
Pendant huit semaines, les militants ont travaillé à bord du bateau. Ils ont proposé une analyse du problème, créé une vision et développé un portefeuille de solutions. Ils ont formé différents groupes de travail afin d'englober autant d'aspects différents que possible, tels que la culture, les médias, l'enseignement, les politiques, la justice climatique et l'innovation. Ces solutions et ces demandes ont évolué et seront communiquées au sein de la COP et à travers des réseaux élargis. Vous pouvez en apprendre plus en cliquant ici.
Après 4 semaines de navigation à travers l'Atlantique, le groupe a appris que la COP avait été déplacée à Madrid. Plusieurs Européens ont répondu à l'appel de Sail to the COPs et 22 d'entre eux représentent actuellement l'organisation à la COP25. Jorge Sánchez Hernández a rencontré CMW et expliqué leur travail et leurs attentes pour la COP25. C'est ainsi que Sail to the COP assiste à la COP depuis deux emplacements de chaque côté de l'Océan atlantique. Un groupe se concentre sur des activités de mobilisation: une assistance téléphonique de lobbying est ouverte 24h/24, 7j/7 pour répondre aux questions liées aux politiques des modes de transport, pour effectuer des recherches documentaires et des vérifications de faits, pour organiser des événements parallèles diffusés en direct et soutenir, de manière générale, le groupe à Madrid. Un autre groupe travaille sur le militantisme via un partage en ligne du rapport du groupe de réflexion, une participation dans des débats sur Twitter et la recherche d'alliés pour notre mouvement grandissant, qui regroupe ceux qui refusent de prendre l'avion et ceux qui s'emploient à atteindre une mobilité durable.
Sail to the COP croit qu'il est possible de transformer la société et espère pouvoir s'adresser à toutes les parties prenantes compétentes dans l'industrie du voyage, pas uniquement aux délégués du gouvernement, mais aussi aux employeurs d'organisations importantes qui souhaitent adopter des politiques de transport plus durables, ainsi qu'aux personnes qui pourraient promouvoir les bienfaits de la mobilité durable.
Ce projet a toujours constitué plus qu'une manière durable de voyager vers la COP, mais c'est aussi un exemple de mouvements de jeunes luttant contre les changements climatiques. Ces jeunes ne demandent pas simplement un changement, mais proposent bien des solutions et des pistes à explorer. Ils pensent que chaque secteur doit avoir un groupe de jeunes gens critiques qui jouent un rôle de surveillance et d'orientation dans cette époque de transformations significatives mais ô combien nécessaires.
Coordonnées:
Jeppe Bijker – [email protected]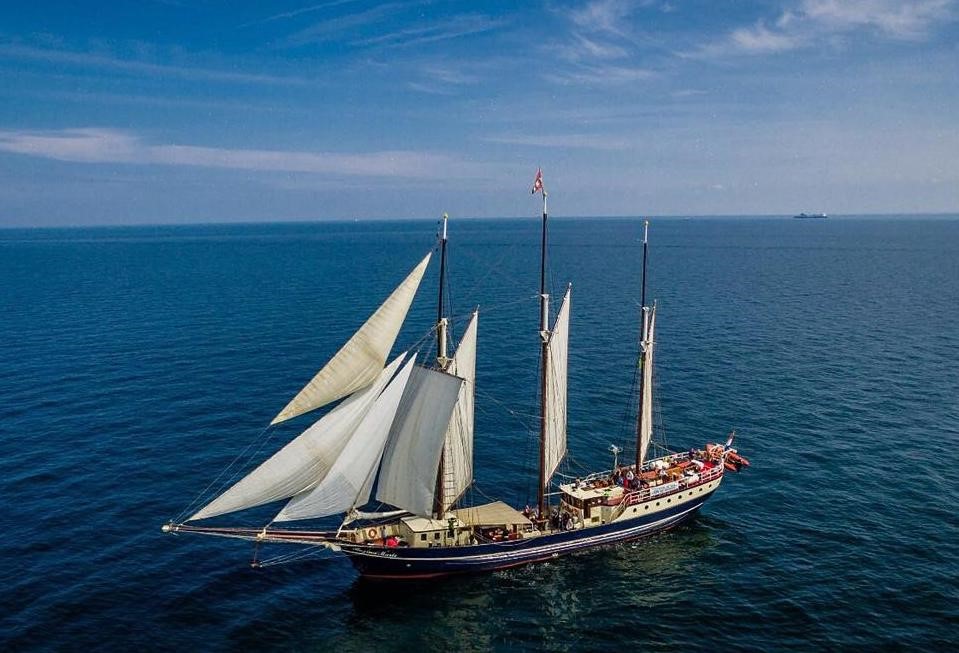 Sail to the COP – La COP25 desde dos lados del océano Atlántico
Sail to the COP es un laboratorio de ideas y una campaña para la promoción de formas de viajar sostenibles. El sector de la aviación, por ejemplo, es uno de rápido crecimiento que, según las previsiones, en 2050 generará más emisiones de las contempladas en el presupuesto de carbono del Acuerdo de París. Con la finalidad de poner de relieve el problema de los viajes dentro de la agenda política internacional, hace menos de un año cuatro jóvenes de los Países Bajos pusieron en marcha un proyecto y movilizaron a 32 jóvenes científicos, empresarios, artistas y otros profesionales jóvenes de toda Europa para que se embarcasen rumbo a Sudamérica a fin de asistir a la conferencia de la ONU sobre el cambio climático en Chile.
Durante ocho semanas los activistas trabajaron a bordo del barco. Llevaron a cabo un análisis del problema, trazaron unos objetivos y crearon una cartera de soluciones. Formaron varios grupos de trabajo para incluir la mayor cantidad posible de áreas: cultura, medios de comunicación, educación, política, justicia climática e innovación. Se ha seguido trabajando en estas soluciones y peticiones, que se darán a conocer dentro de la COP y de sus redes más amplias. Puede consultar más información aquí.
Cuando llevaban cuatro semanas navegando por el Atlántico, el grupo se enteró de que la COP se trasladaría a Madrid. Varios europeos respondieron al llamado de Sail to the COP y 22 de ellos están representando a la organización en la COP25. Jorge Sánchez Hernández se reunió con CMW y explicó el trabajo que están llevando a cabo y las expectativas sobre la COP25. De ese modo, Sail to the COP está presente en la COP a dos lados del océano Atlántico. Uno de los grupos se centra en actividades relacionadas con la incidencia política: línea de asistencia para la incidencia política abierta las 24 horas todos los días para responder preguntas sobre políticas relativas al sector de viajes; investigación de base y comprobación de datos; organización de eventos paralelos con retransmisiones en directo; y apoyo general del grupo en Madrid. El otro grupo trabaja en la campaña: publicación en Internet del informe del laboratorio de ideas; participación en debates en Twitter; y búsqueda de aliados para nuestro movimiento, cada vez mayor, de personas que se niegan a viajar en avión y de personas que trabajan para alcanzar el objetivo de la sostenibilidad en los viajes.
Sail to the COP cree en la transformación social y pretende hacer llegar su mensaje a todas las partes pertinentes del sector de viajes, no solo a representantes gubernamentales, sino también a empleados de grandes organizaciones que deseen adoptar políticas sobre viajes más sostenibles, así como a personas que puedan divulgar el discurso sobre una mayor sostenibilidad en los viajes.
Este proyecto siempre fue más que una manera sostenible de viajar a la COP, es también un ejemplo de los movimientos juveniles para la defensa del clima. Los jóvenes no solo están exigiendo cambios, sino que también están sugiriendo vías y soluciones. En su opinión, todos los sectores necesitan un grupo de jóvenes críticos que actúen como vigías y guías en esta era de enorme y necesaria transformación.
 Datos de contacto: Jeppe Bijker – [email protected]
¡Esta entrevista fue parte de diciembre de 2019 WT! boletín aquí