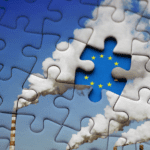 As the EU and Switzerland are about to conclude the technical negotiations to link the EU and Swiss carbon markets in the coming months, a new policy brief and report by Carbon Market Watch show that the EU must increase its climate target to avoid diluting domestic emission reduction obligations with foreign allowances from the Swiss carbon market.
Linking the EU's Emissions Trading System (ETS) to foreign trading schemes would allow foreign allowances and credits to enter the Europe's carbon market and undermines the EU's decision in October 2014 to achieve at least 40% emissions reductions domestically by 2030 (relative to 1990) without any contribution from international credits .
Linking carbon markets should therefore be coupled with an increased emission reduction target. Given that the main benefit of linking is to reduce costs for companies by increasing the pool of available emissions reductions, this should be possible at no additional cost.
Moreover, lower costs as a result of linking may come at the price of reduced overall emissions abatement, lower domestic investments and co-benefits as well as a loss of public funds.
Although the impact of the link with Switzerland would be relatively small, it will set the precedent for how to link the EU ETS with other carbon markets like the Chinese or South Korean systems in the future. Appropriate safeguards should therefore be embedded in EU ETS to avoid that the benefits of linking outweigh the associated risks.
The new reports were launched at an event earlier this week where members of the European Parliament, representatives from the European Commission, Switzerland and China as well as civil society and industry representatives discussed for the first time the upcoming link between the Swiss and the EU Emissions Trading System (ETS). Discussing the key differences between the Swiss and the EU ETS, Switzerland pointed at the intention to include aircraft operators when linking to the EU ETS but it remained unclear if Switzerland will follow EU's lead and exclude the use of international offsets in its carbon market after 2020.
Another key issue of particular interest to members of the European Parliament was the lack of public participation and transparency in the ongoing EU-Swiss linking negotiations. A European Commission proposal to revise the EU ETS that could address these identified issues is expected in July 2015.
Read more:
Policy brief: Towards a global carbon market – Risks of linking the EU ETS to other carbon market here
Report: Towards a global carbon market – Prospects for linking the EU ETS to other carbon markets here
The agenda and the presentations of the event can be found here and you can click here to watch a of the event.