Scroll down for French and Spanish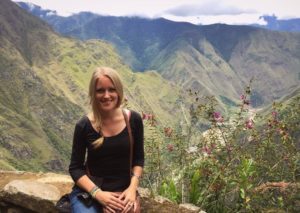 At the 9th Board meeting of the GCF (Green Climate Fund) in South Korea, the Board completed the final step in opening the door to the Fund. First seven implementing entities were accredited – a process led by political rush to approve first funding proposals by October and marked by criticism from civil society on the lack of transparency in the process.
Between 24-26 March the GCF held its 9th meeting of the Board in Songdo, South Korea. Late into the night of the second day, the Board reached a rather pressing conclusion and accredited the first package of national, regional and international Implementing Entities (IEs). This step creates the foundation for Fund's operationalization and opens the door to first funding proposals.
IEs can be public or private legal entities, which will have a critical role in funded projects and programs. They will have the responsibility to supervise project implementation throughout the whole cycle. That includes submitting the funding proposals, screening them in line with Fund's interim environmental and social safeguards and transferring funds from the Fund to executing entities implementing projects.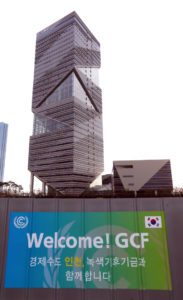 IEs differentiate along many lines. Firstly, based on the level of operation, they can access funding through two different access modalities subjected to different assessment methodologies. Subnational regional and national entities use direct access track, while international entities apply through international access to attain Fund's resources. Secondly, the GCF provides fast-track accreditation to those entities that have been up to the time of Board decision already accredited by Adaptation Fund, Global Environment Facility (GEF) or Directorate-General Development and Cooperation – EuropeAid of the European Commission (EU DEVCO). Fast-track provides a speed up process allowing to refrain from double checking certain requirements.
Out of 41 entities that have submitted accreditation applications, the package of first 7 includes two national (Centre de Suivi Ecologique from Senegal, PROFONANPE from Peru) two regional (Secretariat of the Pacific Regional Environment Programme, Acumen) and three international entities (Asian Development Bank (ADB), German Development Bank (KfW) and UNDP). Six out of these have been fast-tracked, five under the Adaptation Fund and 1 under EU DEVCO.
The accreditation process was accompanied by strong critic from the civil society over the lack of transparency. Unlike the Board members, in the current process civil society was not informed of applicants' identity, even at the time of the Board decision. This is not in line with best practice, e.g. of Adaptation Fund, where such information is disclosed in advance of the Board meeting. Stakeholders neither had any insight on the status of applications that are under review. Furthermore, they had no information on how the assessment of proposals was conducted. This built a blank wall in attempt to provide meaningful input from stakeholders on entities and their track records.
Due to political pressure to speed up the process, the accreditation was finalized by giving a stamp of approval to the whole batch of seven, rather than discussing the applicants.
Shutting the window on input from civil society is not in line with 'accountability, transparency and fairness', the guiding principles of accreditation process. The anonymity of applicants and non-transparency of assessment methodologies in the process do not only fail to represent best practice but provide a bad precedent for future accreditation processes.
by Urška Trunk – Policy Researcher at Carbon Market Watch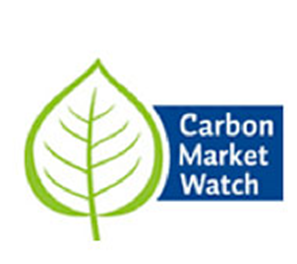 ---
Click here if you want to read the other articles of our Watch This! Newsletter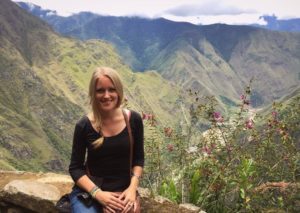 Lors de la 9e réunion du Conseil du Fonds vert pour le climat (GCF) en Corée du Sud, le Conseil est passé à l'étape finale en ouvrant la voie au Fonds vert. Les sept premières entités d'exécution furent accréditées – un processus assimilé à une course politique pour l'approbation des premières propositions de financement pour octobre, et marqué par les critiques de la société civile concernant son manque de transparence.
Du 24 au 26 mars s'est déroulée la 9e réunion du Conseil du GCF à Songdo, en Corée du Sud. Le Conseil est parvenu à une conclusion plutôt hâtive très tard dans la soirée du deuxième jour, et a finalement accrédité le premier groupe d'entités d'exécution (EE) nationales, régionales et internationales. Cette étape jette les bases pour l'opérationnalisation du Fonds et ouvre la voie aux premières propositions de financement.
Les EE peuvent être des entités juridiques publiques ou privées jouant un rôle essentiel dans les projets et programmes financés. Elles sont responsables de superviser la mise en œuvre du projet tout au long de son cycle complet. Cette tâche inclut la présentation des propositions de financement, leur examen conformément aux garanties environnementales et sociales provisoires du Fonds, et le transfert des fonds vers les entités d'exécution pour mettre en œuvre les projets.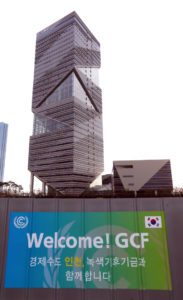 Les EE peuvent se distinguer sur de nombreux points. Tout d'abord, elles peuvent accéder au financement à travers deux voies liées à des méthodes d'évaluation différentes, en fonction du niveau opérationnel. Les entités régionales et nationales infranationales utilisent une voie d'accès directe, alors que les entités internationales doivent obtenir un accès international pour profiter des ressources du Fonds. Ensuite, le GCF accorde une accréditation prioritaire aux entités ayant déjà été accréditées, au moment de la décision du Conseil, par le Fonds pour l'Adaptation, le Fonds pour l'environnement mondial (FEM) ou la Direction générale Développement et coopération – EuropeAid de la Commission européenne (DEVCO UE). L'accréditation prioritaire est un processus accéléré permettant d'éviter une double vérification de certaines exigences.
Sur 41 entités ayant soumis une demande d'accréditation, le groupe des 7 premières inclut deux entités nationales (Centre de suivi écologique du Sénégal, PROFONANPE au Pérou), deux entités régionales (Secrétariat du Programme régional océanien de l'environnement, Acumen) et trois entités internationales (Banque asiatique de développement (BAD), Banque allemande de développement (KfW) et PNUD). Six d'entre elles ont profité d'une accréditation prioritaire : cinq par le biais du Fonds pour l'Adaptation et une par le biais de la DEVCO UE.
Le processus d'accréditation fut accompagné de lourdes critiques de la part de la société civile concernant le manque de transparence. Contrairement aux membres du Conseil, la société civile n'a pas été informée de l'identité des candidats pendant le processus, même au moment de la décision du Conseil. Cette situation constitue une infraction aux meilleures pratiques, par ex. du Fonds pour l'Adaptation, exigeant que de telles informations soient communiquées avant la réunion du Conseil. Les intervenants n'ont, eux non plus, reçu aucune information concernant le statut des demandes en cours d'examen. De plus, ils n'ont reçu aucune information quant à la façon dont était menée l'évaluation des propositions. Cette situation a freiné net toute participation significative des intervenants dans les entités et leur gestion administrative.
En raison des pressions politiques pour accélérer le processus, l'accréditation fut accordée par simple apposition d'un tampon d'approbation sur toutes les demandes du groupe, au lieu de discuter des candidats.
Refuser la participation de la société civile n'est pas en accord avec les principes de responsabilité, de transparence et d'équité – principes phares d'un processus d'accréditation. L'anonymat des candidats et la non-transparence des méthodes d'évaluation dans le processus non seulement enfreignent les meilleures pratiques, mais créent également un dangereux précédent pour les futurs processus d'accréditation.
Urška Trunk – Chercheur, Carbon Market Watch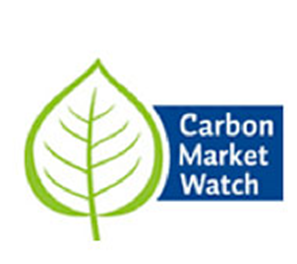 ---
Cliquez ici si vous voulez lire les autres articles de notre Lettre d'Information Watch This!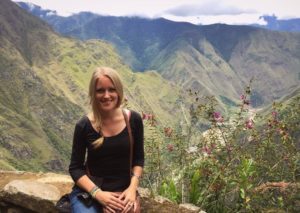 En la novena reunión de la Junta del Fondo contra el Cambio Climático (GCF) en Corea del Sur, la Junta pasó a la etapa final abriendo la vía al Fondo Verde Climático. Las siete primeras entidades de ejecución fueron acreditadas – un proceso asimilado a un curso político para la aprobación de las primeras propuestas de financiación antes de octubre, y caracterizado por las críticas de la sociedad civil relativas a su falta de transparencia.

Del 24 al 26 de marzo tuvo lugar la novena reunión de la Junta del GCF a Songdo, en Corea del Sur. Muy tarde en la noche del segundo día, la Junta llegó a una conclusión bastante precipitada y acreditó al primer grupo de entidades de ejecución (EE) nacionales, regionales e internacionales. Esta etapa sienta las bases para la operacionalización del Fondo y abre la vía a las primeras propuestas de financiación.
Los EE pueden ser entidades jurídicas públicas o privadas que desempeñan un papel esencial en los proyectos y programas financiados. Son responsables de supervisar la aplicación del proyecto durante el ciclo completo. Esta tarea incluye la presentación de las propuestas de financiación, su examen de acuerdo con las salvaguardas ambientales y sociales provisionales del Fondo, y la transferencia de los fondos hacia las entidades de ejecución que aplican los proyectos.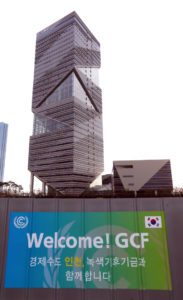 Los EE pueden distinguirse en numerosos puntos. En primer lugar, pueden acceder a la financiación a través de dos vías relacionadas con métodos de evaluación diferentes, en función del nivel operativo. Las entidades regionales y nacionales subnacionales utilizan una vía de acceso directa, mientras que las entidades internacionales deben obtener un acceso internacional para utilizar los recursos del Fondo. En segundo lugar, el GCF concede acreditación prioritaria a las entidades ya acreditadas, en el momento de la decisión de la Junta, por el Fondo para la Adaptación, el Fondo para el Medio Ambiente Mundial (FMAM) o la Dirección General Desarrollo y cooperación – EuropeAid de la Comisión Europea (DEVCO UE). Una acreditación prioritaria es un proceso acelerado que permite evitar el doble control de algunos requisitos.
Entre las 41 entidades que presentaron una solicitud de acreditación, el grupo de las 7 primeras incluye dos entidades nacionales (Centro de seguimiento ecológico de Senegal, PROFONANPE en Perú), dos entidades regionales (Secretaría del Programa del Pacífico Sur para el Medio Ambiente, Acumen) y tres entidades internacionales (Banco Asiático de Desarrollo (BAD), Banco Alemán de Desarrollo (KfW) y PNUD). Seis de ellas gozaron de la acreditación prioritaria: cinco gracias al Fondo para la Adaptación y 1 gracias a la DEVCO UE.
El proceso de acreditación se acompañó de graves críticas por parte de la sociedad civil sobre la falta de transparencia. Al contrario de los miembros de la Junta, la sociedad civil no fue informada de la identidad de los candidatos durante el proceso en curso, incluso al momento de la decisión de la Junta. Esta situación no cumple con las mejores prácticas, por ejemplo las del Fondo para la Adaptación, exigiendo que tal información se comunique antes de la reunión de la Junta. Los participantes tampoco recibieron información sobre el estatuto de las solicitudes en examen. Además, no recibieron ninguna información en cuanto a la manera de evaluar las propuestas. Esta situación bloqueó cualquier participación significativa de los participantes en las entidades y su gestión administrativa.
Debido a las presiones políticas para acelerar el proceso, acreditación se concedió aponiendo un tampón de aprobación directamente a todas las solicitudes del grupo, en lugar de examinar los candidatos.
Rechazar la participación de la sociedad civil no cumple con los principios de responsabilidad, transparencia y equidad – principios clave de cualquier proceso de acreditación. El anonimato de los candidatos y la falta de transparencia de los métodos de evaluación en el proceso no solamente infringen las mejores prácticas, pero sientan también un peligroso precedente para los futuros procesos de acreditación.
Urška Trunk – Investigador a Carbon Market Watch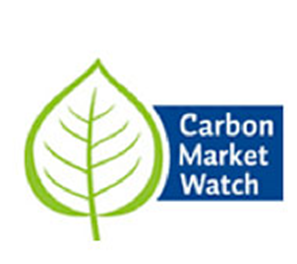 ---
Haz clic aquí para leer los otros artículos del nuestro Boletín Watch This!