Tuesday 5 May 2015, 12:00 to 14:30
European Parliament – Room ASP 5E2
***See reports & presentations in the links below***
A LUNCH EVENT KINDLY HOSTED BY:
Giovanni LA VIA, EPP
Matthias GROOTE, S&D
Bas EICKHOUT, Greens/EFA
Reading:
Policy Brief: Towards a global carbon market – Risks of linking the EU ETS to other carbon markets here
Report: Towards a global carbon market – Prospect for linking the EU ETS to other carbon markets here
Background
The number of regions and countries that are putting a price on carbon pollution is vastly increasing. China, for example, announced that it will roll-out a national carbon market from 2016 onwards, South-Korea's national cap-and-trade system started early 2015 and South Africa will implement a carbon tax from 2016.
The role carbon markets will play in a future climate treaty to be adopted by the end of this year is still unclear. Yet, several countries and regions, such as Japan and the European Union (EU), see an important role for international carbon markets. They support a bottom-up approach to international climate policy inter alia by linking individual carbon markets with the goal to establish a global carbon market. One of the first attempts to link existing carbon markets is currently being negotiated between the EU and Switzerland.
This lunch event focuses on the ongoing negotiations to link the EU and the Swiss Emissions Trading System (ETS) and gives insights into the Chinese carbon market developments. The launch of a new policy briefing by Carbon Market Watch provides details on which principles need to be adhered to and included as criteria for linking in the revision of the EU ETS directive in order to ensure that any future linking does not compromise the integrity of EU's climate policies.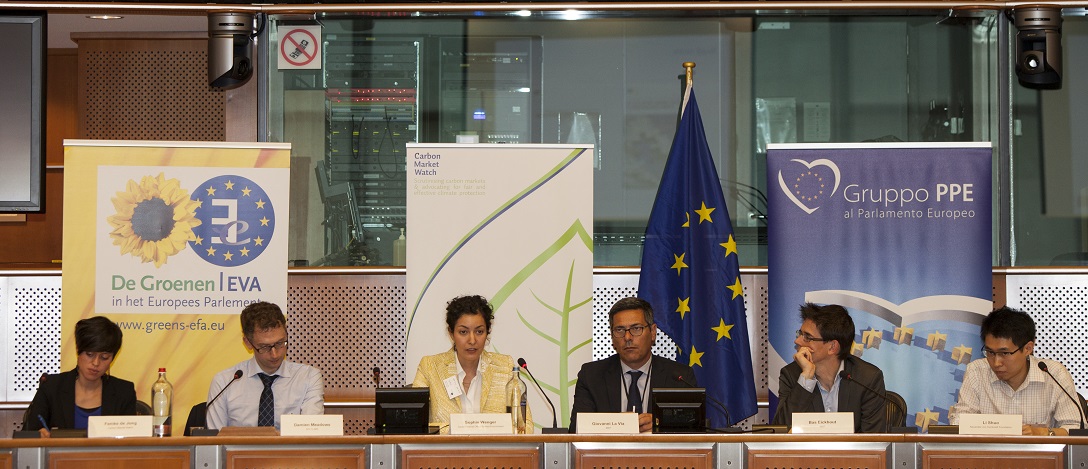 AGENDA
(See presentations in the links below)
12:00     Sandwich lunch reception
12:30     Introduction, MEP Bas Eickhout
12:40     The procedures for EU ETS linking and an update on the Swiss-EU linking negotiations, Damien Meadows, DG CLIMA, European Commission
12:55     Insights into the Swiss ETS and the future Swiss climate policies, 
Sophie Wenger, Climate division, Swiss Federal Office for the Environment
13:10     Insights into the Chinese ETS developments, Li Shuo, an Alexander van Humboldt Fellow
13:25     The risks and benefits of ETS linking and recommendations for ETS linking safeguards, Femke de Jong, Carbon Market Watch
13:40     Reaction by MEP Matthias Groote
13:45     Discussion, Q&A, moderated by MEP Bas Eickhout
14:25     Closing remarks, MEP Giovanni La Via
---
Register here
---
Read Full Report here
---