A year after the UN's shipping body agreed to cut emissions from the sector by at least 50% by 2050, a meeting of the International Maritime Organisation in London failed to deliver concrete measures to achieve this goal – a course that must be corrected at the next session. Carbon pricing will play an important role in cutting pollution from ships, but it is important that the shipping sector steers away from offsetting schemes like the one for international aviation that will do nothing for the climate.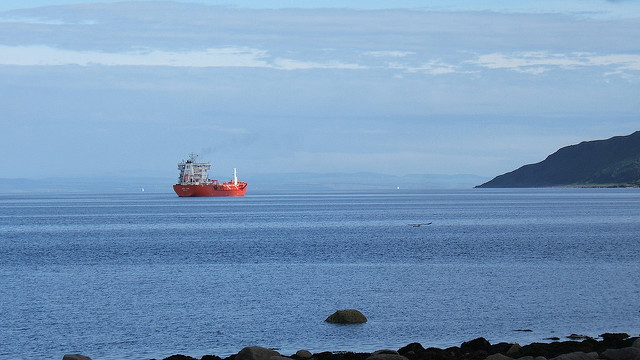 Last year, the 173 member countries of the International Maritime Organisation (IMO) adopted a climate strategy according to which the sector would aim to decarbonise by 2050, and as a mid-term goal, to reduce the carbon intensity of shipping by at least 40% by 2030 compared to 2008.
If left unchecked, greenhouse gas pollution from shipping could increase by 50-250% by 2050. This scenario is not compatible with objectives laid out under the Paris Agreement, nor with the IMO's own climate goals.
In order to achieve its set targets, IMO has committed to implementing immediate measures to achieve greenhouse gas emission reductions before 2023. However, in a meeting in London earlier this month, the UN shipping body delegates wasted precious time on wrangling over procedural issues, failing to agree on effective short-term measures, such as reducing the speed of ships.
Pollution price would cut emissions and bring revenues
Carbon pricing would help achieve meaningful emissions reductions from ships. As a mid-term measure, it should reinforce – rather than distract from – design standards and operational measures (like ship speed reduction) currently under consideration. In other words, carbon pricing is not an end goal in itself but should go hand in hand with a broader set of policy and technological measures. It should be designed in a way that is environmentally effective but will not put an undue burden on less developed countries.
The raised revenues should be used to support in-sector research and development in order to achieve further emissions cuts and to compensate the least developed countries for any negative impact on their development.
Last year, an International Monetary Fund (IMF) working paper found that a carbon tax rising to US$75 per tonne of CO2 in 2030 ($240 per tonne of bunker fuel), and $150 per tonne in 2040, alone would bring maritime CO2 emissions below business-as-usual levels by nearly 15 per cent in 2030 and 25 per cent in 2040. It would raise revenues of about $75 billion in 2030 and $150 billion in 2040 while increasing shipping costs by a mere 0.075 per cent of global gross-domestic-product in 2030.
The IMF findings are complemented by New Climate Institute that recommends a climate levy – which would place a set price on each tonne of CO2 emitted by ships – as the most appropriate measure to decarbonise shipping in line with the Paris climate goals, also highlighting that such a levy should be accompanied by some form of compensation for developing countries.
IMO, don't follow ICAO's example!
While IMO is negotiating on how to align the sector with the Paris climate agreement, another UN body, the International Civil Aviation Organization (ICAO) is finalising the rules for its chosen climate scheme, the Carbon Offsetting and Reduction Scheme for International Aviation (CORSIA).
Instead of pushing for in-sector emission reductions, through CORSIA, ICAO decided to rely heavily on out-of-sector emission offsets of highly questionable origin. Due to this, and the very weak overall climate goal, it is already clear that CORSIA will not be enough to address the sector's massive climate impact.
It is, therefore, very important that the shipping sector chooses a different course for its climate efforts.
Next steps
Referenced in the shipping climate strategy as a potential mid-term measure to reduce the sector's climate impact, carbon pricing is likely to be on the agenda as IMO considers mid- and long-term measures at the next meeting of its environment committee in early 2020. This crucial meeting will have to be far more ambitious as the one that just took place.
Leading up to it, Carbon Market Watch together with its partners of the Clean Shipping Coalition, will remain vigilant to ensure rapid and effective climate action that brings shipping in line with the common climate goals aimed to keep the climate crisis in check.