Civil society organisations from 13 European countries have called on their decision makers to boost efforts to reduce emissions from sectors such as transport and agriculture – some of the fastest growing sources of climate warming greenhouse gases in Europe.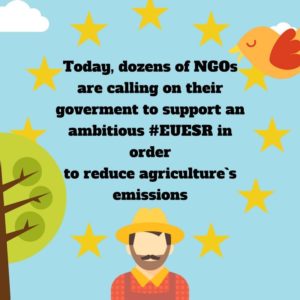 Following the US president Trump's decision to withdraw from the Paris Agreement, the negotiations on Europe's largest climate law provide a perfect opportunity for the EU to walk the talk and show true global climate leadership
The Effort Sharing Regulation aims to cut emissions from sectors that are not covered by the EU Emissions Trading System (ETS), namely transport, building, agriculture, and waste sectors.
The legislative proposal for the ESR for the period from 2021 to 2030 is currently being discussed by the EU Member States and the European Parliament.
Cleaner air, more liveable cities, less energy poverty
The ESR can play a crucial role in the decarbonisation of our economy and improvement of our wellbeing.
A strong ESR will also greatly benefit EU citizens as its implementation requires progressive policies such as reducing the number of polluting cars in cities, improving waste management systems, tackling energy poverty through better insulated homes or reducing nitrogen pollution from agriculture.
What is currently on the table, however, is not consistent with the long-term commitments made in the Paris Agreement, which would require a more substantial overhaul of EU climate and energy policies.
In a letter sent to their environment ministers yesterday, dozens of civil society organisations from 13 European countries, therefore, asked their representatives to step up the action, in order to meet Europe's commitments under the Paris Agreement and to deliver the tangible co-benefits that strong climate action brings.
The Day of Action was supported by Carbon Market Watch, CAN Europe, Birdlife Europe, the European Federation of Organic Agriculture Movements, Fern, Transport and Environment and Zero Waste Europe.
The EU environment ministers will discuss the draft law at the next meeting on 19 June. The European Parliament will vote on its position at their June plenary meeting.
Pierre-Jean Brasier
More information:
Letter from Brussels based NGOs to the Malta Presidency, calling them to steer discussions towards the strengthening of the ESR.
All open letters can be found here