Guest article by Susana Pinto from Quercus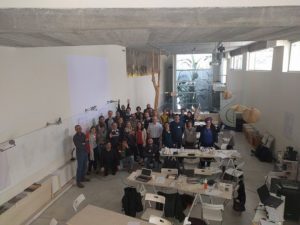 About 25 non-governmental organisations from Southern Europe, including Portuguese Quercus, gathered in Madrid on 5 and 6 April to exchange experiences and to explore ways to collaborate on European climate policies. While Portugal is on the right track when it comes to areas such as renewable energy, more work is needed. Quercus will play its part and we look forward to working with partners in other European countries.
The workshop entitled "The road to a low carbon economy: strengthening the connection between local, national and European climate policy" was organized by Carbon Market Watch and Transport & Environment, with the support of Zero Waste Europe and SEO Birdlife, and specifically geared towards Southern European non-governmental organisations.
On the first day, Cristina Mestre from Transport & Environment presented the nuts and bolts of the EU policy making, explaining the roles of the European Commission, the Parliament and the Council, and giving tips on best ways and timings to influence each institution.
Femke de Jong from Carbon Market Watch talked about the current reform process of the EU's Emissions Trading System (EU ETS), highlighting its regrettable lack of ambition. Introducing the EU's largest climate tool, the Effort Sharing Regulation (ESR), Femke emphasised that the ESR can be key for decarbonising the EU economy, but the flexibilities built into the draft law risk compromising its ambition.
Best campaign practices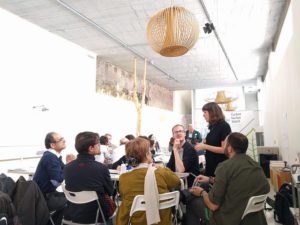 Carlos Calvo Ambel from Transport and Environment illustrated the Southern European countries' positions on the ESR proposal using the Effort Sharing Calculator – an online tool that shows the impact of flexibilities on Member States' national emission reduction targets – and the EU Climate Leader Board which ranks countries according to their positions.
Following the general overview, it was time to hear about specific examples of good practices at the national and local level in Portugal, Spain and Italy in the areas of waste, transport, buildings and agriculture.
We also looked at successful national campaigns and discussed lessons learned, finishing with examples at the European level such as Transport & Environment's campaign around the so called Dieselgate and Carbon Market Watch's carbon leakage campaign.
These campaigns had certain common elements which we identified as key for a successful campaign: add value (information), act instead of reacting and create good relationships with different stakeholders.
What we brought back home
We returned home full of ideas and eager to find areas of cooperation with the other participant organisations.
In our view, the workshop's goals were well achieved: We exchanged information on local realities, learned about specific EU policies, came up with ideas for successful campaigns, identified opportunities and brainstormed on interlinkages between local and European campaigns and on common future actions on the Effort Sharing Regulation.
For Quercus, strengthening the link between the European and national levels is always beneficial: it gives us an opportunity to share our point of view and express the need for and importance of support from other European organizations. We also found it very useful to focus on the Southern European countries, as we have similar cultures and face similar problems. Sharing valuable experiences will make it easier to find solutions to the problems
This workshop taught us that Portugal can lead by example in different areas, in particular renewable energy, electric mobility and on the promised national decarbonisation plan for 2050 (still to come). Our country is on the right path towards decarbonisation, but there is still a lot to improve on. As a Portuguese NGO, we will play our part in these efforts!
Thank you all for this great workshop!
Susana Pinto, Quercus
*****
Notes:
Quercus – National Association for Nature Conservation is a Portuguese Environmental NGO founded in 1985 with more than 13.200 registered members, geographically spread from the North to the South of Portugal. Our areas of action include nature conservancy, forests, water, waste, energy, transports and climate change. Besides our presence on the internet (website and social networks) we also have a one-minute weekday show on TV ("Minuto Verde" – Green Minute) and a one-minute weekly programme on the radio ("Um Minuto pela Terra" – One Minute for the Earth) used for public awareness purposes.
Quercus has been participating in all United Nations conventions for climate change and is also a member of Climate Action Network Europe (CAN Europe), Transport & Environment (T&E), European Environmental Bureau (EEB) and European Environmental Citizens for Standardization (ECOS) networks and coalition building.