Covering 60% of the EU's greenhouse gas emissions, the Effort Sharing Regulation (ESR) is the bloc's largest policy instrument for tackling climate change. Sectors covered include waste, transport, agriculture, buildings, and small industry. The ESR has a number of flexibilities that are intended to make it easier for the Member States to achieve these reduction targets. However, these flexibilities (or loopholes) risk undermining Europe's climate efforts.
The ESR is a complicated beast and making the numbers easily accessible and digestible is essential to opening the door for widespread engagement with the ESR by citizens, NGOs, and businesses. This is why Carbon Market Watch and Transport & Environment have developed the Effort Sharing Emissions Calculator. This is an online resource aimed at visualising the data on the ESR, that allows you to:
View the emissions data for the whole EU-28 or for individual Member States.
Compare different scenarios and how this impacts the overall emissions.
See the effects of adding or removing flexibilities on the emission reduction targets.
Find out how you can engage with the ESR decision-making and implementation processes.
Understand the methodology we've used and why we've used it.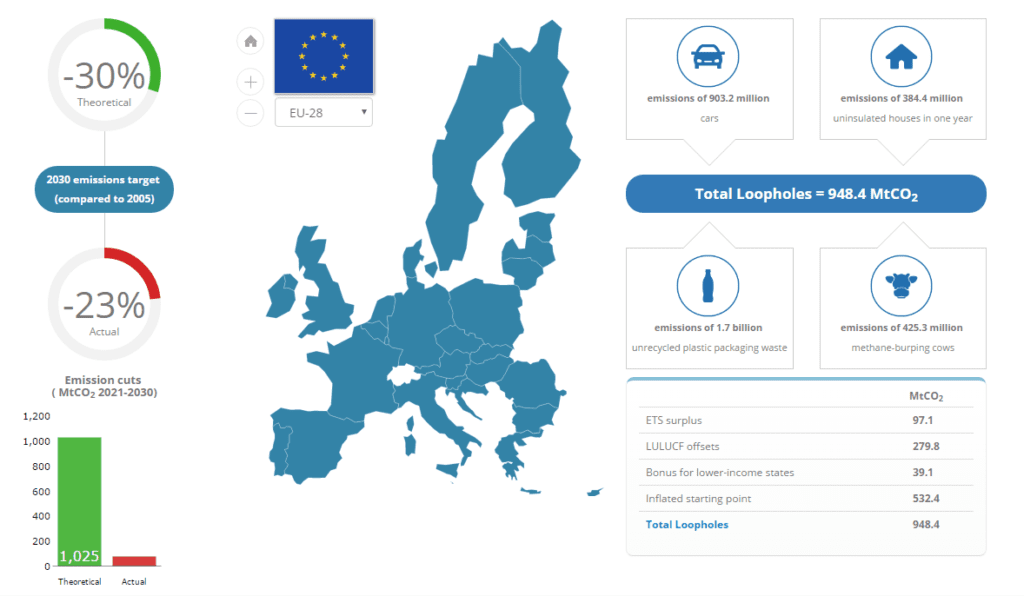 This tool is a great way to get to grips with the ESR numbers quickly. The data is visualised to give the user as much context as possible by showing real world equivalents for the emission volumes from the flexibilities in the ESR.
What we've aimed to show is that there is often a division between the legislative proposal and the reality. The differences are presented in our calculator which highlights the EU Member States' shortfalls in their decarbonisation pathway.
We hope you will find this tool useful, and that it will be a good addition to your work on climate ambition in the EU.