Carbon Market Watch organized two side events during COP22
Our official event was on the future of carbon markets. Download the presentations here and watch it again here.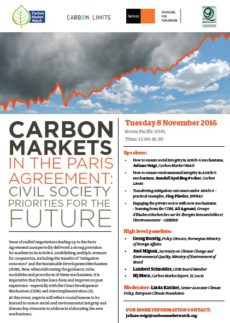 TODAY: come to our #COP22 side event on #carbonmarkets in the #ParisAgreement at 3 GMT! Or watch it online here: https://t.co/Itpxqk9OiV pic.twitter.com/NK6GXqCl4Z

— Carbon Market Watch (@CarbonMrktWatch) 8 novembre 2016
.
Our other side event took place in the civil society space and discussed human rights and climate change. Download the presentations, the report and watch part of the event here.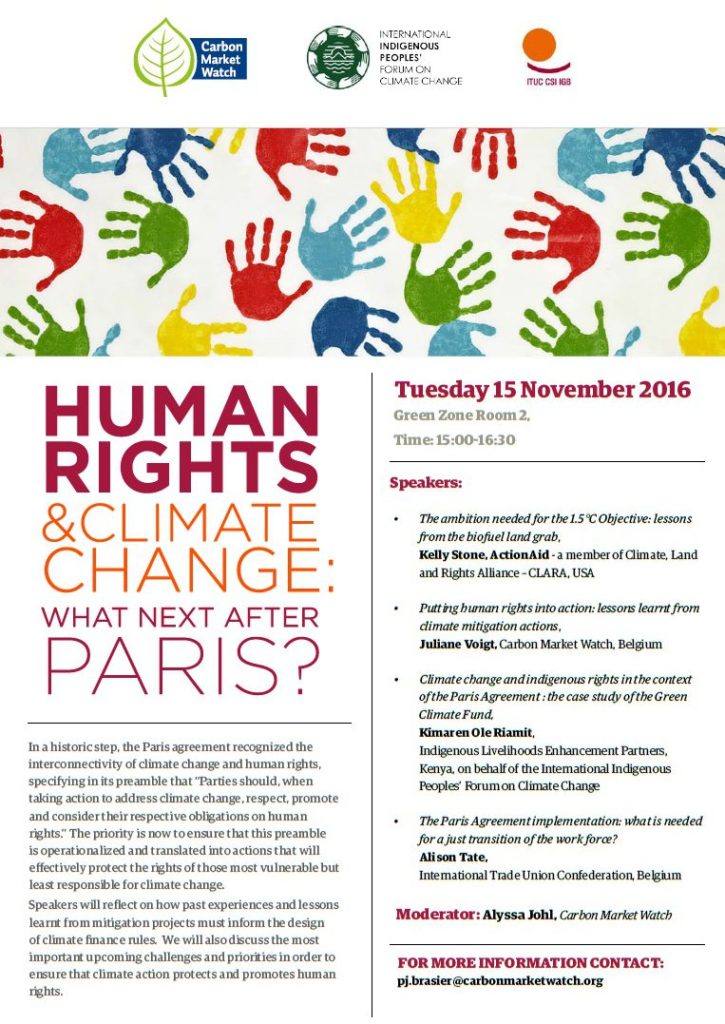 At #COP22? Come tomorrow to discuss #humanrights & #climatechange with our great panel!
3pm, Room Draa, Green Zone https://t.co/aziAnRSGAY pic.twitter.com/FcM9AOHniR

— Carbon Market Watch (@CarbonMrktWatch) 14 novembre 2016
Our staff was also invited to speak at several other side events:
Carbon Market Watch also shot its very first interviews with network members. Watch the first one below:
WATCH: itw of K. Goffrey from @nape_ug, on negative impacts of the Kachung CDM project. Filmed at our #COP22 booth! https://t.co/UkRpXocWcm pic.twitter.com/pyy4alWViY

— Carbon Market Watch (@CarbonMrktWatch) 16 novembre 2016