The adoption of the new universal sustainable development goals (SDGs) has kicked-off a set of government actions to achieve a clean and prosperous future. Two major polluters, the US and China, announced a joint vision on climate change. China, UK and France ramped up climate finance to $17.5 billion.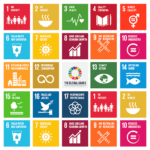 Last weekend, at the UN Sustainable Development Summit, bold steps were taken by governments to put the world onto a sustainable and resilient path. In support of the new global goals for sustainable development, several governments have committed to strengthen domestic and international climate actions and scale up climate finance towards the joint objective to mobilize $100 billion per year by 2020.
The ambitious universal SDGs were adopted by all 193 UN member states and will be launched in 2016 for a period of 15 years. The goals aim to put developing and industrialized countries on track to pursue a sustainable future through a set of 17 SDGs, including a goal to combat climate change. The adopted agenda lays ground for Paris and underscores the need for sustainable development and climate change to be addressed simultaneously through coordinated efforts.
At the same time, the US and China added fuel to the momentum by committing to an ambitious outcome at the Paris climate conference. In their joint statement, the two countries stressed the need for a successful climate agreement that ramps-up ambition over time and committed to control new public spending on high carbon activities.
Furthermore, China backed the support for a transition to a low-carbon, climate-resilient development in developing countries through climate finance commitment of $3.1 billion, through the China South-South Climate Cooperation Fund. This is a step up from their announcement in Lima of $20 million per year and might create a boost for other big developing countries to ramp up climate finance.
Further announcements of support during the summit were made by the UK and France. While the UK doubled its climate finance pledge to £5.8billion ($8.8 billion) between 2016 and 2021, France will increase its annual climate pledge from €3 billion to €5 billion ($5.6 billion) in 2020.
The adoption of the post-2015 agenda and announced contributions provide a strong impetus to make strides towards a desired Paris outcome. They send a strong signal to governments to increase their ambitions to tackle the interlinked twin challenges of sustainable development and climate change.