Scroll down for French and Spanish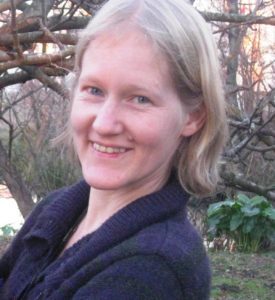 The NAMA project in Georgia is a good example of strengthening civil society involvement and embracing a gender sensitive approach to tackle the challenges of rural energy poverty, unsustainable logging and CO2 emissions. A pilot phase has shown that involvement of both women and men in project planning, capacity building and implementation is crucial for sustainability of and local ownership of NAMA.
Local communities in rural areas of Georgia suffer severe energy poverty and struggle with providing heat and warm water for households' needs. In general, only one room is heated by a stove, which is also used for cooking and heating up water. All households depend on wood as a source of energy and spend some 30% of their income on energy. Dependency on wood leads to 6500 ha of forest annually depleted by unsustainable logging. This has major implication on environmental calamities, which most severely impact the poor, who are relying on natural resources for their livelihoods.
The burden of collecting firewood and heating the water largely falls on the shoulders of women, who care for the basic needs of the households. A lot of their time is spent on this, but they still don't meet the energy needs. Moreover, indoor pollution by the stoves has an adverse effect on their health.
In order to actively cope with these challenges, men and women from local communities in cooperation with a coalition of NGOs have stepped together to develop a NAMA (Nationally Appropriate Mitigation Action) that can provide access to safe and affordable energy. The pilot phase, started 7 years ago was driven by local communities and provided a good basis for implementation of the gender sensitive NAMA. The latter aims to strengthen civil society organizations to foster climate mitigation activities, low-carbon development and poverty reduction in an inclusive and transparent way.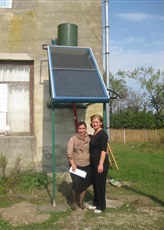 The project foresees the installation of 10.000 energy efficient stoves and 10.000 solar water heaters in 5 rural areas of Georgia. 20.000 families are to gain access to affordable renewable energy and energy efficient systems. This will save costs for heating water and their houses and also increase the quality of living and comfort. The project will reduce the negative impacts on the environment, but has an even stronger social component.
Environmentally, NAMA will contribute to reduction of firewood consumption, saving over 1000 ha of forest per year. Energy efficient stoves will cut the energy consumption by half and the solar water heaters are to provide hot water for free almost year round.
From a social aspect, the project is to substantially unburden men and especially women, by reducing the need for heating water, chopping and carrying fire wood. NGOs have built capacity of local women and men who are involved in the project. Women are mostly involved in monitoring, and maintenance of sustainable development benefits, while men mostly work in construction and installation of technologies.
In the pilot phase, women were not only involved in the implementation processes, but were promoting the benefits of renewable technologies, spreading information in other communities and bringing other people on board. They have become ambassadors in delivering of best practices, and they are free and open to share their experience and support other women.
Overall, the long term experience from the pilot phase shows that a duly enforced bottom-up and inclusive process with equal involvement of women and men contributes greatly to local sustainable goals and ensures ownership of the actions. Facilitating implementation of community driven NAMA will provide that the real needs of men and women are clearly determined and correctly addressed.
What are NAMAs?
Originally conceived in the Bali Action Plan in 2007, NAMAs (Nationally Appropriate Mitigation Action) are nationally driven actions, which developing country parties take as a part of their commitment to reduce greenhouse gas emissions and contribute to domestic sustainable development. Since NAMAs are to be defined in nationally appropriate ways, they may pursue a national or sectoral goal in the form of programs, standards, policies, regulation, financial incentives or project-level actions. They are designed not only to contribute to mitigation, but also adaptation of communities to climate change. The UNFCCC distinguishes between NAMAs that are to be implemented with international support (e.g. technology, financing and capacity-building) and domestically supported NAMAs.
by Anna Samwel
Regional Coordinator Caucasus at Women in Europe for a Common Future (WECF)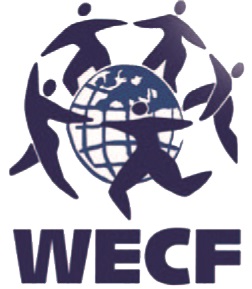 WECF is an international network of over 150 women's, environmental and health organisations empowering women for a just, healthy & sustainable world
---
For more information about this project, please contact Anna Samwel via [email protected]
---
Click here if you want to read the other articles of our Watch This! Newsletter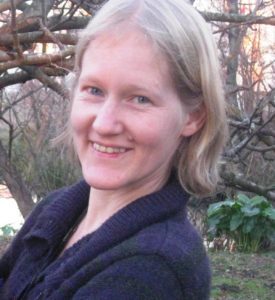 Le projet NAMA en Géorgie est un bon exemple de renforcement de la participation de la société civile et d'adoption d'une « approche genre » visant à relever les défis de la pauvreté énergétique en milieu rural, l'exploitation forestière non durable et les émissions de CO2. La phase pilote a montré à quel point la participation des femmes et des hommes, la planification de projets, le renforcement des capacités et leur mise en œuvre sont essentiels à la durabilité et aux investissements locaux des NAMA.

Les communautés locales qui vivent dans les zones rurales géorgiennes souffrent de pauvreté énergétique et peinent à trouver le chauffage et l'eau chaude nécessaires aux besoins de leur foyer. En général, une seule pièce est chauffée à l'aide d'un réchaud, qui sert également pour cuisiner et chauffer l'eau. Tous les foyers, qui dépendent du bois comme source d'énergie, dépensent 30 % de leurs revenus en énergie. En raison de cette dépendance au bois, 6 500 ha de forêts disparaissent chaque année en conséquence de l'exploitation forestière non durable. Ceci est en grande partie responsable des catastrophes environnementales, qui touchent majoritairement les populations pauvres, qui dépendent des ressources naturelles pour vivre.
Le ramassage du bois de chauffage et le chauffage de l'eau constituent un fardeau que supportent principalement les femmes, qui s'occupent des besoins fondamentaux des foyers. Bien qu'elles y passent beaucoup de temps, elles ne peuvent pas satisfaire leurs besoins en énergie. Par ailleurs, la pollution que génèrent les réchauds à l'intérieur des foyers est responsable de problèmes de santé.
Pour relever concrètement ces défis, les hommes et les femmes des communautés rurales se mobilisent, soutenus par une coalition d'ONG, pour mettre en place une NAMA (Mesure d'atténuation appropriée au niveau national) qui puisse garantir l'accès à une source d'énergie sûre et financièrement abordable. La phase pilote, lancée il y a 7 ans par les communautés locales, constituait une bonne base pour la mise en œuvre d'une NAMA sensible à « l'approche genre ». Cette NAMA entend à renforcer les organisations de la société civile afin de promouvoir des activités visant à atténuer les changements climatiques.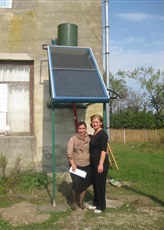 Le projet prévoit l'installation de 10 000 réchauds à faible consommation énergétique et 10 000 chauffe-eau solaires dans 5 zones rurales en Géorgie. Ce projet permettra à 20 000 familles d'accéder à des sources d'énergie renouvelables financièrement abordables et à des systèmes à faible consommation énergétique. De cette manière, elles pourront économiser de l'argent en chauffage (eau et maison) et accroitre leur qualité de vie et leur confort. Le projet permettra non seulement de réduire les impacts négatifs sur l'environnement, mais également à plus forte raison de renforcer la composante sociale.
Du point de vue environnemental, le NAMA contribuera à réduire la consommation de bois de chauffage, ce qui permettra d'épargner plus de 1 000 ha de forêt chaque année. L'utilisation de réchauds à faible consommation énergétique entrainera une diminution de moitié de la consommation d'énergie, et les chauffe-eau solaires fourniront de l'eau chaude gratuite toute l'année.
Du point de vue social, le projet vise à limiter considérablement le fardeau des hommes, mais surtout des femmes, en réduisant leurs besoins en eau chaude, et donc les quantités de bois qu'ils doivent couper et transporter. Les ONG ont renforcé les capacités des femmes et des hommes locaux qui participent au projet. Les femmes s'occupent principalement de surveiller et de conserver les avantages du développement durable, alors que les hommes s'attèlent, pour la plupart, à la construction et l'installation de technologies.
Lors de la phase pilote, les femmes se sont non seulement occupées des processus de mise en œuvre, mais elles ont également fait la promotion des avantages des technologies renouvelables auprès d'autres communautés et sensibilisé davantage de personnes. Elles sont devenues les ambassadrices des meilleures pratiques, et elles sont prêtes à partager leur expérience pour aider d'autres femmes.
Globalement, l'expérience sur le long terme de la phase pilote montre à quel point un processus inclusif et ascendant dans lequel la parité est respectée contribue à atteindre les objectifs de développement durable des zones locales et à garantir la prise en main au niveau local. En facilitant la mise en œuvre d'un NAMA élaboré par la communauté, les besoins réels des hommes et femmes pourront être clairement définis et abordés efficacement.
Que sont les NAMA?
Élaborées à l'origine dans le cadre du plan d'action de Bali en 2007, les NAMA (Mesures d'atténuation appropriées au niveau national) sont des mesures nationales, que les pays en développement mettent en place dans le cadre de leur engagement à réduire leurs émissions de gaz à effet de serre et à promouvoir le développement durable au niveau national. Étant donné que les NAMA doivent être adaptées au contexte national, elles peuvent viser un objectif national ou sectoriel grâce à la mise en place de programmes, de normes, de politiques, de réglementations, d'incitations financières ou de mesures dans le cadre d'un projet. Elles visent à promouvoir non seulement les mesures d'atténuation, mais également l'adaptation des communautés aux changements climatiques. La CCNUCC distingue les NAMA qui vont être mises en place grâce à un soutien international (technologie, financement et construction des capacités, par exemple) et celles qui bénéficient d'un soutien national.
---
Anna Samwel
Coordinatrice régionale pour le Caucase, Women in Europe for a Common Future (WECF)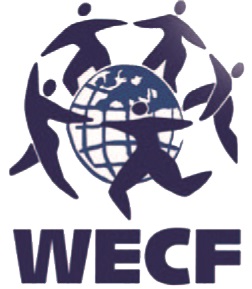 WECF est un réseau international de 150 organisations de défense des droits des femmes, de l'environnement et de la santé qui s'appuient sur le potentiel des femmes pour construire un monde juste, sain et durable.

---
Pour de plus amples informations sur ce projet, veuillez contacter Anna Samwel via [email protected]
---
Cliquez ici si vous voulez lire les autres articles de notre Lettre d'Information Watch This!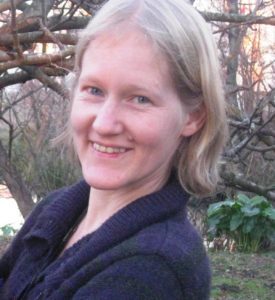 El proyecto NAMA en Georgia es un buen ejemplo de refuerzo de la participación de la sociedad civil y de la adopción de un enfoque con perspectiva de género destinado a destacar los retos de la pobreza energética en el medio rural, la explotación forestal no duradera y las emisiones de CO2. La fase experimental mostró hasta qué punto la participación de las mujeres y de los hombres, la planificación de proyectos, el refuerzo de las capacidades y su aplicación son esenciales a la durabilidad y a las inversiones locales de las NAMA.
Las comunidades locales en zonas rurales de Georgia sufren de pobreza severa en materia de energía y luchan con el abastecimiento de calor y del agua caliente para las necesidades de los hogares. Generalmente, solo un cuarto es calentado por una estufa, que también se utiliza para cocinar y calentar el agua. Todos los hogares dependen de la madera como fuente de energía y gastan algún 30 % de su renta en energía. Debido a esta dependencia a la madera, 6.500 Ha. de bosques desaparecen en consecuencia de la explotación forestal no duradera cada año. Esto es en gran parte responsable de las catástrofes medioambientales, que afectan mayoritariamente a las poblaciones pobres, dependientes de los recursos naturales para vivir.
La recogida de la leña y la calefacción del agua constituyen una carga que soportan principalmente las mujeres, que se ocupan de las necesidades fundamentales de los hogares. Aunque pasan mucho de su tiempo a esta, no pueden cubrir sus necesidades de energía. Por otra parte, la contaminación que generan las estufas dentro de los hogares es responsable de problemas de salud.
Para afrontar de manera concreta estos retos, los hombres y las mujeres de las comunidades rurales se movilizan, sostenidos por una coalición de ONG, para establecer un NAMA (Medida de atenuación conveniente a nivel nacional) que puede garantizar el acceso a una fuente de energía segura y asequible. La fase experimental, lanzada hace 7 años por las comunidades locales, constituía una buena base para la aplicación de un NAMA para las cuestiones de igualdad de los sexos. Este NAMA pretende reforzar las organizaciones de la sociedad civil con el fin de promover actividades destinadas a reducir los cambios climáticos.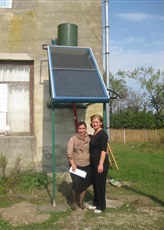 El proyecto prevé la instalación de 10.000 estufas de bajo consumo energético y 10.000 calentadores de agua solares en 5 zonas rurales en Georgia. Este proyecto permitirá a 20.000 familias acceder a fuentes de energía renovable asequibles y a sistemas de bajo consumo energético. De esta manera, podrán ahorrar dinero en calefacción (agua y casa) y aumentar su calidad de vida y su comodidad. El proyecto permitirá no sólo reducir los impactos negativos en el medio ambiente, sino también reforzar el componente social.
Desde el punto de vista medioambiental, la NAMA contribuirá a reducir el consumo de leña, lo que permitirá ahorrar más de 1.000 Ha. de bosque cada año. La utilización de estufas de bajo consumo energético implicará una disminución de mitad del consumo de energía, y los calentadores de agua solares proporcionarán agua caliente gratuita todo el año.
Desde el punto de vista social, el proyecto tiene por objeto limitar considerablemente la carga de los hombres, pero sobre todo de las mujeres, reduciendo sus necesidades de agua caliente, y en consecuencia las cantidades de madera que deben cortar y transportar. Las ONG reforzaron las capacidades de las mujeres y hombres locales que participan en el proyecto. Las mujeres se ocupan principalmente de supervisar y conservar las ventajas del desarrollo sostenible, mientras que los hombres se aprovechan, para la mayoría, a la construcción y a la instalación de tecnologías.
En la fase experimental, las mujeres no sólo se ocuparon de los procesos de aplicación, sino que hicieron también la promoción de las ventajas de las tecnologías renovables al lado de otras comunidades para sensibilizar a aún más personas. Se convirtieron en las embajadoras de las mejores prácticas, y están dispuestas a compartir su experiencia para ayudar a otras mujeres.
Globalmente, la experiencia a largo plazo de la fase experimental muestra hasta qué punto un proceso inclusivo y ascendente en el cual la paridad se respeta contribuye a lograr los objetivos de desarrollo sostenible de las zonas locales y a garantizar la toma en mano a nivel local. Al facilitar la aplicación de un NAMA elaborada por la comunidad, las necesidades reales de los hombres y mujeres podrán definirse claramente y abordarse eficazmente.
¿Que son las NAMA?
Elaboradas al origen en el marco del plan de acción de Bali en 2007, las NAMA (Medidas de atenuación convenientes al nivel nacional) son medidas nacionales, que los países en desarrollo establecen en el marco de su compromiso a reducir sus emisiones de gas de efecto invernadero y a promover el desarrollo sostenible a nivel nacional. Dado que las NAMA deben adaptarse al contexto nacional, pueden contemplar un objetivo nacional o sectorial gracias a la instauración de programas, normas, políticas, reglamentaciones, incentivos financieros o medidas en el marco de un proyecto. Tienen por objeto promover no sólo las medidas de atenuación, sino también la adaptación de las comunidades a los cambios climáticos. La CMNUCC distingue las NAMA que van a establecerse gracias a un apoyo internacional (tecnología, financiación y construcción de las capacidades, por ejemplo) y las que benefician de un apoyo nacional.
---
Anna Samwel
Coordinadora regional Cáucaso – Women in Europe for a Common Future (WECF)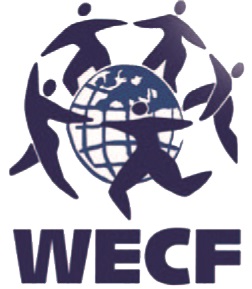 WECF es una red internacional de mas de 150 organizaciones para las mujeres, el medio ambiente y la salud ofreciendo a las mujeres un mundo justo, sano y sostenible
---
Para más amplia información sobre este proyecto, puede contactar a Anna Samwel: [email protected]
---
Haz clic aquí para leer los otros artículos del nuestro Boletín Watch This!