Scroll down for French and Spanish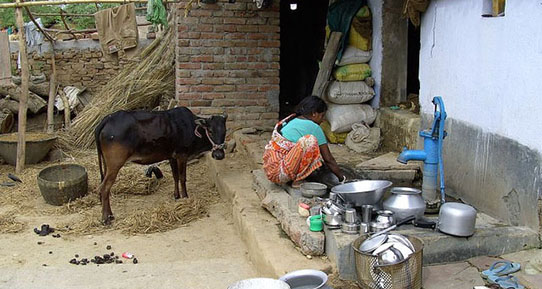 The very poor have such small carbon footprints that it is difficult to implement CDM projects that target them, since there are practically no emissions to reduce. The concept of 'suppressed demand' tries to take into account the fact that their per-capita emissions would be much higher if the poor had better access to energy and goods.
Normally a CDM project calculates its emissions reductions (and the credits it receives) by calculating the 'before the project' emissions (baseline emissions) and then subtracting 'after the project' emissions (project emissions). Yet if the 'before the project' emissions are almost zero, such a project does not earn carbon credits under the current CDM rules.
If suppressed demand is factored in, the baseline takes into account how much the emissions would be or will be once the village gets wealthier or gets access to other technologies or energy sources. Projects that take into account suppressed demand therefore do not reduce existing emissions but ideally avoid future emissions by providing an incentive for a cleaner development pathway.
On the other hand, suppressed demand baselines that assume emissions that are substantially higher than actual historical emissions risk substantially undermining the mitigation goals of the CDM. Suppressed demand approaches have to adequately address both of the CDM's mandates of delivering mitigation and development benefits. Not every good development project can be a good CDM project. Project types that neither reduce nor clearly avoid emissions reductions do not belong in the CDM. At the same time they must not replace or inhibit other ongoing development efforts. This is a tall order and requires careful consideration and research.
In Durban at COP17 in 2011, Parties asked the CDM Executive Board to elaborate and revise the guidelines on how to systematically incorporate suppressed demand in the CDM.
Link to CDM Watch Power Point presentation given at the UNFCCC Practitioners Workshop on CDM Standards. Bonn, Germany. 8 – 10 June 2011 
Useful External Links:
Guidelines on the consideration of suppressed demand in CDM methodologies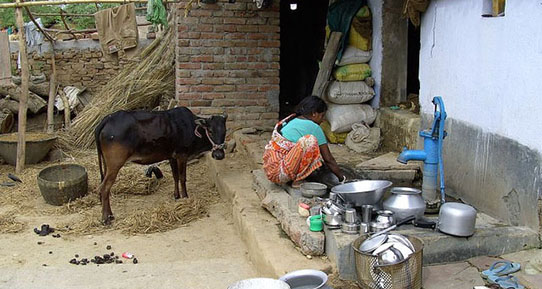 Les pays très pauvres ont de si petites empreintes carbone qu'il est difficile de mettre en œuvre des projets MDP les ciblant, car il n'y a pratiquement pas d'émissions à réduire. Le concept de « demande supprimée » essaie de prendre en compte le fait que leurs émissions par habitant seraient beaucoup plus élevées si les pays pauvres avaient un meilleur accès à l'énergie et aux biens.
Normalement, un projet MDP calcule ses réductions d'émissions (et les crédits qu'il reçoit) en s'appuyant sur les émissions « d'avant le projet » (émissions de référence), puis en soustrayant les émissions « d'après le projet » (les émissions du projet). Pourtant, si les émissions « d'avant le projet » sont presque nulles, un tel projet ne gagne pas de crédits carbone en vertu des règles du MDP.
Si la demande supprimée est prise en compte, la référence tient compte du niveau qu'atteindraient les émissions si le village devenait plus riche ou obtenait l'accès à d'autres technologies ou d'autres sources d'énergie. Les projets prenant en considération la demande supprimée ne vont donc pas réduire les émissions actuelles mais éviter des émissions futures en offrant une incitation au développement propre.
Toutefois, les références des demandes supprimées qui supposent que les émissions seraient substantiellement plus élevées que les émissions historiques réelles risquent d'affaiblir considérablement les objectifs d'atténuation du MDP. Les approches de demandes supprimées doivent donc permettre une réalisation équitable des objectifs du MDP :à la fois fournir une atténuation et apporter des bénéfices liés au développement. Tous les projets de développement ne peuvent pas être de bons projets MDP. Les types de projets qui ne réduisent ni n'évitent clairement les réductions d'émissions ne font pas partie du MDP. Dans le même temps, ils ne doivent pas remplacer ou entraver d'autres efforts de développement en cours. Cela est important et nécessite un examen attentif et une recherche continue.
A Durban, au COP17 en 2011, les Parties ont demandé au Conseil Exécutif du MDP d'élaborer et de réviser les lignes directrices sur la façon d'intégrer systématiquement la demande supprimée dans le MDP.
Lien vers la présentation PowerPoint de CDM Watch donnée aux participants du workshop CCNUCC sur les standards MDP. Bonn, Allemagne, 8 -10 juin 2011.
Liens externes utiles :
Directives pour la prise en compte des demandes supprimées dans les méthodologies MDP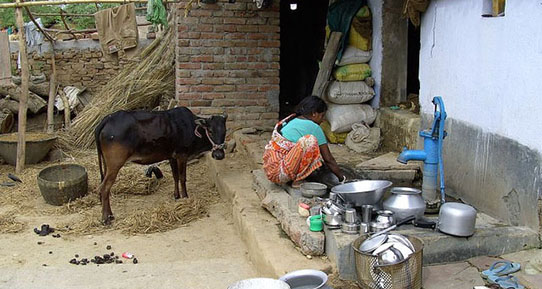 Es difícil implementar proyectos MDL en los más pobres ya que estos tienen huellas de carbono muy pequeñas y prácticamente no hay emisiones que reducir. El concepto de «demanda reprimida» trata de tomar en cuenta el hecho de que sus emisiones per cápita serían mucho mayor si los pobres tuvieran un mejor acceso a la energía y los bienes.
Normalmente, un proyecto MDL calcula sus reducciones de emisiones (y los créditos que recibe) mediante el cálculo de las emisiones «antes del proyecto» (las emisiones de referencia) y luego restando las emisiones 'después del proyecto' (emisiones del proyecto). Sin embargo, si las emisiones 'antes del proyecto' son casi cero, un proyecto no generará créditos de carbono bajo las reglas actuales del MDL.
Si se toma en cuanta la demanda suprimida, la línea de base consideraría cuántoserían las emisiones una vez que el pueblo prosperara o tuviese acceso a otras tecnologías o fuentes de energía. Por lo tanto, proyectos que tomen en cuenta la demanda suprimida no reducen emisiones existentes sino evitaría las emisiones futuras, proporcionando un incentivo para una vía de desarrollo más limpio.
Por otro lado, las líneas de base de demanda suprimida que suponen emisiones que son sustancialmente más altas que las emisiones históricas reales arriesgan  socavar sustancialmente los objetivos de mitigación del MDL. Los enfoques de la demanda suprimida tienen que abordar de manera adecuada tanto los mandatos del MDL para asegurar beneficios de la mitigación y el desarrollo sostenible. No todos los buenos proyectos de desarrollo podrán ser proyectos MDL. Aquellos tipos de proyectos que no reducen ni claramente evitan la reducción de las emisiones no pertenecen en el MDL. Al mismo tiempo, estos no deben sustituir o inhibir otros esfuerzos de desarrollo en curso. Esta es una tarea difícil y requiere de un examen claro e investigación apropiada.
En Durban, en la COP 17 en 2011, las Partes pidieron a la Junta Ejecutiva del MDL elaborar y revisar las directrices sobre la manera de incorporar de forma sistemática la demanda suprimida en el MDL..
Enlace a la presentación CDM Watch en PowerPoint dada en el Taller de Profesionales de la CMNUCC sobre las normas del MDL. Bonn, Alemania. 08 al 10 junio 2011.
Enlaces externos útiles:
Directrices para el examen de la demanda suprimida en las metodologías del MDL