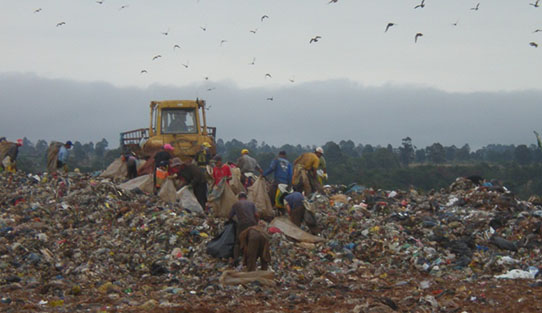 CDM municipal waste management projects can be problematic for three main reasons:
They help perpetuate waste management strategies that prevent the use of other, more sustainable options
They may threaten the livelihoods of waste pickers – some of the poorest people in developing countries' cities
They may overestimate the greenhouse gas reductions that can be attributed to these CDM projects.
The majority of CDM waste management projects focus on 'downstream' strategies. These include producing energy by incinerating waste ('waste-to-energy') or they capture landfill gas, which contains a large amount of methane (a strong greenhouse gas). Landfill gas is either flared (burned) or the methane is captured to produce heat and/or electricity. Upstream waste management strategies such as recycling and composting, avoid waste from reaching landfills in the first place, saving resources, landfill space and energy. Upstream strategies are environmentally preferable because they usually reduce more GHG emissions than conventional downstream waste management practices and also preserve other resources.
'Waste-to-energy' technologies can threaten the livelihoods of people who make their living picking waste and selling what they have collected in the informal recycling sector. In most of the developing world, waste pickers recover recyclable material from the waste stream and return it to useful production via recycling and re-manufacturing.
Projects rarely (if ever) account for recycling when calculating the baseline emissions. But recycling and composting, which reduce the amount of waste going to landfill, are prevalent in developing countries. This may lead to an over-issuance of credits.
Useful External Links:
GAIA: Global Alliance for Incinerator Alternatives: Building the movement for environmental justice, local green economies, and creative zero waste solutions.