This week, leaders from around the world are gathering in Davos to discuss the most pressing global issues of our time under the theme "Creating a Shared Future in a Fractured World", with climate change likely to feature high on the agenda.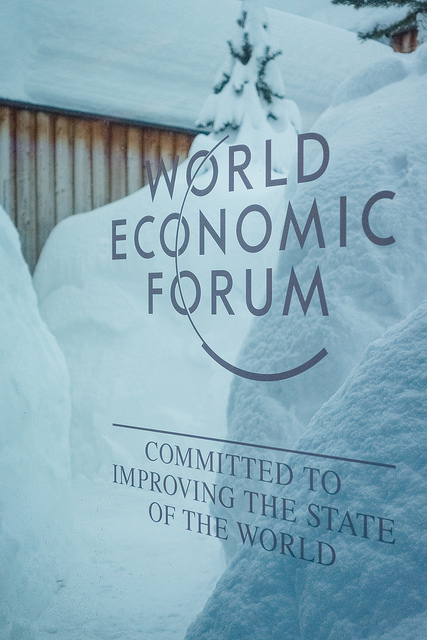 For the first time in its history, the World Economic Forum's (WEF) latest Global Risks Report places climate change as the number one threat facing the world in 2018. This comes after a year marked by extreme weather events impacting lives across the world and costing the global economy some US$ 330 billion which continues a clear trend of increasing losses since 1980[1]. It is noteworthy to mention that these values do not account for the impacts of climate change which are unrelated to direct natural disasters, such as migration, risk of conflict, poor health, and low productivity.
Although climate change seems an intangible and slowly-progressing threat, it actually shares most of the characteristics borne by another great issue which has gained significant attention over the past decade: the uncontrolled accumulation of public debt.
While governments, especially within the European Union, have been wrestling with the debt monster, the climate debt has been piling up, well hidden behind arguments of leading industry lobbyists who cannot or do not want to see the economic impacts of the changing climate.
Living in climate debt
For each ton of greenhouse gas emitted into the atmosphere, we pay only a tiny portion of the real cost of this pollution on society. For instance, when taking my car, what I pay for each kilometer I drive, including the insurance, fuel, and depreciation costs, is far less than the long term environmental costs of my driving. These can be understood as higher public health costs from increased asthma, for example, from the air pollution I generated, or the insurance costs from natural disasters made more devastating through the greenhouse effect intensified by the gases my car emitted.
Since it is relatively cheap to drive my car, I will drive more than if I was paying the true cost of it. But the remaining cost will be paid for later, by someone else.
In economic jargon, this is called an externality, and it is essentially like the accumulation of debt. Every time I drive my car, I borrow value from the planet, which will have to be repaid, with interest.
Each year, we pay an increasing amount of interest on this natural debt, for example through natural disasters. At the end of the borrowing period, future generations will have to repay the principal of this debt, one way or another, for example through climate-proof infrastructure shielding them from the major natural disasters which will have become common. Should they fail to repay the debt we have built up, then the planet, as would a bank, will be forced to seize our collateral (or guarantee), which is our access to clean water, arable land, and other natural elements which allow our survival.
The question we should be asking ourselves today is whether we feel comfortable with the idea of continuing to accumulate this debt, knowing that catastrophic impacts are starting to result from it, and will continue to intensify in the future. In 2016, 76% of the people displaced from their homes were forced to leave as a consequence of natural disasters, and the 2017 hurricane season in the North Atlantic was the most expensive year on record, amounting to a total loss of $215 billion. These impact losses come in addition to the severe consequences of air pollution on health; with indoor and outdoor air pollution accounting for over a tenth of the world's fatalities in 2012, according to the World Health Organisation.
Pricing carbon to avert catastrophic climate change
Clearly, reducing a debt starts by lowering ourlevels of borrowing, i.e. reducing the amount of greenhouse gases (GHG) we emit into the atmosphere. Fortunately, there exists a relatively straightforward way of doing so, if only we could muster the societal and political courage to do it. By putting a price on pollution, we would ensure that the costs of emitting GHGs are faced by the emitter, thus reducing their demand for the polluting good or service. This is called "internalising the externality", i.e. making me pay the full cost I place upon society when I choose to drive my car.
It is not a new idea, and about 17% of the world's GHG emissions are already priced. What is needed today is a significant increase in both the coverage and the level of pricing throughout the world. These schemes contribute to better standards of living and reduce the threat of catastrophic climate change. They generate public revenues which can be used to support those who cannot afford to pay for the pollution they generate, and they reduce inequality by helping vulnerable communities adapt to the consequences of rising temperature.
As global leaders in Davos discuss how to improve the state of the world, we ask them to take responsibility for our shared climate debt and start reducing it by stepping up climate action, including through pricing carbon at levels that will put us on a path towards a safer future.
This Thursday, 25 January, the World Economic Forum organises a panel discussion "Stepping Up Climate Action"
Further reading: Pricing carbon to achieve the Paris goals
[1] Based on data from Munich Re, one of the largest reinsurance companies in the world, see here