Carbon Market Watch Joins Coalition to Promote Carbon Pricing
As climate skeptics in the White House mulled over whether to remain in the Paris Agreement, less than two blocks away on Pennsylvania Avenue, climate change featured prominently in the spring meeting agenda of the World Bank and the IMF.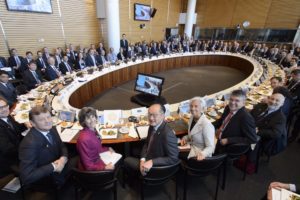 Among the numerous workshops, conferences and briefings, the Carbon Pricing Leadership Coalition (CPLC) held its second Annual High Level Assembly and working group seminars.
The contrast between the deliberations only a few hundred meters away was stark. The coalition serves as a platform to help multilateral institutions, ministers, business executives and civil society leaders foster government climate leadership, communicate the benefits of carbon pricing, strengthen the evidence base, and investigate how best to price carbon for different sectors.
In her opening remarks, Christine Lagarde, a former French Finance Minister and Managing Director of the International Monetary Fund boiled it down to "Price it right, tax it smart, do it now". Her sentiments were echoed the Jim Kim, World Bank Group President and Segolene Royal, the French Environment Minister.
Carbon Market Watch recently joined the initiative to share our expertise from both the European emissions trading experience and the international carbon markets. In doing so, we jump into lively discussions of not only "widening" the scope of emissions covered by a price, but also "deepening" to reflect the true environmental and social cost of pollution and provide a real incentive to reduce emissions.
While the mulling continues at 1600 Pennsylvania Avenue, Carbon Market Watch and the CPLC global coalition are determined to advance and improve a key policy tool to fight climate change.
Aki Kachi