Scroll down for French and Spanish

In this edition Maximo Ba Tiul, the head of international relations, presents the Tezulutlan Peoples' Council, a member organisation of the Network that represents indigenous communities in Guatemala. 
Could you introduce your organisation?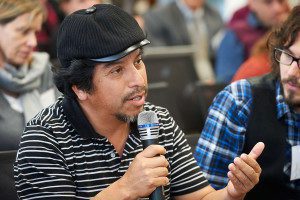 The Tezulutlan People's Council (Consejo de Pueblos de Tezulutlan, CPT) is a network of Q'echi, Poqomchi', and Alchi indigenous communities in the regions of Alta Verapaz and Baja Verapaz in the north of Guatemala. It was created in the year 2010 to represent some 80 communities with a total of approximately 15,000 families.
The CPT has a political council consisting of indigenous leaders (who are called K'amalb'e or "people who pave the way") and an academic technical team of 2 people. Moreover, the CPT closely collaborates with academicians who give both technical and conceptual support to help the communities to coordinate action to defend the "Sacred Land".
How did you get to know the Carbon Market Watch network and what are your expectations for its future?
The Carbon Market Watch supported us when we filed a complaint with the Clean Development Mechanism Council and is helping us to fight against the Hidroeléctrica de Santa Rita project. It gives us support so that the network taking part in the Santa Rita campaign can affect investment
 development banks.
What is the current Santa Rita situation?
The project is a standstill thanks to local and international mobilisations. The planning permission for the project expired in January 2015.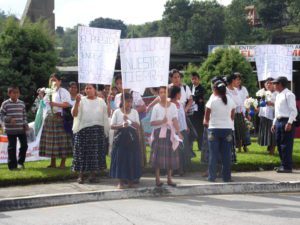 The project is also being investigated by the CAO, the independent resource mechanism for projects supported by bodies of the World Bank Group that take care of the private sector.
We hope that the project will be abandoned definitively. The fight against Santa Rita has made the communities realise that private companies must respect their rights.
What are the working areas of your organisation?
Investigation: we take no action before fully investigating the situations, the players, and what is at stake.
Political impact: the CPT represents the interests of the communities at national and international organisations and institutions, and especially at the development banks that provide economic resources to develop the extractivist model.
Training/Education: the CPT informs the communities of their indigenous and human rights and helps them to organise themselves. It also trains instructors in each community.
Communication: we teach use of the media (such as filming, taking photos, etc.) and how the leaders can use the resources. We also have a project for the creation of a community resource.

What are the greatest achievements of your organisation and why?
The CPT has strengthened the organisation of communities.
The community leaders now know their rights concerning the State, international bodies, and development banks.
We have also helped women to play a more important role and to make themselves heard.
The Council is now an interlocutor with important national institutions such as the Attorney General's Office for the defence of rights, the Secretariat for Agricultural Affairs, the Land Fund, the Supreme Court of Justice, universities, etc.
We have established networks with NGOs from Europe and the United States in order to defend the natural resources of indigenous territories.
Interview with Maximo Ba Tiul

Conducted by Pierre-Jean Braiser, Network Coordinator

---
Click here if you want to read the other articles of our Watch This! Newsletter

Dans cette édition, Maximo Ba Tiul, responsable des relations internationales, présente le Conseil des Peuples de Tezulutlan, une organisation membre du Réseau, qui représente des communautés indigènes du Guatemala.
Pourriez-vous présenter votre organisation ?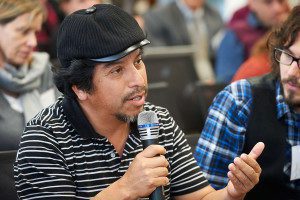 Le Conseil des Peuples de Tezulutlan (Consejos de Pueblos de Tuzulutlan, CPT) est un réseau rassemblant les communautés autochtones Q'echi, Poqomchi' et Alchi des régions de l'Alta Verapaz et de la Baja Verapaz dans le nord du Guatemala. Il a été créé en 2010 pour représenter quelques 80 communautés, totalisant approximativement 15.000 familles.
Le CPT est composé d'un conseil politique de dirigeants locaux (qui sont appelés K'amalb'e ou « ceux qui ouvrent la voie ») et d'une équipe universitaire technique de 2 personnes. Par ailleurs, le CPT collabore étroitement avec des universitaires qui offrent à la fois un soutien technique pour aider les communautés à coordonner leur action de défense de leur « Terre sacrée ».
Comment avez-vous découvert le Réseau Carbon Market Watch et quelles sont vos attentes pour le futur ?
Carbon Market Watch nous a soutenu quand nous avons déposé une plainte auprès du Comité exécutif du Mécanisme de Développement Propre (MDP) et nous aide à lutter contre le projet Hidroeléctrica de Santa Rita (un projet de barrage labélisé MDP NDLR – plus d'information ici). Il nous soutient afin que le réseau participant à la campagne contre Santa Rita puisse influer sur les banques de développement et d'investissement.
Quelle est la situation actuelle autour du projet Santa Rita ?
Le projet est à l'arrêt grâce aux mobilisations locales et internationales. Le permis de bâtir a expiré en janvier 2015.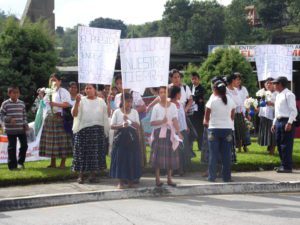 Le projet fait actuellement l'objet d'une enquête de le CAO, le mécanisme d'appel indépendant pour les projets financés par les organisations du Groupe de la Banque Mondiale qui s'occupent du secteur privé.
Nous espérons que le projet sera définitivement abandonné. Le combat contre Santa Rita a fait réaliser aux communautés que les compagnies privées devaient respecter leurs droits.
Quels sont les domaines de travail de votre organisation ?
– Enquêtes: nous n'agissons pas tant que nous n'avons pas enquêté de façon approfondie sur les principaux acteurs et ce qui est en jeu.
– Impact politique : le CPT représente les intérêts des communautés auprès d'organisations et institutions nationales et internationales, et particulièrement auprès des banques de développement qui fournissent des ressources économiques pour développer le modèle extractiviste.
– Formation/enseignement : le CPT informe les communautés sur leurs Droits et les aide à s'organiser. Il forme également des instructeurs dans chaque communauté.
– Communication : nous formons à l'utilisation des médias (filmer, prendre des photos, etc.) et à l'utilisation des ressources pour les dirigeants. Nous avons aussi un projet de création d'un média communautaire.

Quels sont les plus grandes réussites de votre organisation et pourquoi ?
– Le CPT a renforcé l'organisation des communautés.
– Les dirigeants de la communauté connaissent désormais leurs Droits prodigués par l'État, les instances internationales et les banques de développement.
– Nous avons aussi aidé les femmes à jouer un rôle plus important et à se faire entendre.
– Le Conseil est maintenant un interlocuteur d'instances nationales importantes comme le Bureau du Procureur général pour la défense des Droits, le Secrétariat des Affaires agricoles, le Fonds pour la Terre, la Cour suprême de Justice, les universités, etc.
– Nous avons noué des liens avec des ONG d'Europe et des États-Unis afin de défendre les ressources naturelles des territoires autochtones.

Interview avec Maximo Ba Tiul
Interview realisee par Pierre-Jean Brasier
---
Cliquez ici si vous voulez lire les autres articles de notre Lettre d'Information Watch This!

En esta edición, Maximo Ba Tiul, encargado de las relaciones internacionales presenta el Consejo de pueblos de Tezulutlan, una organización socia de la Red que representa comunidades indígenas en Guatemala.
¿Podría presentar tu organización?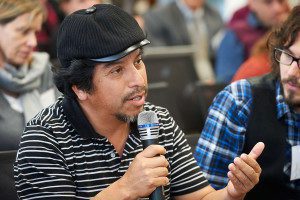 El Consejo de pueblos de Tezulutlan es una red de comunidades indígenas Q'echi, Poqomchi' y Alchi en la región de Alta y Baja Verapaz, ubicada al norte de Guatemala. Fue creada en el año 2010. Representa unas 80 comunidades que totalizan unas 15000 familias.
El CPT tiene un consejo político, compuesto de líderes indígenas (llamados K'amalb'e o "personas que abren camino") y un equipo técnico académico, compuesto de 2 personas. En el CPT colaboran también estrechamente con académicos que proporcionan apoyo, tanto técnico como conceptual para que las comunidades mantengan sus acciones para defender la "Sagrada Tierra".
¿Cómo ha llegado a conocer la red Carbon Market Watch y cuáles son sus expectativas para el futuro, respecto a la red?
Carbon Market Watch nos apoyó presentar una queja ante el Consejo del Mecanismo de Desarrollo limpio y nos proporciona apoyo para luchar contra el proyecto de Hidroeléctrica de Santa Rita y apoya para que la red que participa en la campaña Santa Rita, pueda incidir en los bancos inversores de desarrollo.
¿Nos podrías proporcionar los últimos acontecimientos acerca de Santa Rita?
El proyecto esta parado gracias a las movilizaciones locales e internacionales. En enero 2015, la licencia de construcción del proyecto venció.
El proyecto está también bajo investigación de la CAO, el mecanismo de recurso independiente para proyectos respaldados por los organismos del Grupo del Banco Mundial que se ocupan del sector privado.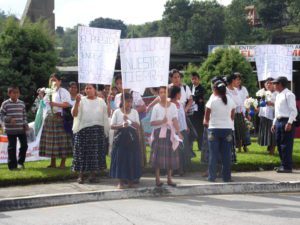 Esperamos que el proyecto se vaya a detener de manera definitiva. La lucha contra Santa Rita ha permitido a las comunidades darse cuenta que las empresas privadas tienen que respetar sus derechos.
¿Cuáles son las áreas de trabajo de su organización?
Investigación: no tomamos ninguna acción antes de investigar profundamente las situaciones, los actores y lo que está en juego
Incidencia política: el CPT representa los intereses de las comunidades ante organizaciones e instituciones nacionales e internacionales, y sobre todo ante los bancos de desarrollo que prestan recursos económicos para desarrollar el modelo extractivista.
Formación/Educación: el CPT forma las comunidades sobre sus derechos indígenas, humanos y los apoyan para que se organicen. También forma formadores dentro de cada comunidad
Comunicación: formamos al uso de los medios de comunicación (como filmar, sacar fotos, etc.), y como los líderes y las lideresas pueden utilizar los medios. También tenemos un proyecto de creación de un medio comunitario

¿Cuáles son los mayores logros de su organización y por qué?
El CPT ha logrado fortalecer la organización de las comunidades
Los líderes comunitarios ya conocen sus derechos ante el Estado, ante los organismos internacionales y los bancos de desarrollo.
También hemos logrado que las mujeres tengan un papel mayor y se pronuncien.
Se ha logrado que el Consejo sea un interlocutor ante instituciones nacionales importantes, tales como la procuraduría nacional para la defensa de los derechos, la Secretaria de Asuntos Agrarios, el Fondo de Tierras, la Corte Suprema de Justicia, Universidades, etc.
Hemos logrado tejer redes con ONGs Europeas y estadounidenses, para la defensa de los recursos naturales de los territorios indígenas.
Entrevista con Maximo Ba Tiul 

Entrevista realizada por Pierre-Jean Brasier
---
Haz clic aquí para leer los otros artículos del nuestro Boletín Watch This!