Scroll down for French and Spanish

In this new section, a network member will be interviewed and asked to present his work and interests. In this edition, meet "Horizon Vert", a Cameroonian member. Leclère Diffo, President, and Eugène Nkollo, Program Director, answer our questions. You would like to be in the next Member Spotlight? Contact Pierre-Jean, our network coordinator: [email protected]. 
Could you tell us more about your organization?
Founded in 2008, GREEN HORIZON is a non-political and non-profit organization.

It has several members from diverse backgrounds and was created by young Cameroonians who were convinced of the importance of the role of youth in implementing sustainable development. Our goal is to urge citizens and decision makers to change their behaviours regarding environmental protection and climate change.GREEN HORIZON welcomes partnerships, cooperation and/or collaboration.
Our motto? Nature – Protection – Health
Our vision: working towards a healthier environment and sustained change of behaviour
What are your organization's working areas?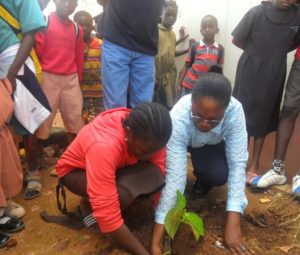 – Sustainable farming;
– Renewable energies;
– Water and sanitation;
– Education, Ecotourism; volunteers training;
– Climate change;
– Management of natural resources (forests, mines, natural areas, soil, protected areas, water, etc.)
– Advocacy and lobbying
– Pollution, green economy and CSR;
– Sustainable development.
What are the latest key accomplishments of your organization and why?
Our 'Nature-school' project: "A pupil, a tree; a school, a forest" aims at increasing awareness and understanding of the importance of planting trees among pupils to preserve nature and counter climate change. This operation saw the active involvement of teachers and pupils as well as the mindful and massive adherence of pupils during the operation.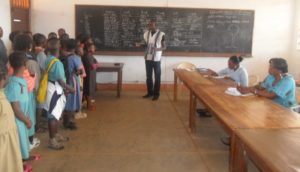 Another project that we are proud of is: Nature-house – "A man, a roof, a tree", in cooperation with a Cameroonian company. We are aware of the environmental disaster caused by the construction of infrastructures, which is why we have launched a reforestation policy this year. How does it work? Each client who sells out their plot of land is entitled to any type of tree. This tree is planted in the front of their plot and maintained by Green Horizon. We also takes care of the environmental studies, the planting and maintenance of trees on different sites.
How did you hear about Carbon Market Watch and why did your organization want to join them?

We came across the network while searching on the internet. We joined the network because they act for effective and fair protection of the climate. The network activities support our goals, i.e. fostering changes, influence climate policies and working towards reducing emissions from deforestation and forest degradation.
What are your expectations for the network?
Research and documentation support;
Organizational and operational capacity building;
Research support from technical and financial partnerships;
L
eclère Diffo, President of Green Horizon, is a tained Legal Adviser by specialized in environmental law.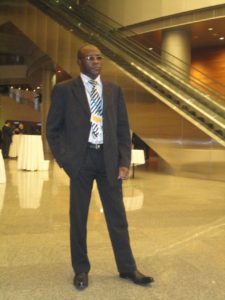 A biologist by training, Eugène Nkollo is the Program Director at Green Horizon.
Click here if you want to read the other articles of our Watch This! Newsletter

Dans cette nouvelle rubrique, un membre du réseau sera invité à présenter son travail et ses centres d'intérêt. Dans cette édition, découvrez  Horizon Vert », un membre camerounais ! Leclère Diffo, Président, ainsi qu'Eugène Nkollo, Directeur de programme, nous répondent. Vous voulez figurez dans la prochaine édition? Contactez Pierre-Jean, notre coordinateur du réseau: [email protected]. 

Pourriez-vous brièvement nous présenter votre organisation?
Créée en 2008, GREEN HORIZON est une association apolitique à but non lucratif.
Comptant plusieurs membres de divers horizons, elle a été créée par des jeunes Camerounais convaincus de l'importance du rôle de la jeunesse pour la mise en place d'un développement durable. Notre objectif est de promouvoir des changements de comportements des citoyens et des décideurs sur les questions de protection de l'environnement et du changement climatique. GREEN HORIZON est ouverte au partenariat, coopération et/ou collaboration.
Notre devise ? Nature – Protection – Santé
Notre vision : Agir pour un environnement sain et changer durablement les comportements
Quels sont les domaines de travail de votre organisation ?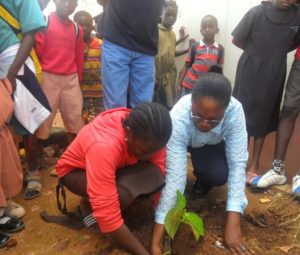 – Agriculture durable ;
– Energie renouvelable ;
– Eau et Assainissement;
– Education, Ecotourisme; accompagnement au volontariat ;
– Changement climatique ;
– Gouvernance des ressources naturelles (forets, mines, espaces naturels, sols, aires protégés, eau etc…)
– Plaidoyer et lobbying ;
– Pollution, Economie verte et RSE ;
– Développement durable.
Quels sont les plus grandes réussites récentes de votre organisation, et pourquoi ?
Notre projet Ecole-nature : « Un élève, un arbre ; une école, une forêt » a pour but de sensibiliser et éduquer les élèves sur l'importance de planter des arbres pour la préservation de la nature et la lutte contre les changements climatiques. L'opération a connu, une forte mobilisation des enseignants et des élèves, ainsi que l'adhésion massive et attentive des élèves au cours de l'opération.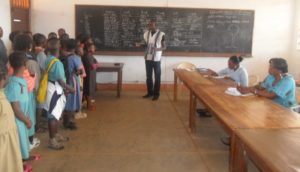 Autre projet dont nous sommes fiers, le projet : Maison- nature – Un homme, un toit, un arbre », en collaboration avec une entreprise camerounaise. Conscients du désastre environnemental créé par la construction de nombreux habitats, nous avons lancé une politique de reboisement cette année. Le principe ? Chaque client qui solde dorénavant sa parcelle a droit à un arbre de son choix. Cet arbre est planté devant sa parcelle et entretenu par Green Horizon. Green Horizon, assure les études environnementales, la plantation et l'entretien des arbres dans les différents sites.
Comment avez-vous entendu parler du réseau de Carbon Market Watch et pourquoi votre organisation a-t-elle souhaité le rejoindre ?

Nous avons découvert le réseau grâce à nos recherches sur Internet. Notre adhésion au réseau a été motivée par une protection efficace et juste du climat. Les activités du réseau contribuent à nos objectifs, à savoir susciter des changements, influencer les politiques climatiques,  et œuvrer pour la réduction des Émissions provenant de la Déforestation et de la Dégradation.
Quelles sont vos attentes futures, concernant le réseau ?
Appui à la recherche et à la documentation ;
Renforcement des capacités organisationnelles et opérationnelles ;
Soutien à la recherche des partenariats techniques et financiers ;
L
eclère Diffo, Président de Green Horizon, est jurisconsulte de formation, spécialisé dans le droit de l'environnement.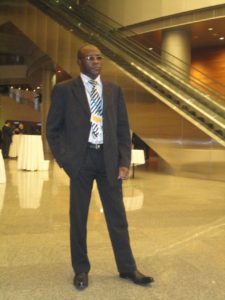 Eugène Nkollo est le Directeur des Programmes de Green Horizon et biologiste de formation.
---
Cliquez ici si vous voulez lire les autres articles de notre Lettre d'Information Watch This!

En esta rubrica, se invitará a un miembro de la red a presentar su trabajo y sus centros de interés. ¡Ya descubra en esta edición «Horizonte Verde», un miembro de Camerún! Leclère Diffo, Presidente, y Eugène Nkollo, Director de programa, responden a nuestras cuestiones. Tu organización quisiera ser en la proxima edicion? Entra en contacto con Pierre-Jean, nuestro coordinador de la red:  [email protected].

¿Puede usted hacernos una descripción breve de su organización?
Creada en el 2008, Green Horizon es una asociación apolítica sin ánimo de lucro.
Con varios miembros de horizontes diversos, fue creada por jóvenes cameruneses convencidos de la importancia del papel de la juventud en la aplicación de un desarrollo sostenible. Nuestro objetivo es promover el cambio de los comportamientos de los ciudadanos y de las autoridades con respecto a la protección del medio ambiente y al cambio climático.
Green Horizon esta abierta a la asociación, la cooperación y/o la colaboración.
¿Nuestro lema? Naturaleza – Protección – Salud
Nuestra visión: Actuar para asegurar un medio ambiente saludable y cambiar duraderamente los comportamientos.
¿Cuáles son las áreas de trabajo de su organización?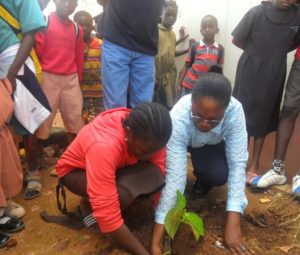 – Agricultura sostenible;
– Energía renovable;
– Agua y saneamiento;
– Educación, ecoturismo; formación de los voluntarios;
– Cambio climático;
– Gobernanza de los recursos naturales (zonas forestales, minas, espacios naturales, suelos, áreas protegidas, agua, etc.)
– Defensa y presión;
– Contaminación, economía verde y RSE;
– Desarrollo sostenible..
¿Cuáles son los mayores logros de su organización y por qué?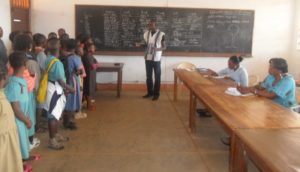 Nuestro proyecto Escuela-naturaleza: « Un alumno, un árbol; una escuela, un bosque » tiene por fin sensibilizar et educar los alumnos sobre la importancia de platear arboles para la preservación de la naturaleza y de la lucha contra el cambio climático. La operación ha sido testigo de una fuerte movilización de los profesores y de los alumnos, así que el apoyo masivo y atento de los alumnos durante la operación.
Otro proyecto del cual nos sentimos orgullosos, el proyecto: Casa-naturaleza- «un hombre, un techo, un árbol», en colaboración con una empresa camerunense. Conscientes del desastre medioambiental causado por la construcción de infraestructuras, hemos iniciado une política de reforestación este año. ¿El principio? Cada cliente que salda su parcela tiene derecho a cualquier árbol. El árbol sera planteado frente a su parcela y entretenido por Green Horizon. Nos encargamos de los estudios ambientales, la plantación y el mantenimiento de los árboles de los diferentes sitios.
¿Cómo ha oído hablar de la red Carbon Market Watch y por qué su organización expreso interés en formar parte de esa red?

Descubrimos la red mediante búsquedas en Internet. Nuestra adherencia estuvo motivada por una protección eficaz y justa del clima. Las actividades del la red contribuyen a alcanzar nuestros objetivos: suscitar cambios, influir las políticas de lucha contra el cambio climático y velar por la reducción de las emisiones que proceden de la deforestacion y de la degradación.
¿Cuáles son sus expectativas con respeto a la red?
Apoyo de la investigación y de la documentación;
Fortalecimiento de la capacidad organizativa y operativa;
Apoyo a la investigación de colaboraciones técnicas y financieras.
L
eclère Diffo, Presidente de Green Horizon, es jurisconsulto de formación, especializado en derecho ambiental.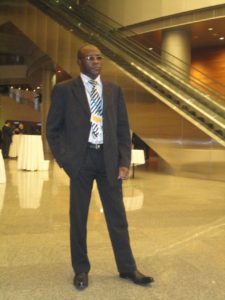 Eugène Nkollo el Director de programas de Green Horizon y biólogo de formación.
Haz clic aquí para leer los otros artículos del nuestro Boletín Watch This!