Scroll down for French and Spanish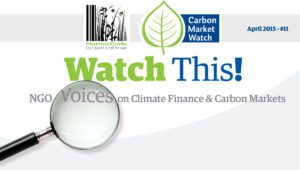 Editorial
Dear Network members, dear readers, dear friends,
It is our pleasure to bring you this new edition of the Watch This newsletter! As always, our aim is to inform you on the latest developments in climate finance and carbon markets. In this issue, our contributors (a big thanks to them!) discuss the latest on REDD+, the Green Climate Fund, the UNFCCC negotiations, the Sustainable Development Goals and some specific Clean Development Mechanism (CDM) projects.
Further to the new layout introduced in our previous edition, our faithful readers will notice new contents. There is now a specific section, the "NAMA Platform", dedicated to Nationally Appropriate Mitigation Actions. Similar to the work we've done on the CDM, our goal is to ensure public participation in the design and implementation of NAMAs. This new section gives you the opportunity to know more about this exciting topic and to discover great projects in México and India.
With this edition, we are also launching a new feature: the member spotlight! From now on, a network member will be interviewed and asked to present his work and interests. In this edition, meet "Horizon Vert", a great Cameroonian member!
We hope that you will appreciate these novelties. We would be very interested in your comments of or ideas for articles. So please, do not hesitate to get in touch with our network coordinator: [email protected]
Happy reading!
Editorial
Chers membres, Chers lecteurs, chers amis du Réseau,
Nous avons le plaisir de vous présenter la dernière édition du bulletin d'informations « Watch This! ». Comme toujours, notre objectif est de vous tenir au courant des derniers développements en matière de marchés du carbone et de financement pour la lutte contre les changements climatiques. Dans ce numéro, nos contributeurs (un grand merci à eux !) discutent des actualités concernant REDD+, le Fonds vert pour le climat, les négociations de la CCNUCC, les objectifs de développement durable et certains projets spécifiques de Mécanisme pour un développement propre (MDP).
Outre la nouvelle mise en page introduite dans l'édition précédente, nos fidèles lecteurs remarqueront également de nouveaux contenus. Il existe désormais une section spécifique, la « Plate-forme NAMA », entièrement consacrée aux Mesures d'atténuation appropriées à l'échelle nationale. À l'instar du travail que nous avons accompli sur le MDP, notre objectif est d'assurer la participation publique dans la conception et l'exécution des NAMAs. Cette nouvelle section vous donne l'occasion d'en savoir plus sur ce sujet passionnant et de découvrir des projets mis en place au Mexique et en Inde.
Cette édition est également l'occasion de lancer une nouvelle rubrique : le Membre sous les projecteurs ! Désormais, un membre du réseau sera invité à présenter son travail et ses centres d'intérêt. Découvrez dans cette édition « Horizon Vert », un membre camerounais !
Nous espérons que vous apprécierez ces nouveautés. Nous serions très intéressés de recevoir vos commentaires ou vos idées d'articles. N'hésitez donc pas à contacter notre coordinateur de réseau : [email protected]
Nous vous souhaitons une agréable lecture !
Editorial
Estimados miembros, Estimados lectores, Estimados amigos de la Red,
Tenemos el placer presentarle la última edición del boletín de información «Watch This!». Como siempre, nuestro objetivo es informar usted de la última evolución en cuanto a financiación para la lucha contra los cambios climáticos y a mercados del carbono. En este número, nuestros donantes (¡muchas gracias ellos!) tratan de las actualidades relativas a la REDD+, al Fondo verde para el clima, a las negociaciones de la CMNUCC, a los objetivos de desarrollo sostenible y a algunos proyectos específicos de Mecanismo de desarrollo limpio (MDL).
Además de la nueva compaginación introducida en la edición anterior, nuestros fieles lectores descubrirán también nuevos contenidos. Existe en adelante una sección específica, la «Plataforma NAMA», enteramente consagrada a las Medidas de mitigación apropiadas para cada país. Tal como ocurre con el trabajo que realizamos por e MDL, nuestro objetivo consiste en garantizar la participación pública en la concepción y la ejecución de las NAMAs. Esta nueva sección da la oportunidad de saber más sobre este tema apasionante y de descubrir los grandes proyectos establecidos en México y la India.
Esta edición es la ocasión también de lanzar una nueva rubrica: ¡el Miembro bajo los proyectores! En adelante, se interrogará y se invitará a un miembro de la red a presentar su trabajo y sus centros de interés. ¡Ya descubra en esta edición «Horizonte Verde», un importante miembro de Camerún!
Esperamos que apreciará estas novedades. Seriamos muy interesados recibir sus comentarios o sus ideas de artículos. Entonces puede contactar a nuestro coordinador de red: [email protected]
¡Le deseamos una agradable lectura!