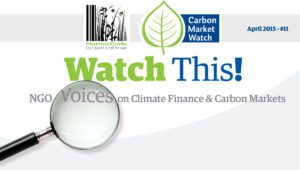 Editorial
Dear Network members, dear readers, dear friends,
It is our pleasure to bring you this new edition of the Watch This newsletter! As always, our aim is to inform you on the latest developments in climate finance and carbon markets. In this issue, our contributors (a big thanks to them!) discuss the latest on REDD+, the Green Climate Fund, the UNFCCC negotiations, the Sustainable Development Goals and some specific Clean Development Mechanism (CDM) projects.
Further to the new layout introduced in our previous edition, our faithful readers will notice new contents. There is now a specific section, the "NAMA Platform", dedicated to Nationally Appropriate Mitigation Actions. Similar to the work we've done on the CDM, our goal is to ensure public participation in the design and implementation of NAMAs. This new section gives you the opportunity to know more about this exciting topic and to discover great projects in México and India.
With this edition, we are also launching a new feature: the member spotlight! From now on, a network member will be interviewed and asked to present his work and interests. In this edition, meet "Horizon Vert", a great Cameroonian member!
We hope that you will appreciate these novelties. We would be very interested in your comments of or ideas for articles. So please, do not hesitate to get in touch with our network coordinator: [email protected]
Happy reading!