| | |
| --- | --- |
| View of the city of Hangzhou Photo: Diego Martinez-Schuett | By Diego Martinez-Schütt, Policy Officer, Carbon Market Watch |
On 18 June, the city of Shenzhen launched the first pilot emissions trading system (ETS) in China. Although Shenzhen's ETS will only cover about 30 million tonnes of CO2, this move marks China's race towards a national carbon market in the future. Public scrutiny will be key to address any loopholes in their early stage and improve the environmental integrity of what could become the largest carbon market in the world.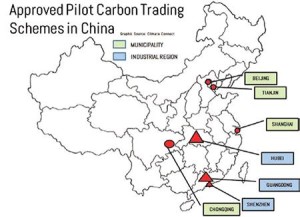 Photo: SEI 2012
Despite its low historical responsibility, China has been surprising the world with ambitious steps towards climate action. This in turn is encouraging other nations to follow suit and look at China's experience with carbon trading. For instance, China's current national Five-Year-Plan (2011-2015) foresees the gradual introduction of carbon trading in the form of seven ETS pilots to be up and running by the end of 2013 in 5 cities and 2 provinces. Shenzhen's ETS is the first one to be launched. Carbon trading is a key element of China's national plan to reduce greenhouse gas emissions per unit of GDP by 40-45% in 2020 compared to 2005 levels as pledged in 2009 in Copenhagen at COP15. The seven ETS pilots will serve to test waters for a future national carbon market assumed to be included in China's next Five-Year-Plan (2016-2020). If implemented, it would become the largest carbon market in the world.
Shenzhen ETS launched
Shenzhen's ETS closely follows the thinking behind a cap-and-trade system. Cap-and-trade mechanisms are meant to reduce emissions by setting a carbon cap. A cap can either be absolute or intensity-based. An absolute cap usually follows a predictable emissions reduction path while an intensity cap is more flexible since it's closely linked with economic performance. China's design plans for its ETS intend to allow emissions to increase under a trading scheme. This should accommodate development needs that are expected to result in a growth of emissions. On top of the uncertainty that exists in the EU ETS, this provides even less certainty about the environmental effectiveness of a cap-and-trade system.
Carbon markets can have little environmental effectiveness if financial interests prevail in the design and implementation. This can lead to misuse, rent-seeking behaviour and corruption. Also, without an ambitious emissions cap China cannot expect real incentives for long-term low-carbon investments. If local governments give companies too much decision power, companies could end up dictating carbon trading rules in a future China carbon market. If the many looming predictions come true, China's ETS plans could turn very bad.
Public scrutiny key
As China's ETS pilots emerge, any systemic errors can lead to significant loopholes in the future. Therefore, the involvement of independent bodies and civil society groups is essential to help strengthen the environmental integrity of China's carbon market. Flaws should be addressed at the early stage before they have impacts beyond repairing. That is why Carbon Market Watch is currently developing a network of NGOs, think tanks and academia in China to collaborate in scrutinising emerging carbon markets in China. If interested in our work get in touch with me at [email protected] or read our blog here.
Read more from Watch This! NGO Voices on Carbon Markets # 6