| | |
| --- | --- |
| Photo: Eva Filzmoser | By Falguni Joshi, Gujarat Forum on CDM |
We are almost at the middle of the year 2013 – the first year after finishing the first commitment period under the Kyoto protocol. As you know, India is one of the world's largest hosts of CDM projects. India stands 2nd only to China, in terms of projects registered and issuance of CERs. But whether projects have actually contributed to sustainable development remains questionable. In this article we look at India's sustainable development criteria under the magnifying glass and ask for stricter enforcement of applicable rules.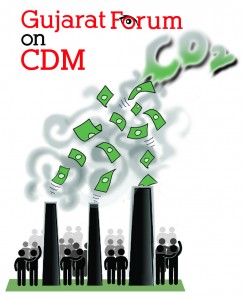 The Gujarat Forum on CDM is a network of individuals and organisations working on environmental issues. It is also the Carbon Market Watch Network's focal point in India. The Forum specifically monitors CDM projects and developments in Gujarat, India.
One of the two objectives of any CDM project is to contribute to sustainable development. At present we have more than 7000 registered CDM projects in the world but experience shows that for local communities, sustainable development benefits often fail to materialize. Under the Kyoto Protocol, the host countries were bestowed with the responsibility to decide on sustainable development criteria. According to the Marrakech Accords, each host country has to set up a Designated National Authority (DNA), with a prime responsibility to define and oversee if CDM projects from their country are contributing to sustainable development and complying with national rules. As DNAs decide on sustainable development criteria based on their national development priorities, there is a large variation in the way and detail in which these criteria are defined.
Against this background, let's take a closer look at the Indian Sustainable Development Indicators and provisions that all CDM projects in India need to comply with:
Indian CDM sustainable development indicators
"It is the prerogative of the host Party to confirm whether a Clean Development Mechanism project activity assists it in achieving sustainable development. The CDM projects should also be oriented towards improving the quality of life of the poor from the environmental standpoint." Indian DNA website
The following aspects should be considered while designing CDM project activity:
Social well being

Economic well being

Environmental well being

Technological well being
Provision for large scale CDM projects – 2% CER revenue
For large scale projects the following rule applies: "The Project Proponents (PP) should commit a certain percentage of the CERs revenue every year (subject to a minimum of 2%) for Sustainable Development including society/community development and accordingly make monitorable action plan for the same and include in the PCN & PDD."
We'll now look at how is this rather unique provision, which could channel funds into community development projects being implemented. Last year, the DNA has come up with a form which requires the project proponent to provide details of activities in their projects that will provide sustainable development benefits.
(http://www.cdmindia.gov.in/detail_news.php?id=3 – choose the last option "Template sharing 2Percent "under heading "project forms")
Provisions mentioned in "Template sharing 2 Percent"
 What happens in reality
Purpose: To share 2% of the CERs revenue to support the local communities in achieving their developmental goal.
It may be done in different ways:

PP may directly share the amount with respective village Panchayts and monitor their developmental activities;

PP may develop a plan and implement it for the betterment of the villages;

PP may involve villagers and plan and implement it jointly; or

PP may decide other means and ways;

There is no transparency in process.
Neither DNA nor project proponent display filled forms on website.
No data available neither with respective village panchayat nor with villagers.
Part of the discussion during stakeholder consultation – PP should discuss it with the villagers and inform details to the Village Panchayat, block and thesil office
 In no PDD analysed, this point was mentioned in minutes of stakeholder consultation.
Planning & Implementation

Identification of villages and key developmental issues

Estimation of 2% of CERs available

Plan for sharing 2% of the CERs revenues (village wise)

No information available publicly about plan or implementation – even not in the village panchayat.
Monitoring arrangement

PP has to develop a monitoring committee involving villagers,

Representative of PP

Local government official /reputed person of the area.

Monitoring parameters and frequency has to be defined

At ground level no such monitoring committee exists.
Making the Implementation plan public which includes local contact, money transfer mechanism and monitoring Committee after discussion with the villagers.
Once it is agreed it has to be submitted to Village Panchayts/ Block office/ Tehsil Office and District Collector Office.
No data publicly available at village panchayat or at other mentioned places. Not a single known example of taking permission from Gram sabha
Experience with the CDM in India so far has shown that contribution to sustainable development through projects remains weak. In order to enable contribution to sustainable development at community level, the DNA has to perform its monitoring role in a stricter way and check all the decided provisions in a better way! Given the percentage of large scale projects in India, a 2% CER revenue represents an important sum of money, even at current low carbon prices. It is the responsibility of India's national CDM Authority to ensure correct implementation of provisions decided. Civil Society needs to keep watching and flag irregularities.