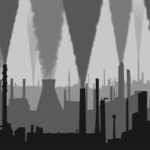 The European Union Emissions Trading Scheme (EU-ETS) is the largest cap-and-trade scheme in the world. The EU-ETS regulates about half of EUs CO2 emissions. It includes more than 11,000 factories, power stations, and other installations in 30 countries—all 27 EU member states plus Iceland, Norway, and Liechtenstein. The caps for 2020 are set at 21% below 2005 emissions.
The first ETS trading period was three years, from 2005 – 2007.   The second trading period is five years and coincides with the first Kyoto commitment period from 2008-2012.  The third trading period is eight years, from 2013-2020.
Covered entities receive European emission allowances (EUAs). For each allowance they can emit 1 ton of CO2. If their CO2 emissions exceed the number of allowances they have, a factory can purchase EUAs from other installations or countries. Conversely, if an installation has performed well at reducing its carbon emissions, it can sell its leftover EUAs.
Covered entities can also use CDM and JI credits for compliance. The EU-ETS does not allow the use of CDM credits from forestry projects and has additional requirements for large hydro projects over 20MW. Starting in 2013, credits from HFC-23 and adipic acid projects will be banned. Also, CDM projects that have not been registered by the end of 2012 need to be located in a Least Developed Country in order to be eligible to sell their credits in the EU-ETS. see Offsets in the EU.
Up to 50% of the EU-wide reductions over the period 2008-2020 can be achieved by buying CDM and JI offsets: approximately 1.6 billion credits. The EU-ETS is the largest offset buyer to date.
In the third trading phase, allowances will by allocated centrally by an EU authority (as opposed to national allocation plans), a considerable larger share of allowances are auctioned (more than 60%) rather than allocated freely, and other greenhouse gases, such as nitrous oxide and perfluorocarbons have been included. Also airline emissions have been included in the beginning of 2012.
The EU-ETS has been severely over-allocated in the first and second trading period. This has led to a price collapse both at the end of the first and at the end of the second trading period. At the end of 2012, the EU ETS is oversupplied by about 2 billion allowances. The EU is trying to address this issue. The options to address the oversupply include temporarily remove allowances (back-loading), permanently retire allowances or raising the emission reduction caps. Action is clearly required if the EU wants to salvage its climate policy flagship. But strong opposition from certain industries and some EU Member States have hampered good policy making so far. It is unclear what the future will hold the EU-ETS.