Countdown's almost up: The high-level panel on the CDM Policy Dialogue has finalised its report at their last meeting from 24-26 July in Johannesburg. The report summing up reform recommendations will be released in September 2012. We have closely followed the process and are worried that the results of the final report will be heavily influenced by business' lobbying. In order to be effective in its effort to reform the CDM, the final report must be an honest review of the CDM and not shy away from unpleasant conclusions. CDM Watch will keep you posted about the final report.
Since most panel members had little prior experience with the CDM, balanced input from a wide range of stakeholders was essential for the opinion-forming process for panel members. However, limited opportunities for input and stakeholder meetings and inadequate support for travel made it almost impossible for civil society representatives to participate in stakeholder meetings that were heavily dominated by business lobbyists. To counterbalance the process CDM Watch has provided critical input from a civil society perspective wherever possible. We also launched a discussion forum and organised a side event during the intersessional climate change conference in Bonn in May. At the side event, we handed an open letter to the Panel members, signed by 84 organisations in 27 countries drawing attention to urgent unaddressed concerns about the CDM.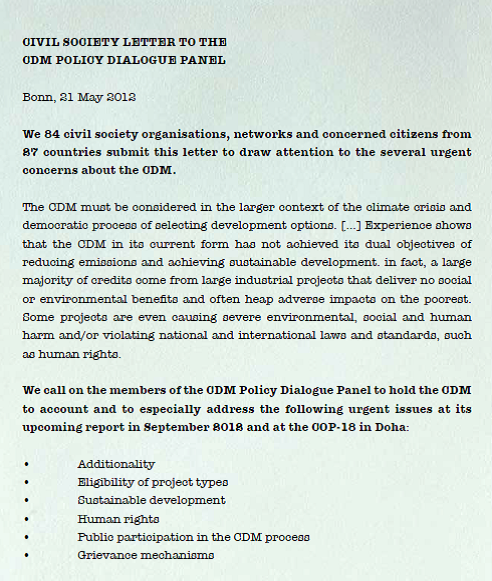 You can see the full letter here.
Given the problems the CDM is plagued with, many issues need to be addressed in the final report and expectations are high. In particular the negative impacts of offsetting in the absence of net climate benefits, which CDM project types are fit to truly contribute to sustainable development and how to provide incentives for developing countries to increase their own emission reductions. With more than 5,000 CDM projects in the pipeline – projects that will be operational for many years to come, post-registration monitoring of impacts and a grievance mechanism also need to be urgently put in place.
Only if the CDM is reformed in a way that it can deliver net reductions and actual sustainability benefits to the local communities will it be a "mechanism for the future." 
What our Network members say about the stakeholder meetings they participated in: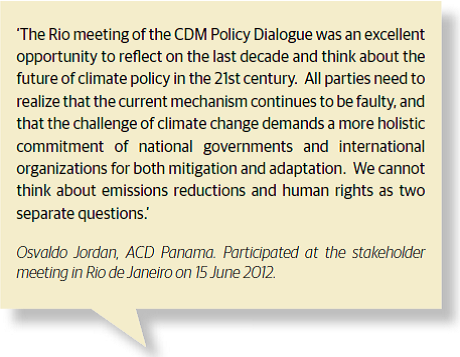 Was Civil Society fully included in the meeting?  Was it constructive?  What opportunities were presented to engage? Did you feel that the policy dialogue panel members were cooperative with Civil Society present?