This time last year the CDM Watch Network was just launched.  Since then word has spread and the network has grown from a few activists and academics working with us on the CDM and carbon markets to nearly 500 member organisations and networks that work on various issues across 5 continents! Happy Birthday everybody!
In the earlier stages of CDM Watch's work a clear need for an international civil society network focusing on the CDM was quickly identified. We wanted to build a civil society coalition to challenge the sustainable development dimension of operational projects at one level and also campaign against harmful projects in the pipeline on another. In early 2011, CDM Watch launched the CDM Watch Network. The goal of the Network is to strengthen the voice of civil society in the CDM and other carbon market developments to stop artificial emission reductions and environmentally or socially harmful projects. The Network connects civil society and academia around the world in order to share information and coordinate public inputs such as open letters and submissions. Members use the mailing lists to seek critical information from partners on the network and share advocacy victories. For a list of network members on respective continents see: Asia, Africa, Americas and Europe.
The discussions and policy developments around CDM and carbon markets can be confusing and very technical. We try to help activists and organisations affected by or concerned about carbon markets to stay on top of all the hot issues. Over the past 3 years NGOs and concerned citizens came together at our regional capacity building workshops to exchange experiences and concerns in relation to the CDM and carbon markets. It has been encouraging that so many organisations have continued the debate online across this network, supporting each other in raising concerns identified to the responsible authorities. Members are sharing information and concerns about particular projects or project types in their country and point to opportunities for engagement that many civil society organisations would not otherwise be aware of. This is an essential first step in making sure that concerns are being heard at all governance levels. As the network gets stronger, the critical voice of civil society will grow louder in the CDM and carbon markets.
CDM Watch focal points
The CDM Watch Network keeps evolving. To further develop and strengthen this civil society platform we are happy to announce the formation of new national and regional focal points. These organisations, identified by their expertise and active role in the network, will help facilitate stronger public scrutiny in the CDM and other carbon markets at regional level. Focal Points will act as interface and civil society contact point on CDM related issues in their country and region. This should enable the establishment of a communication link between the wider CDM Watch Network and national Civil Society Networks. Equally the focal point will be communicating identified issues of importance back to the Network. To ensure that civil society voices are heard at all governance levels, the focal points will also enter in contact with national carbon market actors and authorities.
Together we will keep exposing weak governance rules and practices, and support actions and campaigns against problematic CDM projects at national and international level. If you have any suggestions on how we can improve what we do, we are very happy to hear from you.
We would like to thank all our members throughout the world for their support, input and suggestions and look forward to welcoming new Watchers on board in the years to come.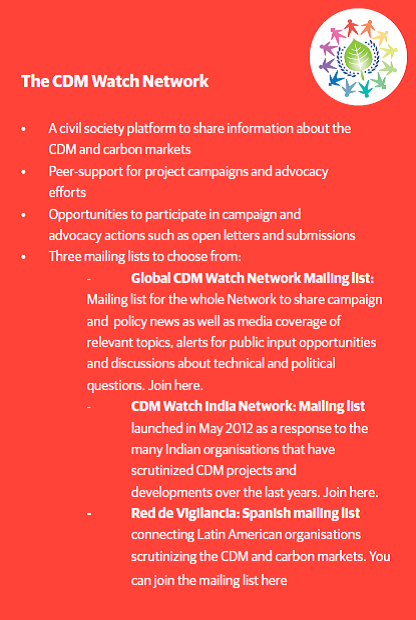 CDM Watch Network membership is free and open to all NGOs and academics formally independent from governments and commercial organisations. We especially invite activists and local movements from CDM host countries to join the Network. Join us online at: http://registration.en.cdm-watch.org/
If you or your organisation would like to learn more about becoming a national focal point please contact our Network Coordinator Antonia at [email protected].