Scroll down for Spanish

This time last year the CDM Watch Network was just launched.  Since then word has spread and the network has grown from a few activists and academics working with us on the CDM and carbon markets to nearly 500 member organisations and networks that work on various issues across 5 continents! Happy Birthday everybody!
In the earlier stages of CDM Watch's work a clear need for an international civil society network focusing on the CDM was quickly identified. We wanted to build a civil society coalition to challenge the sustainable development dimension of operational projects at one level and also campaign against harmful projects in the pipeline on another. In early 2011, CDM Watch launched the CDM Watch Network. The goal of the Network is to strengthen the voice of civil society in the CDM and other carbon market developments to stop artificial emission reductions and environmentally or socially harmful projects. The Network connects civil society and academia around the world in order to share information and coordinate public inputs such as open letters and submissions. Members use the mailing lists to seek critical information from partners on the network and share advocacy victories. For a list of network members on respective continents see: Asia, Africa, Americas and Europe.
The discussions and policy developments around CDM and carbon markets can be confusing and very technical. We try to help activists and organisations affected by or concerned about carbon markets to stay on top of all the hot issues. Over the past 3 years NGOs and concerned citizens came together at our regional capacity building workshops to exchange experiences and concerns in relation to the CDM and carbon markets. It has been encouraging that so many organisations have continued the debate online across this network, supporting each other in raising concerns identified to the responsible authorities. Members are sharing information and concerns about particular projects or project types in their country and point to opportunities for engagement that many civil society organisations would not otherwise be aware of. This is an essential first step in making sure that concerns are being heard at all governance levels. As the network gets stronger, the critical voice of civil society will grow louder in the CDM and carbon markets.
CDM Watch focal points
The CDM Watch Network keeps evolving. To further develop and strengthen this civil society platform we are happy to announce the formation of new national and regional focal points. These organisations, identified by their expertise and active role in the network, will help facilitate stronger public scrutiny in the CDM and other carbon markets at regional level. Focal Points will act as interface and civil society contact point on CDM related issues in their country and region. This should enable the establishment of a communication link between the wider CDM Watch Network and national Civil Society Networks. Equally the focal point will be communicating identified issues of importance back to the Network. To ensure that civil society voices are heard at all governance levels, the focal points will also enter in contact with national carbon market actors and authorities.
Together we will keep exposing weak governance rules and practices, and support actions and campaigns against problematic CDM projects at national and international level. If you have any suggestions on how we can improve what we do, we are very happy to hear from you.
We would like to thank all our members throughout the world for their support, input and suggestions and look forward to welcoming new Watchers on board in the years to come.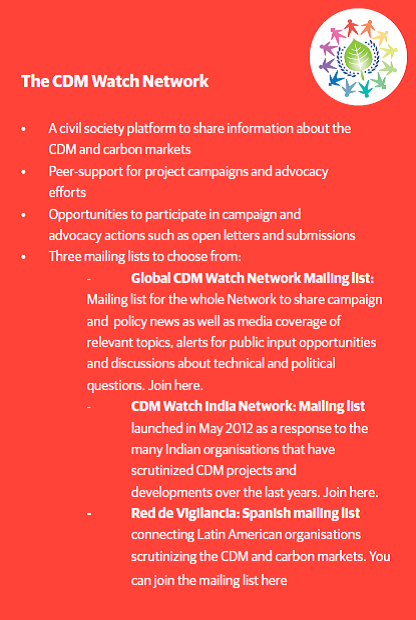 CDM Watch Network membership is free and open to all NGOs and academics formally independent from governments and commercial organisations. We especially invite activists and local movements from CDM host countries to join the Network. Join us online at: http://registration.en.cdm-watch.org/
If you or your organisation would like to learn more about becoming a national focal point please contact our Network Coordinator Antonia at [email protected].
En esta ocasión el año pasado  fue justo lanzada la Red de Vigilancia del MDL. Desde entonces ha corrido la voz y la red ha crecido de unos pocos activistas y académicos que trabajan con nosotros en los mercados de carbono y MDL a cerca de 500 organizaciones miembros y las redes que trabajan en temas diversos a través de ¡5 continentes! ¡Feliz cumpleaños a todos!
En las primeras etapas del trabajo de CDM Watch, una evidente necesidad de una red de la sociedad civil internacional centrada en el MDL fue identificada rápidamente. Queríamos construir una coalición de la sociedad civil para desafiar la dimensión del desarrollo sostenible de los proyectos operativos a un nivel social y también hacer campaña en contra de aquellos proyectos MDL perjudiciales en proceso de trámite por el otro. A principios de 2011, CDM Watch lanzó la Red de Vigilancia del MDL en español e inglés. El objetivo de la Red es fortalecer la voz de la sociedad civil en el MDL y otros acontecimientos del mercado de  carbono para detener las reducciones de emisiones artificiales y proyectos ambientalmente o socialmente perjudiciales. La red conecta a la sociedad civil y las instituciones académicas de todo el mundo con el fin de compartir información y coordinar las aportaciones públicas tales como cartas abiertas y exposiciones. Los miembros utilizan las listas de correo para buscar información crítica de los socios de la red y comparten las victorias de campañas.
La Red de Vigilancia del MDL establece lo siguiente:
Una plataforma de la sociedad civil para compartir información sobre el MDL y los mercados de carbono
apoyo de colegas en campañas de proyectos y actividades de promoción
Oportunidades para participar en acciones de campañas y promoción, tales como cartas abiertas y presentaciones
Tres listas de correo para elegir:
Lista Global de Correo Red de Vigilancia del MDL: Lista de correo en inglés para toda la red para compartir noticias de campaña y de políticas, así como la cobertura mediática de los temas relevantes, las alertas para las oportunidades de entrada y discusiones públicas sobre las cuestiones técnicas y políticas. Únase aquí.
Red Vigilancia del MDL en la India: Lista de correo lanzada en mayo de 2012 como una respuesta a las numerosas organizaciones indias que estudiaron los proyectos del MDL y la evolución en los últimos años. Apúntate aquí.
Red de Vigilancia en español: lista de correos españoles conexión a organizaciones latinoamericanas que escudriñan el MDL y los mercados de carbono. Usted puede unirse a la lista de correo aquí
La membresía en  la Red de Vigilancia del MDL es gratuita y abierta a todas las ONG y académicos formalmente independientes de los gobiernos y organizaciones comerciales. Invitamos especialmente a los activistas y los movimientos locales de los países anfitriones del MDL para unirse a la red. Únase a nosotros en línea en: https://carbonmarketwatch.org/cdm-watch-network/
Si a usted o a su organización le gustaría aprender más acerca de convertirse en un punto focal nacional, por favor póngase en contacto con nuestra Coordinadora de la Red Antonia en: [email protected].
Las discusiones y los acontecimientos políticos en torno al MDL y los mercados de carbono pueden ser confusos y muy muy técnicos. Tratamos de ayudar a los activistas y organizaciones afectados o preocupados por los mercados de carbono para estar al tanto de todos los temas calientes. Durante los últimos 3 años las ONGs y ciudadanos preocupados se han estado reuniendo en nuestros talleres regionales de capacitación con el objetivo de intercambiar experiencias e inquietudes en relación con el MDL y los mercados de carbono. Ha sido alentador ver que tantas organizaciones hayan seguido el debate en línea a través de esta red, apoyándose mutuamente para informar y aumentar presión a las autoridades responsables. Los miembros comparten información y preocupaciones sobre determinados proyectos o tipos de proyectos en sus países e identifican oportunidades de participación para organizaciones de la sociedad civil que de otro modo no estarían al tanto. Este es un primer paso esencial para asegurar que las preocupaciones están siendo escuchadas en todos los niveles de gobierno. A medida que la red se hace más fuerte, la voz crítica de la sociedad civil se hará cada vez más fuerte en los mercados MDL y carbono.
Vigilancia del MDL puntos de coordinación
La Red de Vigilancia del MDL continúa evolucionando. Para desarrollar y fortalecer aún más esta plataforma de la sociedad civil, estamos felices de anunciar la formación de nuevas articulaciones nacionales y puntos focales regionales. Estas organizaciones, identificadas por sus experiencias y papeles activos en la red, ayudarán a facilitar aun más el escrutinio público de los mercados de carbono y el MDL. Los puntos de coordinación actuarán como interfaz y el punto de contacto de la sociedad civil, sobre temas relacionados con MDL en su país y región. Esto debería permitir el establecimiento de un enlace de comunicación entre la Red de Vigilancia más amplia al MDL y Redes de la Sociedad Civil nacionales. Igualmente el punto focal de coordinación estará comunicando temas identificados de relevancia a la red. Para asegurar que las voces de la sociedad civil sean escuchadas en todos los niveles de gobierno, los coordinadores también entrarán en contacto con los actores nacionales al mercado de carbono y las autoridades nacionales.
Juntos vamos a seguir exponiendo las normas y prácticas de gobierno débiles, y las acciones de apoyo y campañas contra proyectos problemáticos del MDL a nivel nacional e internacional. Si tiene alguna sugerencia sobre cómo podemos mejorar lo que hacemos, nos encantaría saber de usted.
Nos gustaría dar las gracias a todos nuestros miembros en todo el mundo por su gran apoyo, sus comentarios y sugerencias y esperamos dar la bienvenida a nuevos Vigilantes en los próximos años.