Membership
Carbon Market Watch Members (as of November 2020)
Why we have members
Carbon Market Watch is a not-for-profit membership association. We welcome members for the positive impact that our working relationship with them can have in the fight against climate change. We believe in bottom-up advocacy and have since 2009 worked with numerous NGOs, activists, journalists and academics in many countries across the world to ensure that climate mitigation policies are fair and effective drivers to limit climate change.
Holding ourselves to the same standard of transparency that we call for in public policy making, we also value the accountability that membership provides. Our members provide vital oversight to the Executive Team.   
Why join?
As a member, you can benefit from our work in general like anybody who looks us up, engages with us or subscribes to our distribution list, but you will always come first in our consideration and our search for collaboration. Some benefits will be exclusive to you.
Access to policy analysis and opportunities for engagement on climate policies especially carbon markets and pricing, climate finance, and industrial decarbonisation. We occasionally hold policy coordination calls or webinars for members only.
Close cooperation on campaigns with climate policy experts from other countries. We coordinate joint position papers and call on members to provide testimony on climate policies in actions to underpin our advocacy input at international level.
Opportunities to join advocacy actions at times of national and global campaigns. We are available to members to work out specific strategic alignments and offer engagement in English, French and Spanish.
Opportunities to participate and co-organise capacity building activities such as workshops or webinars and benefit from the materials we create. We might commission our members to organise activities or help with their costs for participating in activities. We might join forces in funding applications.
Input to your local campaigns and help with promotion (if in line with Carbon Market Watch positions). We can respond to requests from members to support them in specific national, regional or local actions – with policy or communications expertise.
Direct access to fellow CMW members via a dedicated mailing list. Subscription to this mailing list is based on explicit opt-in in line with EU data protection rules.
How our membership works
Full membership, which gives the right to vote in our General Assemblies and to be a candidate for the board, is limited to individuals – we count on their idealistic support or professional interest.  Supporting membership is open to individuals or organisations and gives access to membership privileges (including active participation in General Assemblies) except voting rights and the possibility to stand for election to the board – we look to them as our "joint action pool". Members must be formally independent of governments and commercial organisations. Membership fees are currently not applied, but donations from members are welcome.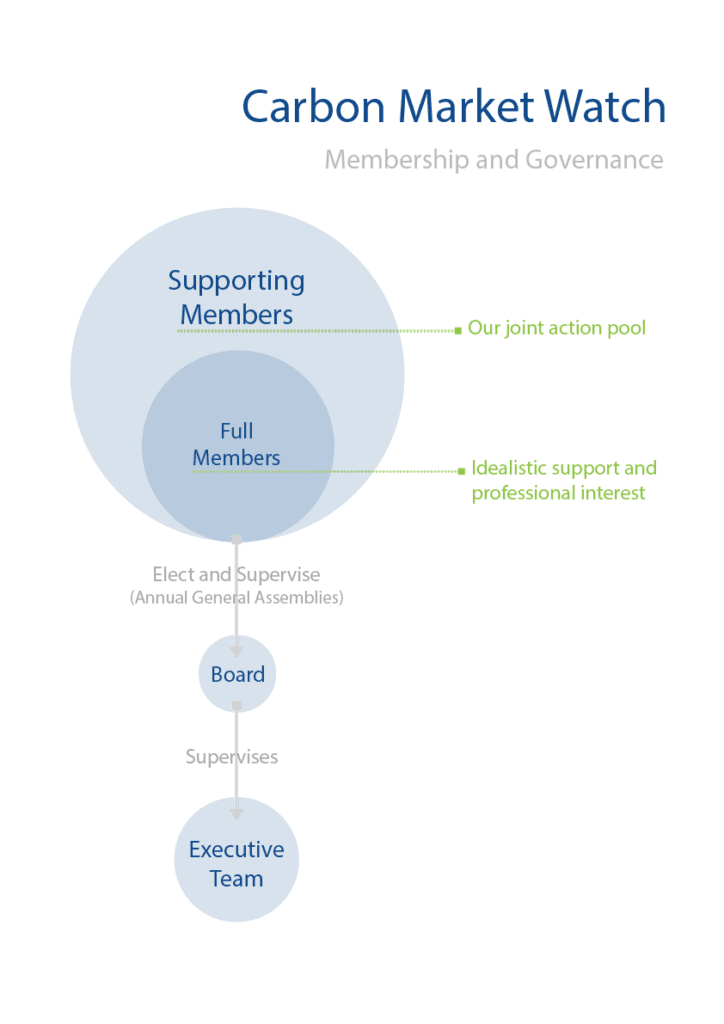 Applications for full membership are reviewed by the CMW board and then approved by the General Assembly (GA). Applications for supporting membership are decided by the board alone. Memberships run for a 3 year period. They will automatically renew unless either party expresses objection or the relationship has been inactive for the last two years (no GA attendance or other engagement). 
Membership of Carbon Market Watch is not an endorsement of the specific political positions taken by the executive team (which are based on the strategic goals endorsed by the board and the General Assembly). However, alignment with our statutory aims is a condition for membership.
Fees: Currently there is no fee for membership
How to join
Individuals or organisations interested in becoming a member of Carbon Market Watch are strongly encouraged to take a tour of our website and in particular read About CMW – Mission, Values, Approach, History, and about Our Work.
Then please fill out one of the online forms:
To join us as a full member (individuals only) please click on the link  here (for French here) (for Spanish here)
If you have any questions please contact Miriam Vicente Marcos [email protected]
Our Statutes
Member candidates also need to approve of our statutes (French original) (English) endorsement of which is requested in the forms below.
Our Network
Since 2009, we have established strong partnerships inter alia through regional capacity-building workshops in South and Eastern Europe, and in other regions across the globe, including China, India, West Africa, South and Central America. In some cases, these partnerships have been translated into formal members. As of 2019, we have reorganised our membership structure with the aim at strengthening our relationship with supporters to share as well as draw upon knowledge and experience on climate action and engagement around the globe.