ICAO's General Assembly is rapidly approaching but the negotiations have left us the MBM in a state of massive uncertainty. On September 27, a coalition of NGOs will organise a final online blast, through Thunderclap, calling ICAO to #Flight4Climate. Carbon Market Watch calls on its supporters and partners to join this crucial last call.
On September 27, the UN's International Civil Aviation Organization (ICAO) will hold its 39th Assembly. It is expected to adopt the first major decision in history addressing international aviation's role in tackling climate change. Instead of actually reducing its own emissions, the majority of the effort will be done through offsetting emissions via a global market-based mechanism (GMBM), with the objective to offset the growth of net aviation emissions above 2020 levels.
Looking for clarity
This next General Assembly is an opportunity that cannot be missed, as it only meets every three years. In the framework of a very opaque process, key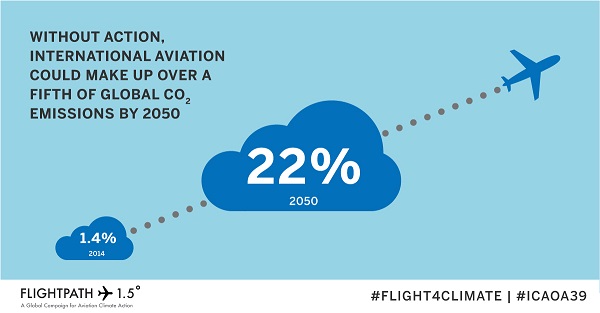 shortcomings must be addressed before the Assembly comes to a close. Transparency and no-double counting must be clearly referenced to ensure effective accounting. The text must encourage further ambition through regional measures and quality including clear accounting with commitments under the Paris Agreement.
Finally, the measure must actually lead to Carbon Neutral Growth at 2020 levels (CNG2020) and move on to ratchet up ambition and in sector reductions quickly. Setting a  disappointing precedent, countries have agreed participation will be voluntary until 2027, meaning the amount of emissions covered will remain unknown until countries declare their intended participation to the ICAO Secretariat. Unless an adequate number of countries (covering the vast majority of emissions) are covered, the MBM will be unworkable.
Join our online blast to demand an ambitious outcome
From the beginning of 2016, Carbon Market Watch and allied NGOs have pressured countries and the airline industry, calling for bold leadership to reach an ambitious, binding, environmentally robust agreement to address aviation emissions. Throughout the months of July and August, we have organised a Tweetathon in which dozens of individuals and NGOs used social networks to call airlines to ensure ambition in #GMBM. We will replicate the same initiative throughout the ICAO GA, calling national Ministers to take action.
Moreover, on September 27, we will issue our last social media blast and organise a Thunderclap, in collaboration with the International Coalition for Sustainable Aviation – ICSA.  To participate, log in on this website and follow the instructions. We will post the message you have pre-approved on your behalf only once.
Climate change campaigners have called on aviation to act since 1997, but the industry has achieved very little to date. We need countries and airlines to take action so that aviation pollution will not continue to go unaddressed!
Want to know more? subscribe to our aviation mailing list by writing to [email protected]
By Pierre-Jean Brasier – Network coordinator  

---
Click here if you want to read the other articles of our Watch This! Newsletter