Ahead of the highly anticipated agreement on aviation scheduled to be adopted next October, Carbon Market Watch has taken the initiative to call countries and airlines to push for an ambitious, binding, environmentally robust deal to address aviation emissions. A new infographic was recently published to maintain pressure.
In October 2016, member countries of the UN's International Civil Aviation Organization (ICAO) are expected to take a first decision in history about the sector's role in tackling climate change. Instead of actually reducing their own emissions, the majority of the effort will be done through offsetting emissions via a global market-based mechanism (GMBM), with the objective to cap the growth of net aviation emissions at 2020 levels.
Warning: greenwashing risk
However, there is a risk that the October decision will be far from ambitious, riddled with loopholes, and will lack essential accountancy a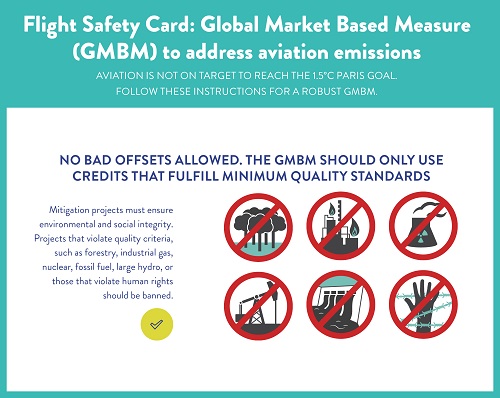 nd governance rules
for an offsetting mechanism to be anything more than a greenwashing exercise.
In reaction, Carbon Market Watch launched an aviation campaign, calling for ambition and environmental integrity, so that offsetting projects deliver real, additional, permanent and verified reduction and to ensure that they do not have ineffective or dangerous impacts for local populations and the climate (such as the Barro Blanco project – see here).
As part of this campaign, and ahead of an important ICAO meeting in May, Carbon Market Watch, together with partner NGO Transport & Environment, wrote to ICAO Parties, calling for the aviation sector to develop a robust tool to reduce their emissions, in line with the Paris agreement. The letter was signed by 64 environmental organisations and Members of the European Parliament from 28 countries around the world. Prior to this, Carbon Market Watch also organized a webinar – watch it again here – and published a new policy briefing to inform civil society and empower organisations to act on the issue.
Hold countries and airlines accountable!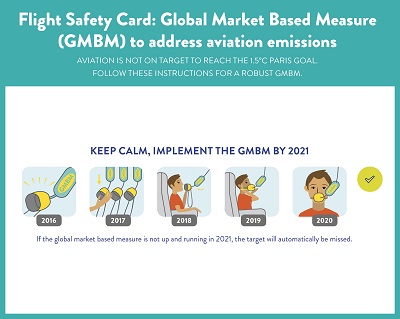 So far, ICAO negotiations have unfortunately made little progress. One of the main sticking points is the differentiation issue, or how the emission reduction targets should be divided between countries. Nevertheless, the agreement will not be considered a success if only this issue is addressed. Gaps in ambition are found throughout the text and should be resolved for the global MBM to be considered a credible measure. A binding goal, a strong review mechanism to increase ambition, and a start date of 2021 are still outstanding minimum issues.  While industry supports reaching an agreement at all costs, the lack of focus on environmental integrity risks a hollow and ineffective deal.
In reaction, Carbon Market Watch has launched a new online action, publishing an infographic – the Flight Safety Card – for all concerned civil society organisations to use.  Help us raise awareness on social networks and hold Ministers and big airlines accountable. Post the infographic on big airlines Facebook pages and tweet at your transport and environment Ministers!
The industry has been implored to act since 1997, but has achieved very little to date. We need countries and airlines to take action so that aviation pollution will not continue to go unaddressed!
Want to know more, subscribe to our aviation mailing list by writing to [email protected]
By Pierre-Jean Brasier – Network coordinator – and Kelsey Perlman, Policy Officer – Land Use & Aviation 

---
Click here if you want to read the other articles of our Watch This! Newsletter