Home
Top Stories
Strasbourg, 15 December 2016. Today members on the European Parliament's environment committee voted on the revision of the EU's Emission's Trading System (EU ETS). The vote enables faster cuts in Europe's carbon pollution but falls short of putting a halt on free handouts to polluters.
.
---

Following years of controversy and challenges from the indigenous Ngäbe and the international community, Panama formally withdrew support for the project effectively deregistering the project as of the CDM Board's 92nd meeting.
---
Events
January 25th, 2017, 12:30 – 14:30 European Parliament, Brussels, Room A5E1
This event explores how to set Europe on a path to reach the goals of the Paris Agreement, but it will also look at the ample opportunities that already exist for emission cuts in sectors such as agriculture and transport. Register here
---
 

Publications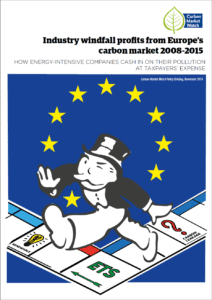 This report interprets the findings of an updated CE Delft study that shows how energy-intensive companies in 20 European countries have massively profited from their pollution because they are deemed at risk of "carbon leakage".
Play our EU ETS quiz here
---

This briefing provides a starting point to interpret what Cooperative Approaches and the Sustainable Development Mechanism are, how they differ, and where the pitfalls lie in moving forward.
---
 Networking
Join now by filling in the registration form here
Follow us on twitter here