Home
Top Stories
Strasbourg 15 February 2017. Today the European Parliament adopted its position on the revision of the EU's Emissions Trading System (EU ETS) for the 2021-2030 period.  Regrettably, the lawmakers missed out on an opportunity to strengthen the polluter pays principle through a carbon border tax on cement imports and an end to free pollution permits for the sector.
---
Strasbourg, 15 December 2016. Today members on the European Parliament's environment committee voted on the revision of the EU's Emission's Trading System (EU ETS). The vote enables faster cuts in Europe's carbon pollution but falls short of putting a halt on free handouts to polluters.
---
Events

Wednesday 8 March, 2017, 13.00-15.00  European Parliament, Room TBD
The event will analyse the Commission's proposal, explain what is at stake if Europe doesn't address the rapidly growing emissions from aviation, and how to achieve adequate ambition in the sector.  Register 

here
---
 

Publications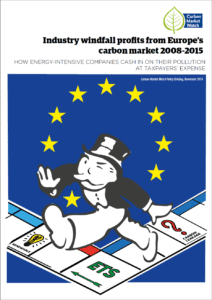 This report interprets the findings of an updated CE Delft study that shows how energy-intensive companies in 20 European countries have massively profited from their pollution because they are deemed at risk of "carbon leakage".
Play our EU ETS quiz here
---

This briefing provides a starting point to interpret what Cooperative Approaches and the Sustainable Development Mechanism are, how they differ, and where the pitfalls lie in moving forward.
---
 Networking
Join now by filling in the registration form here
Follow us on twitter here